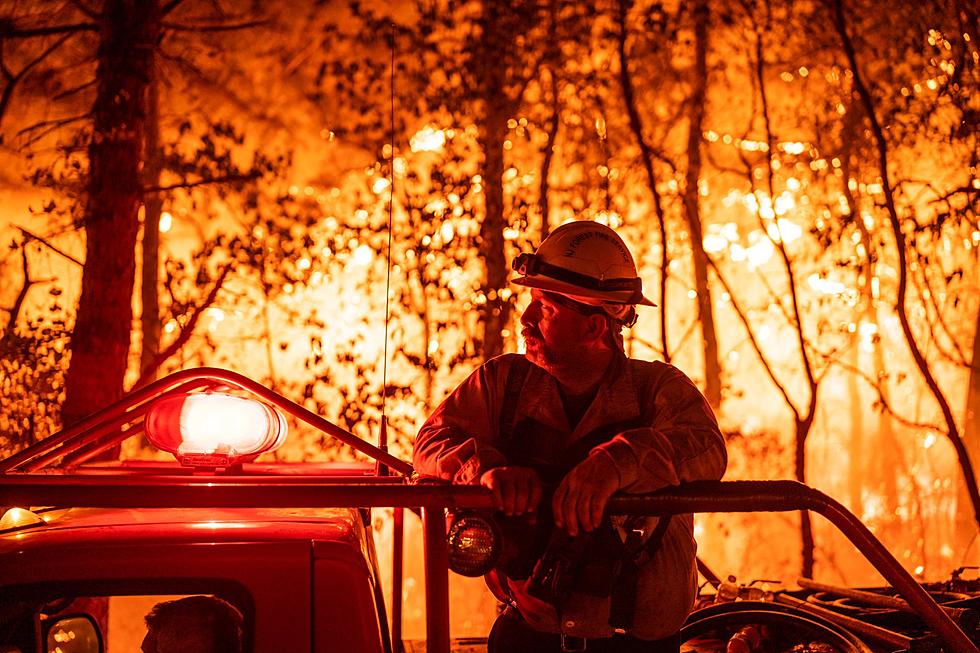 Monster NJ wildfire swells to 5k acres in single day
NJ Forest Fire Service
🔥 Allen Road Wildfire swells to massive 5,000 acres
🚒 Crews are struggling to get full containment
☀ Hot, dry, weather is hampering efforts - fire will burn for days
---
---
A wildfire burning in the Bass River State Forest in Burlington County swelled to more than 5,000 acres in one day.
Crews are still trying to get full containment on the massive blaze.
The New Jersey Forest Fire Service reports "substantial progress" containing what is called the Allen Road wildfire.
It has been a very active wildfire season in New Jersey, but the Allen Road fire is the largest so far this year in terms of total acreage.
Thick smoke can be seen rising from the fire as far away as the New Jersey coastline.
Fire officials warned of concentrated areas of acrid smoke from Burlington to Atlantic Counties.
An air quality alert in in effect today for Eastern and Southern New Jersey due to the think smoke. New Jersey 101.5 Chief Meteorologist Dan Zarrow warns the summerlike heat will make air conditions worse, "ground level ozone and particulate can be particularly dangerous for those with existing breathing problems."
Several road closures remain in effect this morning:
Allen Road is closed
Oswego Road is closed
Stage Road is closed between North Maple Avenue and Rt. 679
Rt. 679 is closed between Rt. 563 and Leaktown Road
The Batona Trail also remains closed in Bass River State Forest.
One area of progress in battling the fire is no structures are currently threatened. When the fire first began, half a dozen buildings were in danger.
The Timberline Campground was also evacuated as the fire began. New campers are not being allowed, but those who were evacuated may return, according to a post on the campsites Facebook page.
The fire is likely to continue to burn through the weekend and beyond. The Forest Fire Service says the continued dry weather could keep things burning for several days.
Zarrow says spotty showers are possible tonight and Saturday, but it will not be the soaking rains that could help efforts to combat the wildfire.
This is not the first wildfire in Bass River State Forest.  A blaze in 2021 raged in the Little Egg Harbor section.
Wildfire in the Bass River State Forest in Little Egg Harbor 5/16/21
A fire in the Bass River State Forest burned through woods along Route 9 in both Ocean and Burlington Counties.
Awesome one-of-a-kind old school eatery in South Jersey
Report a correction 👈 | 👉 Contact our newsroom
More From New Jersey 101.5 FM