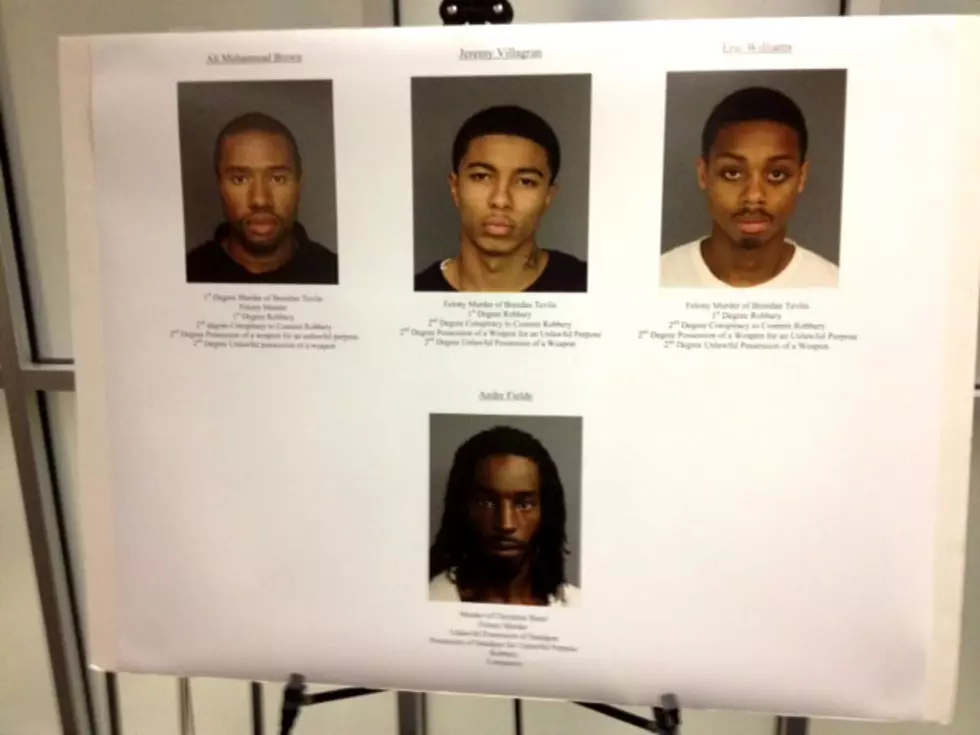 Homicide suspects arrested in Essex County
Pictures of suspects in the murders of two Essex County students (David Matthau, Townsquare Media NJ)
Authorities in Essex County have announced the arrests of four suspects in two unrelated homicides involving local teenagers.
Ali Muhammad Brown of Seattle, a registered sex offender who is wanted for two other murders on the West Coast, was taken into custody after being found inside a tent in a wooded area and charged with murder, felony murder, robbery and conspiracy to commit robbery after allegedly shooting 19-year--old Brendan Tevlin eight times at a traffic light earlier this summer.
Also charged in connection with the murder are Jersey Villagran and Eric Williams, both of West Orange.
Following a Monday news conference, Brendan Tevlin's mother, Allision Tevlin, thanked the prosecutor's office, the West Orange police and all law enforcement agencies that worked tirelessly to track down the killers in the case.
"We are confident that those individuals responsible for taking Brendan's life will be punished to the fullest extent of the law," she said.
Tevlin also thanked "the countless family friends and even strangers who had provided our family love and support over the past five weeks."
Tevlin said the overwhelming number of people who have said they were affected by Brendan's death "is not only due to the violent way in which he died, but also it is a greater acknowledgement in which he lived."
She also said speculation that her son had been specifically targeted by his killers is simply not true.
"Brendan was the innocent victim of a random, senseless murder," she said. "It was perpetrated by one or more strangers which occurred when he was doing nothing more than driving home from a friend's house."
Tevlin added that "while we cannot bring Brendan back, it is our sincerest hope that we learn from his death, and by addressing the epidemic level of gun violence that's plaguing our country today. We want other families and communities to be spared the tragic loss and sorrow we will always feel."
She said "as we do our best to move forward and continue to celebrate Brendan's life, our hope is that his personal motto, good vibes and easy living, will continue to make an impact on all of us, so good can always triumph over evil."
More From New Jersey 101.5 FM