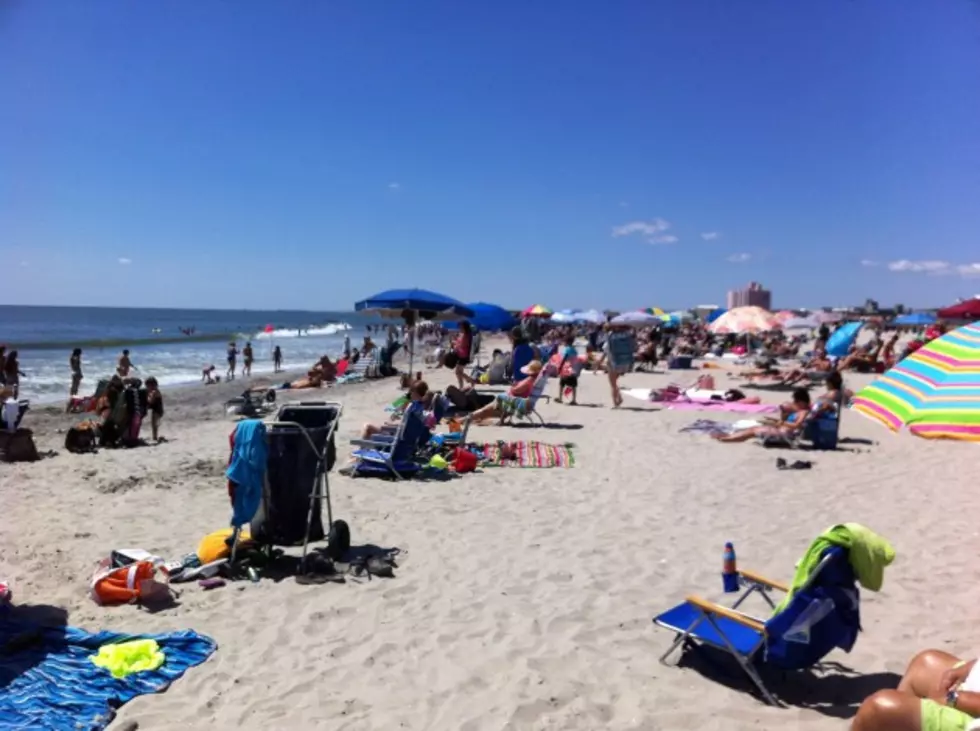 Enjoy "Beach Baby" on a "Summer At The Shore Weekend"
"Beach Baby(s)" in Ocean City NJ! (Craig Allen photo).
"Beach Baby" sounds like the quintessential Southern California surf song...and it is...but it was written and recorded FAR from its inspiration!First Class is a group of British...yes...England...studio singers. Surprised?
The group was a product of the collaboration of singer/songwriter John Carter, and singers Tony Burrows and Chas Mills. It was to be an outlet for the music that Carter wrote with his wife Gillian (Jill) Shakespeare.
In the early 1960's, Carter fronted his own band, "Carter-Lewis & The Southerners." Afterwards, John Carter was a backup singer for notable English acts (and hit records) including Tom Jones ("Its Not Unusual') and The Who ("I Can't Explain").
As we play "Jersey's Favorite Summer Hits," back to the "First Class" years...
Carter and Shakespeare wrote "Beach Baby" in 1974, in their home in East Sheen, South West London...far from Southern California...or any beach for that matter!
The song hit the Top 40 charts here in the U.S.A. on July 20, 1974.
It would stay on the Hot 100 chart for 17 weeks!
It was a #4 hit in New Jersey, it went to #13 (1974) in England.
It is interesting to note (above) that "Beach Baby" was later sung in French by Sacha Distel, under the title "Vite, Cherie, Vite."
First Class recorded "Body Dazzler" as the followup single...and other songs that became the "First Class" album. The song failed to chart...oops.
While there was some interest in live performances from the band (read: tour), neither Carter or Burrows had the time, or any interest in hitting the open road. So, a touring "First Class" band was formed, including: bassist Robin Shaw, Spencer James on guitar, keyboardist Clive Barrett, and Eddie Richards on drums. Del John was the touring "First Class" lead singer.
Although all 5 touring First Class members are pictured on the "First Class" album cover, and given band credit along with Carter, Burrows and Mills, NONE of the "live" guys played or sang on "Beach Baby" or any of the album's other songs!
"Dreams Are Ten A Penny" was barely noticed (#83/1974).
Same with "Funny How Love Can Be" (#74/1975).
After releasing a second album, "SST"  with artwork featuring the new Cocorde SST on the cover, Carter, Burrows and Mills decided that there was no need to continue "First Class." With the end of the name, came the end of the "group" as both a studio and tour entity.
What has happened since then?
Chas Mills left the music industry, and at last note, runs a restaurant in North London.
John Carter remains active, writing commercial jingles, and keeping an eye on the use of the songs that he and wife Jill wrote over the years.
Tony Burrows remains a man of rare distinction in the hit record world!
You don't know him by name...but you know his voice: Burrows was the lead singer of Edison Lighthouse ("Love Grows Where My Rosemary Goes"), White Plains ("My Baby Loves Lovin'") and Brotherhood Of Man ("United We Stand"). All 3 were chart hits simultaneously, in the spring of 1970!
Burrows would also be the lead vocalist for the Pipikins ("Gimme Dat Ding")!
And many others...but he would never have a chart hit under his own name!
Long live one of "Jersey's Favorite Hits"...Beach Baby!
Celebrate the start of the summer of 2017...and crank up "Jersey's Favorite Summer Hits" all holiday weekend!
Enjoy our "Summer At The Shore Weekend" on New Jersey 101.5, on the New Jersey 101.5 app...and here at nj1015.com!
More From New Jersey 101.5 FM