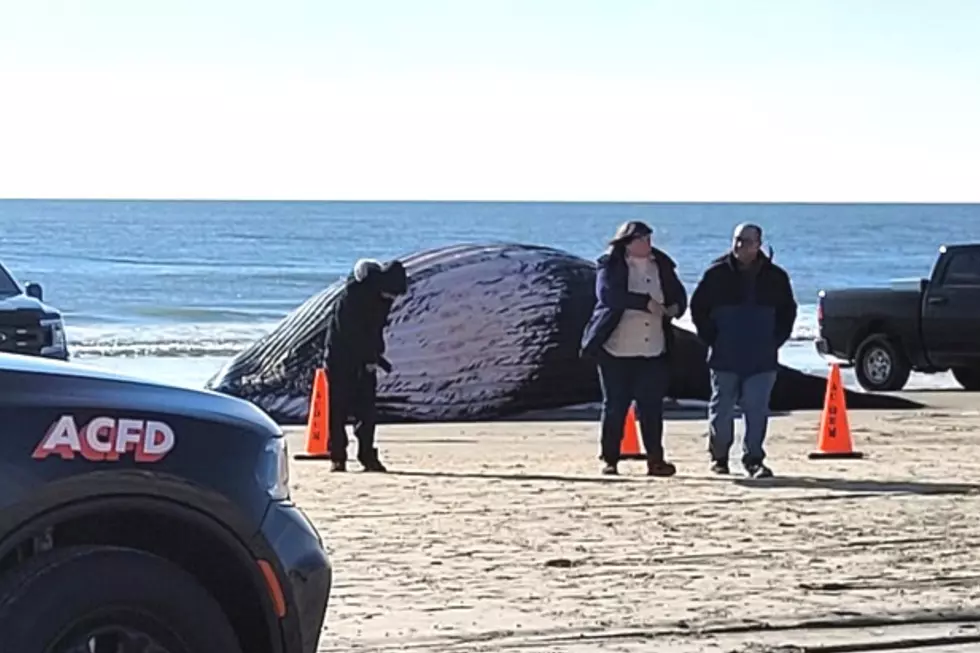 Dead 30-ton whale washes up on Atlantic City, NJ beach
A dead whale washed up on an Atlantic City beach 1/7/23. (Atlantic City)
ATLANTIC CITY — Another whale has washed up along a Jersey Shore beach, leaving people wondering why four of its kind have turned up dead on the state coastline in the last 34 days.
The latest 33-foot humpback was found Saturday morning around 8 a.m., according to Atlantic City. It had washed up at the Georgia Avenue beach near Boardwalk Hall.
Crews from the Marine Mammal Stranding Center, located in Brigantine, were at the scene measuring the whale and taking samples, which include genetic samples and samples from the skin. Tests could also reveal potential diseases responsible for the whale's death.
"We don't know what killed it," MMSC Director Sheila Dean told New Jersey 101.5. She said it could be some time before they find out the cause of death, partly because of the animal's massive size. "There's so many parts to look at and it just takes a while."
She said the whale will be opened up Sunday, which can sometimes reveal evidence of boat strikes or other kinds of trauma.
Dean estimated that, based on its length, the humpback was about 30 tons. She believes it was also likely female from initial observations.
🐳 Dead whales washing up at NJ beaches
Another 30-foot female humpback washed up about two weeks ago just a few blocks away on a beach near Chelsea Avenue on Dec. 23. And four weeks ago, a third humpback of roughly the same size was found at Whale Beach in Strathmere on Dec. 11.
"We're not the only ones that are getting them. This is happening all over the East Coast," Dean said. She said New York and Virginia have been seeing more dead whales over the past month.
A fourth, smaller sperm whale was found at a Keansburg beach in North Jersey on Dec. 5. It had first washed up alive at Gilgo Beach in Babylon, New York but was pushed back into the water by people from the general public before drifting to Keansburg.
Dean said that likely caused the animal a more painful death from drowning than if it had been humanely euthanized by professionals.
"That's the sad part. The general public, they think they're doing something right but they're just not," Dean said. "When a big whale hits the beach, it's usually the end of the story. They don't do well when they hit dry land."
NJ whale deaths caused by wind farms?
One group, Protect Our Coast NJ, places the blame for the whale deaths on projects to build offshore wind turbine farms. Its website states that "whales, offshore wind surveying and ocean turbines do not coexist well."
In a video posted to its Facebook group, one member at the scene of the beached whale Saturday placed blame for its death on surveying being done for ocean wind projects.
But Dean pushed back on the claims. She said researchers were picking up a batch of samples from the four recently dead whales on Sunday and that until those results can show a cause of death, it's too early to say.
"I'm going to say it's a guess on their part," Dean said. "People should wait to find out what the true facts are instead of forming their own conclusions."
She agreed that the number of whales that have turned up dead in recent weeks is strange.
"Hopefully this is the last of the whales washing up on shore," Dean said. "We don't know what's going on."
Rick Rickman is a reporter for New Jersey 101.5. You can reach him at richard.rickman@townsquaremedia.com
Click here to contact an editor about feedback or a correction for this story.
Most Controversial Celebrity Magazine Covers Ever
Below, discover the most controversial celebrity magazine covers to ever hit the newsstands.
LOOK: See how much gasoline cost the year you started driving
To find out more about how has the price of gas changed throughout the years, Stacker ran the numbers on the cost of a gallon of gasoline for each of the last 84 years. Using
data from the Bureau of Labor Statistics
(released in April 2020), we analyzed the average price for a gallon of unleaded regular gasoline from 1976 to 2020 along with the Consumer Price Index (CPI) for unleaded regular gasoline from 1937 to 1976, including the absolute and inflation-adjusted prices for each year.
Read on to explore the cost of gas over time and rediscover just how much a gallon was when you first started driving.
The Worst Marvel Moments of 2022
We picked the low points of a year of Marvel Cinematic Universe films and series.
More From New Jersey 101.5 FM