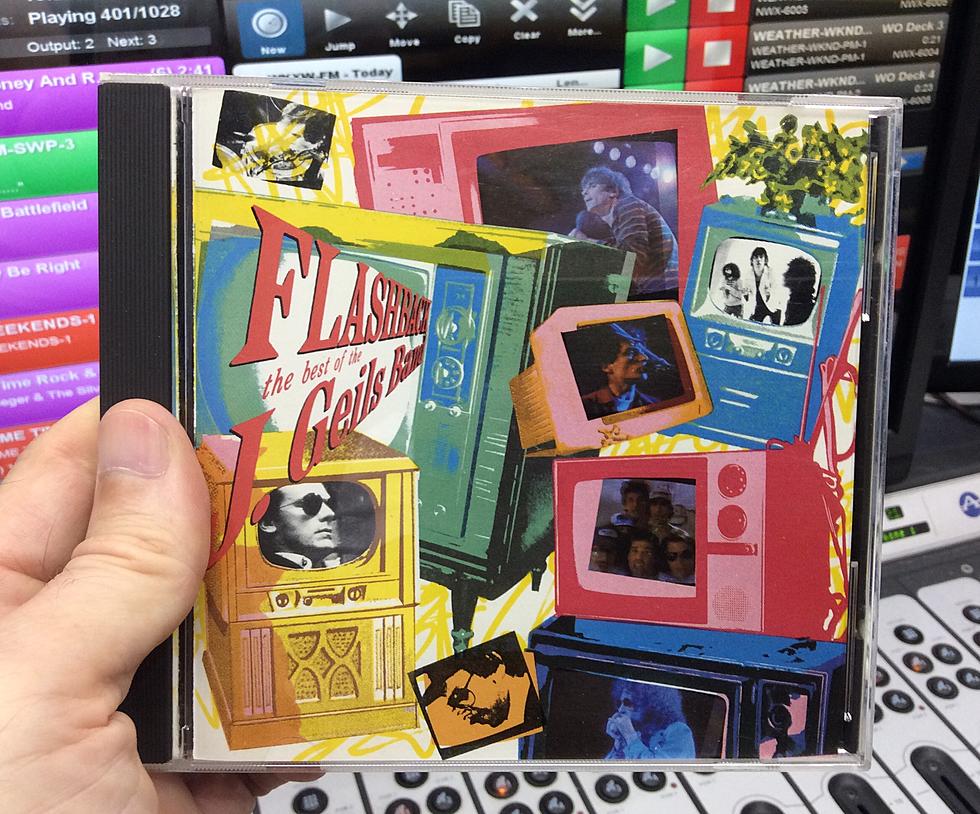 Craig Allen's Fun Facts: 'Centerfold'
"Best Of" J. Geils Band, 1985...one of my first CDs! (Craig Allen photo).
Could this song prove that the "John Geils Blues Band" is multi-media...as its a song about pictures in the print media?
And...the reaction to those pictures...in a pre-internet, pre-TMZ world!
"Centerfold" tells the story of a guy with a crush...on this sweet and innocent girl from his high school homeroom.
Years later, he's looking through an adult (their term: "girlie") magazine...and there she is!
Not so innocent. The fuzzy sweater is...gone. Literally.
His memories are...crushed. His world is ROCKED!
And, he is...conflicted...feeling lustful, yet disappointed...as his "memory has been sold."
Do they ever get together? I leave that to you and your imagination, as the song's writer, Seth Justman, isn't saying!
Justman wrote or co-wrote all the songs on the "Freeze Frame" album, that "Centerfold" comes from.
He does say that there is a reason that the synthesizer isn't heard much on earlier J. Geils Band albums: the band couldn't afford them! Justman states that the band was stuck  in the record company debt cycle...constantly owing money despite their success!
The J. Geils band signed with Atlantic Records in 1970, and made an early name for themselves as a great live band, with a bluesy image (I have written about the band, in depth...click HERE for my recent nj1015.com J. Geils Band profile)
As you might imagine, "Centerfold" was a musical departure for the band...wanting to sound more like the "Cars" and "Police"...the band's "new wave" sound was rewarded!
"Centerfold" went to #1 in early 1982...and it stayed in the top spot for 6 weeks!
And...its the band's ONLY #1 song...(it also went to #1 in Canada and Australia).
"Centerfold" immediately earned the band a spot touring with the "Rolling Stones," they landed on the cover of (the) "Rolling Stone" (magazine), and the video of the guys playing in the "classroom," surrounded by Catholic high school uniforms, got heavy play on a new channel called MTV...
The video is directed by Paul Justman...brother of the song's writer, Seth Justman!
Making the band, and the song, even more of a multi-media presence, "Centerfold" has been used in the movies: "Charlie's Angels Full Throttle" (2003), "The Watch" (2012), and "Grownups 2" (2013)...plus the TV shows: "The King Of Queens" (2000), "The Office" (2012), and on "Glee" (2013).
And. of course, "Centerfold" is one of "Jersey's Favorite Hits!"
Catch up with the band on social media by clicking here!
One more thought...now that "Playboy" is just articles...will there soon be a day when the meaning of "Centerfold" is lost....?
I'm just thinking out loud.