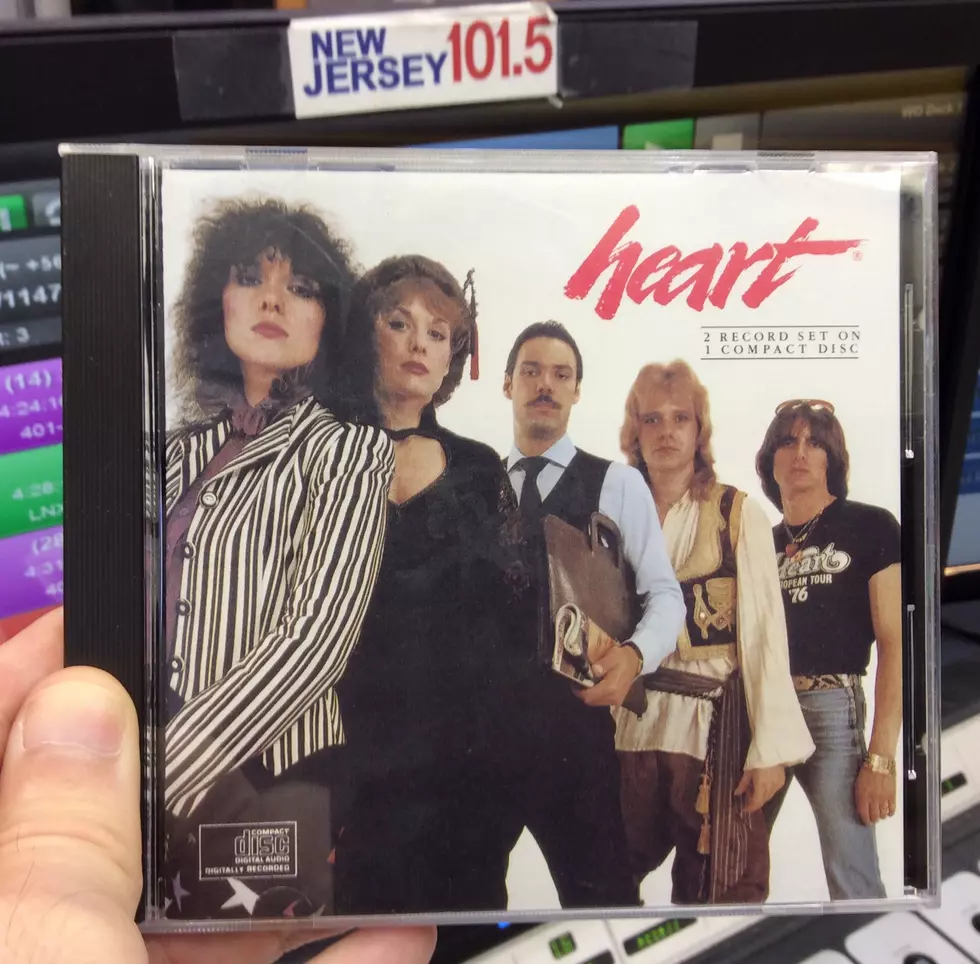 Craig Allen's Fun Facts: "Barracuda"
The Heart "Best Of" that the band wanted...1980. (Craig Allen photo).
As we give you Heart, Joan Jett and Cheap Trick passes on a "Free Ticket Weekend," I thought it would be fun to delve into the story behind the winning hit that I will play during the 6:00 hour!
"Heart" is the rock band formed in Seattle in 1973, around the talents of sisters Ann and Nancy Wilson. Ann on vocals, and Nancy on guitar and keyboards.
Originally known as "Army," they changed to "White Heart," and then shortened the band name to "Heart" in 1974.
Heart relocated to Vancouver, Canada, when manager Mike Fisher was drafted. They signed with "Mushroom Records" (this is important to the Barracuda story).
With amnesty being granted in 1976, Heart returned to Seattle, signing with the CBS/Portrait label.
"Barracuda" was written out of anger...in case you might have missed that dynamic...made rather clear by the hit song's lyrics, as well as it's in-you-face sound.
Written by Ann and Nancy, along with guitarist Roger Fisher and drummer Michael DeRosier, "Barracuda" is said to be about the record business in general.
It is important to know that "Barracuda" was written at a time when there was friction between the band and their record label(s).
"Little Queen" was the first Heart album for their new label, CBS/Portrait.
Their old label, Mushroom Records, sued Heart in 1978, and released "Magazine," an album of previously released songs...
...that Heart did NOT want released!
Further, the Wilson sisters have stated in several interviews in the past few years, that "Barracuda" was written in (angry) reaction to an ad placed by Mushroom Records...implying that the sisters were having an affair...with each other!
The hit song specifically focused on Ann's rage towards a promoter who came up to her after a Detroit concert, asking how her 'lover' was doing. At first, she thought that he was referring to her then-boyfriend, band member  Michael Fisher.
Furious, Ann went back to her hotel room, and put pen to paper.
Nancy added angry-sounding music to the words...comparing the record industry to a dangerous fish.
One of Jersey's Favorite Hits, "Barracuda" would just miss the top 10...
...halting its climb up the Hot 100 chart at #11, in the summer of 1977.
As I mentioned in last weekend's nj101.5's article, which featured Heart's 80's pop hit "Alone," (click here), Heart would be a mainstay of album rock-based radio through the 1970's...and top the pop charts in the 1980's.
A few more "Barracuda" fun facts:
It's heard in the movies "Wag The Dog" (1997), "Charlie's Angels" (2000), "Roll Bounce" (2005), "You Again" (2010), "The Campaign" (2012) and "Identity Thief" (2013). On TV, Barracuda was included in the Jersey-centric "Sopranos," plus "Chuck" and "My Name Is Earl." It has been sung by other artists on "Glee" and "American  Idol."
And, if you think that recording artists having misgivings about politicians using their music in campaigns is something new...Heart was unhappy in 2008, when then-Vice Presidential candidate Sarah Palin was using "Barracuda" at events...without the band's permission.
In the end, royalties for the song's use were paid by the Republican Party to Heart...who then turned around, and donated the money to...the Obama campaign.
Such is the rough and tumble world of Rock 'n' Roll!
And, good luck winning Heart, Joan Jett and Cheap Trick tickets from New Jersey 101.5!