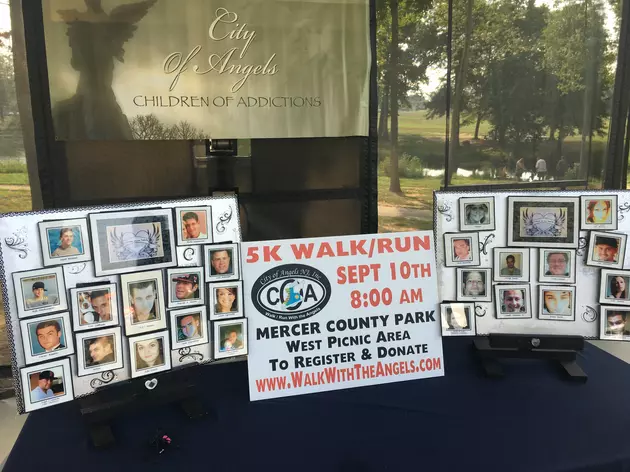 City of Angels takes fight against NJ heroin epidemic to the White House
Chris Swendeman, Townsquare Media
Mercer County-based City of Angels has been no stranger to our airwaves in the last several months, with co-founder Kevin Meara doing multiple interviews with New Jersey 101.5 hosts Bill Spadea and Steve Trevelise. But a few exciting developments over the summer are helping the group expand its advocacy even further.
A couple of months ago, Meara was invited by the White House Office of National Drug Control Policy to speak at Towson University in Maryland, at a symposium on heroin response strategies in HIDTAs, or High Intensity Drug Trafficking Areas. Baseball Hall of Famer Cal Ripken Jr. was among the other speakers. That appearance by Meara led to more talks in Maryland and Virginia, and on Sept. 19, a trip to the White House itself.
"Eight years ago when we started (City of Angels), we couldn't get a letter to the editor in the newspaper, and now we're talking at the White House," Meara said.
The September discussion, which involved Secretary of Agriculture Tom Vilsack and other federal officials, also focused on the heroin epidemic — specifically from a parent's point of view. Meara himself lost a son to addiction, fueling the mission of his group.
Back in New Jersey, Meara said, City of Angels is embarking on a new initiative he calls "Code Blue," which he describes as being similar to Doctors Without Borders or Operation Smile. The goal is to get doctors who have opioid dependency certifications to volunteer their time to treat young heroin use victims.
"Kids are actually dying because they don't have access to treatment," Meara said. "We have a lack of treatment beds in New Jersey."
Insurance can be a major roadblock, Meara said, and another component Code Blue hopes to address is setting up an ambulatory detox system in the state. To that end, the group is reaching out to Gov. Chris Christie for an emergency, temporary operating license, because the process to obtain a normal license can take nearly a year.
The end objective is clear-cut, according to Meara: "get them off the heroin by getting them started on MAT, which is medicine-assisted treatment," he said.
More from New Jersey 101.5:
More From New Jersey 101.5 FM