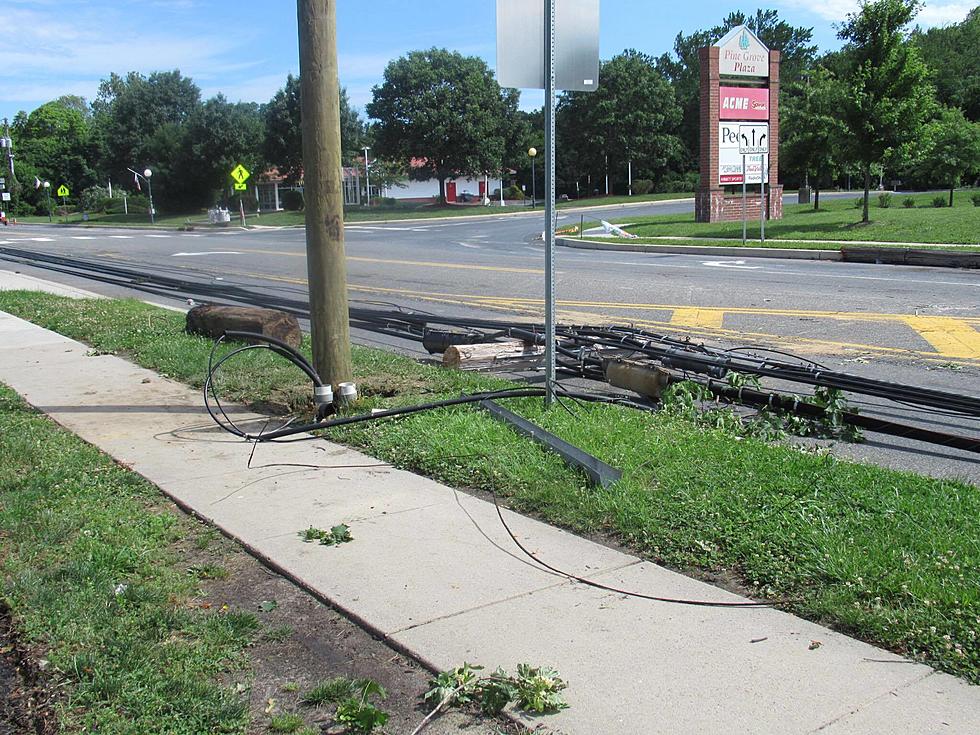 No tornado as Browns Mills cleans up from microburst storm packing 75 MPH winds
(Jasmine Rodriquez, Townsquare Media NJ)
PEMBERTON — Utility crews are completing repairs in Browns Mills and should have power restored for all customers by Sunday evening.
JCP&L crews replaced 12 of their utility poles that came down in Saturday morning's microburst and reconnected power lines, according to spokeswoman Chisty Hajoway. Power was re-routed to working lines to bring most of the 1,400 customers who lost power back online by Sunday.
"The process is working very smoothly and the crews are working hard. They made a ton of good progress overnight in that area and in other areas in New Jersey where we had outages from the storm." Hajoway told New Jersey 101.5.
The National Weather Service concluded it was a microburst with 75 mph straight line/microburst winds that caused the damage in Pemberton, not a tornado.
"All the trees were pointed to the southeast as the wind came in from the west and northwest. Also, the damage was concentrated at first but the spanned outward from a path in both directions typical of a microburst," the NWS report said.
Chief meteorologist Dan Zarrow said a tornado would have produced damage in a "moving spiral" pattern.
Ralph WIlliamson said he heard the heavy rain falling and transformers popping around 7:30 a.m. on Saturday morning and lost power shortly after that. Some trees also fell in his backyard.
Despite being told different restoration times by JCP&L he isn't too upset. "I've survived an earthquake, a hurricane and a big blizzard all within the last 8 years. We'll survive, Williamson said.
Hajoway said the Acme supermarket on 18 Broadway Street is offering free ice to JCL&L customers still without power.
Jasmine Rodriquez contributed to this report
More from New Jersey 101.5:
More From New Jersey 101.5 FM