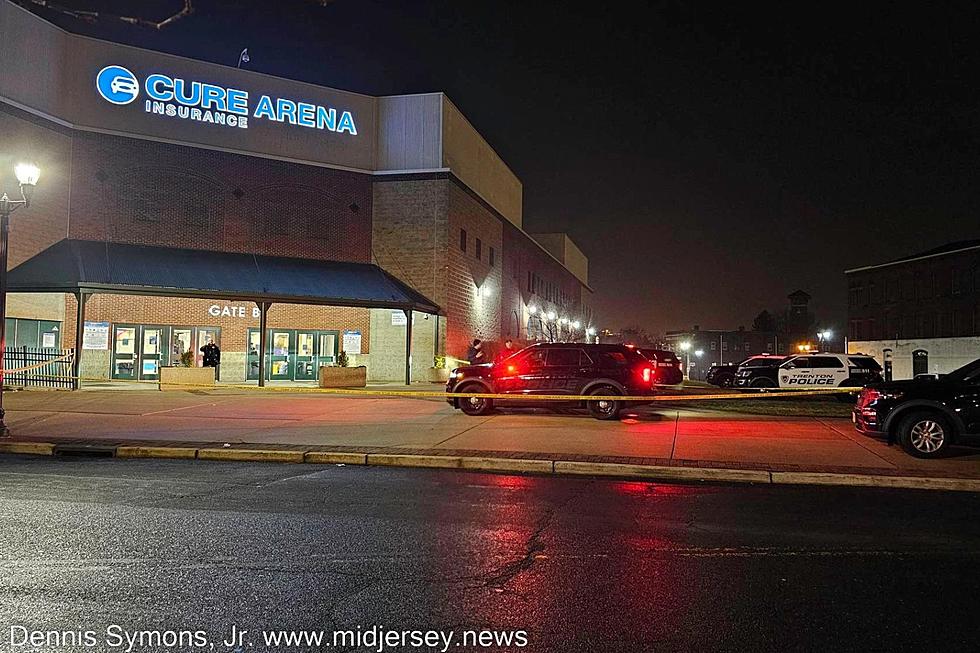 Brothers charged with murder in stabbing at NJ school basketball game
Police outside the Cure Insurance Arena in Trenton after a fatal stabbing 2/16/23 (Dennis Symons, MidJersey.news)
🚨 Two brothers are charged with first-degree murder for a stabbing at CURE Insurance Arena in Trenton
🚨 Khalil Glanton was killed surrounded by a crowd of onlookers at a high school basketball game
🚨 Trenton officials want a full investigation into how a weapon got through security
---
TRENTON — An argument over a woman led to two brothers fatally stabbing another man to death at a high school basketball tournament last week, according to Mercer County Prosecutor Angelo Onofri.
Trenton men 25-year-old Kareem Finney and 20-year-old Kahli Finney are both charged with first-degree murder and third-degree weapon possession.
Khalil Glanton, 23, was murdered at the CURE Insurance Arena in Trenton around 8:30 p.m. on Thursday, Onofri said. Trenton Central and Notre Dame were playing in the Mercer County Tournament Boys Championship at the arena that night. Glanton graduated from Trenton Central in 2019, according to Superintendent James Earle.
After the game ended, cops working at a high school basketball tournament were forced to break up a large fight on the main concourse between sections 111 and 112. The Trentonian reported that video footage of the brawl reportedly showed a group fighting while dozens of people watched and recorded.
As they broke up the conflict, officers found Glanton with stab wounds to his upper torso, Onofri said. He was unresponsive and was later pronounced dead at the hospital.
According to the prosecutor's office, surveillance footage showed that Kareem Finney pinned Glanton while his younger brother Kahli Finney stabbed the victim repeatedly.
Authorities said this was not their first encounter; investigators found that the Finney brothers and Glanton had an "ongoing dispute" over a woman.
Trenton eyes CURE Insurance Arena security
In the wake of the murder, members of Trenton City Council are calling for an investigation into the security measures at CURE Insurance Arena.
"Following the incident at the Cure Arena, which was attended by most of the City Council members, immediate concerns were raised as to whether all appropriate security measures and protocols had been implemented and followed," the city body said in a statement.
Mayor Reed Gusciora is also calling on the county to make sure there is sufficient training for all personnel "who operate a metal detector." He also vowed to add extra security for the first round of the NJSISAA tournament Tuesday at Trenton Central.
Rick Rickman is a reporter for New Jersey 101.5. You can reach him at richard.rickman@townsquaremedia.com
Click here to contact an editor about feedback or a correction for this story.
9 of the nation's most miserable cities are in New Jersey
What would happen to NJ if we were attacked by nuclear weapons?
We used
NUKEMAP by Alex Wellerstein
to see what would happen if a nuclear warhead hit New York, Philadelphia, Washington or New Jersey.
The models show what would happen in aerial detonation, meaning the bomb would be set off in the sky, causing considerable damage to structures and people below; or what would happen in a ground detonation, which would have the alarming result of nuclear fallout. The models do not take into account the number of casualties that would result from fallout.
New Jersey's Most Terrifying Serial Killers
New Jersey Nightmares - Notorious Serial Killers
More From New Jersey 101.5 FM