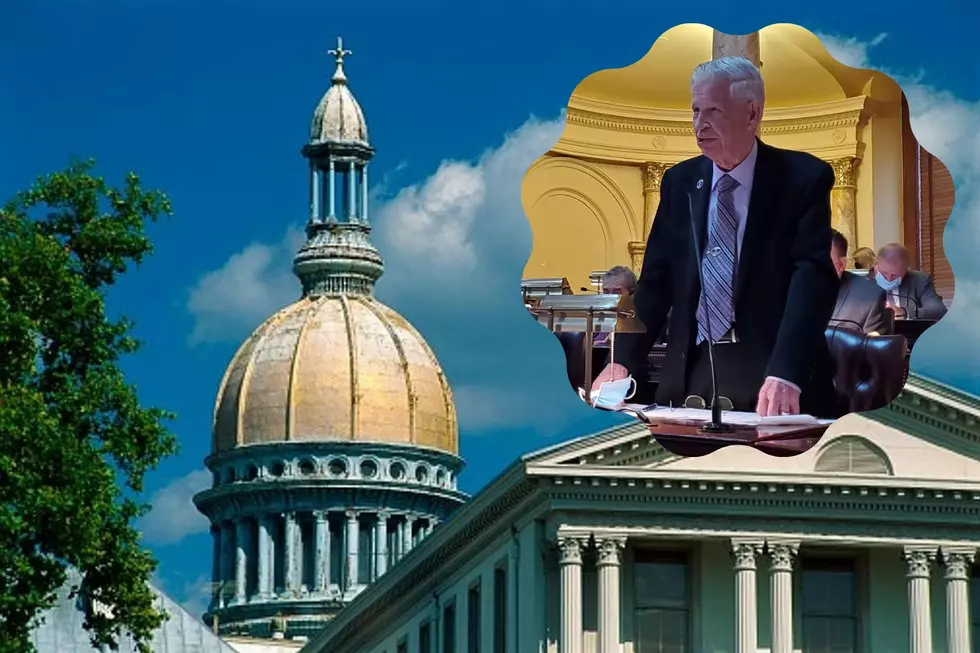 Big change in NJ GOP — Senator will switch parties
NJ Senator Sam Thompson/Townsquare Media illustration
🔺 NJ GOP pushes out on of their most conservative members
🔵 Sen. Samuel Thompson has decided to switch parties
🔺 Switch makes efforts to retake the senate more difficult for Republicans
---
Efforts by Republicans to retake the New Jersey Senate just got harder with a long-serving senator poised to switch parties.
Samuel Thompson, R-Middlesex, told NewJerseyGlobe.com, "I feel my party leadership has abandoned me."
Thompson is 87 years old, and GOP leaders have been not so subtly trying to push him out and get him to retire. He has repeatedly refused, insisting he remains fit to serve both mentally and physically.
With strong name recognition and generally high popularity, especially in Monmouth County, the conservative Republican would have a strong chance to win even on the Democratic line.
Monmouth County Republican leadership is backing Old Bridge Mayor Owen Henry, and Henry will have the party line. The district also includes portions of Middlesex, Burlington and Ocean counties. Party chairmen from the other three counties are also expected to support Henry.
Henry is 25 years younger than Thompson, but publicly party bosses say this is not about age. They say it's about Henry's ability to win after he flipped OId Bridge to Republican control in 2011 and won re-election twice.
However, that argument seems a bit disingenuous when you consider Thompson has held his seat for three terms and won 65% of the total vote in 2021.
By switching parties, Thompson avoids what could be a costly and messy primary.
It also gives Democrats a 25-15 advantage in the Senate.
Republicans have made recapturing at least one of the legislative house a top priority of this year's legislative elections. All 120 seats in both the Assembly and Senate will be on the ballot.
Democrats lost six seats in lower house in 2021, but still hold a 46-34 majority.
Gaining enough seats to take control in either house will be difficult for Republicans. Only a handful are considered competitive districts, and Democrats still have a significant money advantage.
Thompson running as a Democrat in the heavily Republican 12th district will now force the NJ GOP to spend cash in a district that should not have been in question, making the task of claiming a majority in either house that much more difficult.
Eric Scott is the senior political director and anchor for New Jersey 101.5. You can reach him at eric.scott@townsquaremedia.com
Click here to contact an editor about feedback or a correction for this story.
The 99 top paying jobs in New Jersey
How much do you make? These are the occupations in New Jersey with the highest median annual compensation. Source: Federal Bureau of Labor Statistics, 2022
LOOK: Here's where people in every state are moving to most
How much does the average NJ home cost? Median prices by county
Everything is costing more these days — and housing is certainly no exception in New Jersey.
Data for 2022 from January through August, compiled by New Jersey Realtors, shows that South Jersey has been seeing homes hit the market and sell in less than a month, on average.
Median prices for single-family homes have reached $500,000 and above in nine counties in North and Central Jersey.
All but two counties have seen houses go for more than the list price, on average, this year.
More From New Jersey 101.5 FM