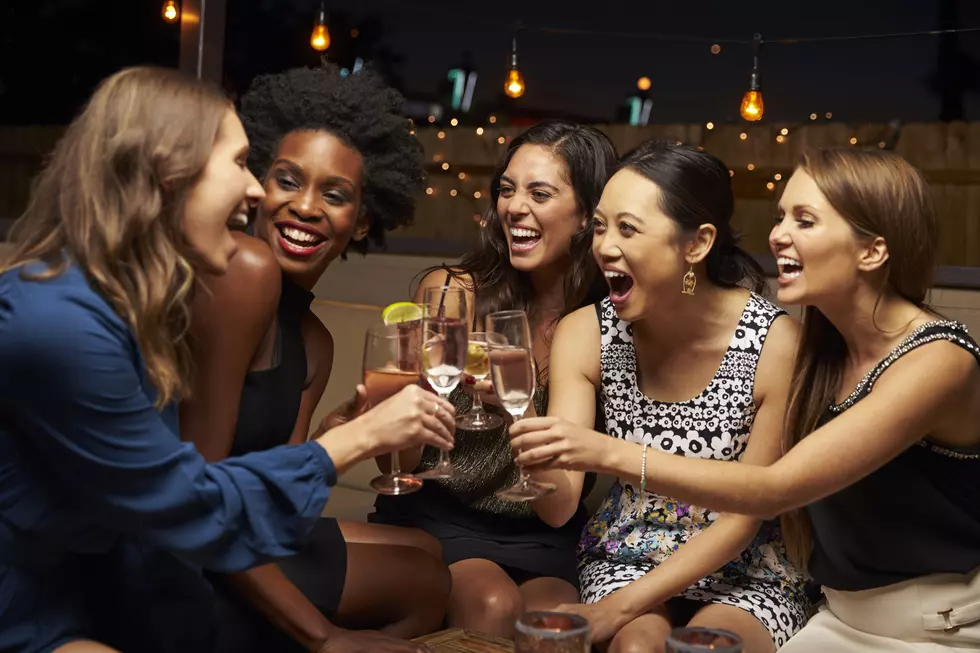 12 of the best things to do this weekend in NJ — Nov. 17-19
ThinkStock
Looking for something to do this weekend? We've got you covered. Check out our complete list of great events and fun things do right here in the great Garden State!
---
---
Join us as Willow Creek welcomes Master Chef Brian Parker from the Southern Mansion of Cape May for another great wine makers dinner at our Harvest Ball! Harvest volunteers that join our grape picking parties that are held weekly in October, and pick in one of our 3-hour grape picking sessions will receive one ticket for each session worked to our Harvest Ball black tie 4-course dinner on Saturday, November 18th. It will be an experience and an event you will not want to miss. Stay tuned!
Date: November 18th, 2017
Location: Willow Creek Farm & Winery
168 Stevens St., West Cape May, NJ 08204
High quality juried crafters and artists; also local non-profit groups are represented, including Quilts of Valor, a local Animal Rescue group, and others. Crafts include quilts & fiber arts, jewelry, pottery, baskets, turned wood, glass, and much more. Free Kids Can Craft area. Free Admission, but donations are gratefully accepted. 50/50 Raffle (do not need to be present for drawing), Chinese Auction including items donated by some of our crafters (do not need to be present for drawings). Music, food, fun, and it's all indoors. A jolly good time for all, plus it is just before the holiday rush. This is the Saturday before Thanksgiving. We have high marks from previous shows and expect this one to be even better. Don't miss it! Benefits local students through scholarships awarded by the Greater Tuckahoe Area Merchants' Association, Inc. Since 1998 we have awarded over $180,000 to local students. Thank you for your support.
Date: November 18th, 2017
Location: Upper Twp. Community Center
1790 Rt. 50, Tuckahoe, NJ 08270
Come to the grounds of the Physick Estate for the Christmas tree lighting with special guests Santa Claus and Dr. Physick. Refreshments will be served, and guests may enjoy a free self-guided tour of the Physick Estate from 6 pm to 8 pm. Santa arrives at 7 pm to flip the switch and light the thousands of bulbs. Sponsored by the Mid-Atlantic Center for the Arts & Humanities (MAC). For more information, call or visit website.
Date: November 18th, 2017
Location: Emlen Physick Estate
1048 Washington St., Cape May, NJ 08204
---
---
Experience Holistic Health for the Total Man...Spirit, Mind, Body, Soul, Family & Finances. This event is Free & Open to the Public and will include Health Screenings, Guest Speakers, Nutritional Information, Refreshments, Prizes and More. Saturday 10 am - 2 pm and Sunday 3 - 6 pm. Participants can registration online.
Date: November 18th, 2017 - November 19th, 2017
Location: DeMarco-Luisi Funeral Home
2755 S. Lincoln Ave., Vineland, NJ 08361
---
---
Award-winning American Impressionist, Lisa Palombo, will hold her 17th annual Holiday Open Studio from noon - 5 pm. Children are welcome. Light refreshments served. Twice a year, Palombo opens her art studio and gallery to the public to showcase new original paintings consisting of impressionistic-style florals, waterscapes and equine paintings in various sizes and subject matter. For example, she will be displaying paintings from her popular "Fields of Joy," "Koi," "Musica," "Water Lilies," and her latest, "Maritime" series which all truly highlight her signature palette and expressive brushstrokes.
Date: November 18th, 2017 - November 19th, 2017
Location: Lisa Palombo Studios
55 Mountain Ave., Caldwell, NJ 07006
---
---
Roasted Butternut Squash Salad, Caramelized Bacon on a Sweet Potato Crostini, and Pumpkin and Caramel Pecan Ice Cream are just a few of the delicious seasonal delights we will be pairing with wine for this seated tasting experience. Sample fabulous Fall foods while learning why the right wine can compliment and enhance their flavors. $30/person ($25 Vintner's Club Members). Purchase tickets online.
Date: November 18th, 2017 - November 19th, 2017
Location: Old York Cellars Winery
80 Old York Rd., Ringoes, NJ 08551
---
---
Explore the intersection of science and art at SMASH: Campfire Science! This fun, free program will offer hands-on, family-friendly activities to explore how archaeologists use fire pits to discover the past. Discover campfire traditions and the importance of the hearth in the home. While you're here, visit the new exhibition "Hearth & Home" to see a rare collection of Native American house models made in the 1930s during the Works Progress Administration (WPA), complemented with actual artifacts used in native dwellings.
Date: November 18th, 2017
Location: New Jersey State Museum
205 W. State St., Trenton, NJ 08608
---
---
The New Jersey VegFest is hosting a special Thanksgiving vegan pop up shop at Convention Hall in Asbury Park. Join us for a fun day with amazing food featuring Screamers Pizzeria, Vegan Treats, Freakin Vegan, Rockin Raw, Yeah DAwg and more. Everyone is welcome to celebrate the holidays with us! Plan on getting food to go to take with you to Thanksgiving elsewhere or to treat your favorite visiting vegan!
Date: November 19th, 2017
Location: Convention Hall
1300 Ocean Avenue, Asbury Park, NJ 07712
---
---
Arts & Crafts Fair will feature a wide variety of beautiful hand made pieces of arts and crafts. Many exhibitors will be selling their holiday gift line. This is an ideal place to shop for that special gift you won't find elsewhere. It will feature artisans & crafts people displaying and selling their original creations such as gift items, accessories, sculptures, personalized items, photography, paintings, pottery, jewelry, decorative fiber works, metal works, paper, stone, and so much more. There is a section of the event that will feature specialty food items such as dips, oils, sauces, nuts, honey, salad dressings and more. The kids will enjoy the "hands on" craft area (free). Admission is $2, Seniors $1, and Kids under 12 Free.
Date: November 19th, 2017
Location: 121 Kinnelon Rd., Kinnelon, NJ 07405
The Laurie Berkner Band celebrates the season with traditional holiday songs, originals from her well-loved album A Laurie Berkner Christmas, Hanukkah music and an array of Laurie's greatest hits. Ages 2+ Kids under 1 y/o on Laps are free Performances at 11 am & 3 pm. Tickets: $19 - $39.
Date: November 19th, 2017
Location: Mayo Performing Arts Center
100 South St., Morristown, NJ 07960
---
---
This Craft Show should be your first stop for holiday shopping. Enjoy many delightful new crafts as well as old favorites. Highlights include, jewelry, hand painted clothing, silk flower arrangements and many forms of art. There will be a Chance Auction on Saturday.
Date: November 18th, 2017 - November 19th, 2017
Location: St. Francis Community Center
4700 Long Beach Blvd., Long Beach Township, NJ 08008
---
---
You Can't Take It With You is a madcap, idealistic comedy that reinforces the idea that you can only live life to the fullest by doing whatever makes you happy.7:30 p.m.
Date: November 18th, 2017
Location: Cranford High School
201 West End Place, Cranford, NJ 07016
Liberty Live: Black Tom Island By Martin Casella November 17-19, 2017 (Friday at 7 p.m.; Saturday & Sunday at 3 p.m.) Event is Free. Based on an actual incident that took place in Jersey City in 1916, Black Tom Island explores the first documented terrorist attack on American soil through the lens of a fictionalized Slovak immigrant and his wife who may or may not be involved in the attack.
Date: November 17th, 2017 - November 19th, 2017
Location: Little Theatre, Miron Student Center
1000 Morris Ave., Union, NJ 07083
More From New Jersey 101.5 FM