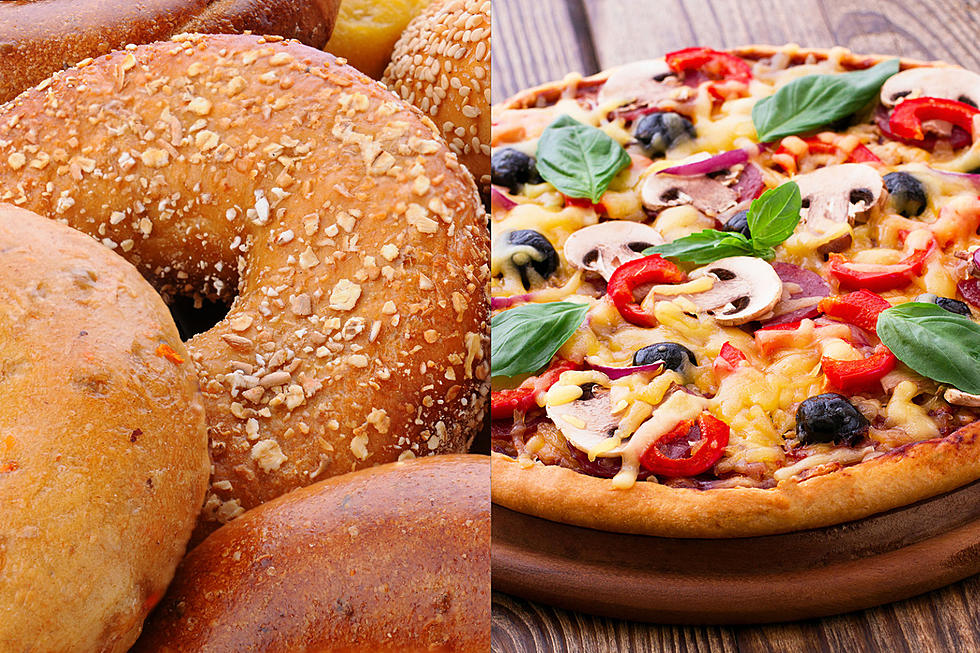 Why NJ folks are so snobby about these two favorite foods
Adobe Express
Everyone knows that we here in New Jersey are snobs about our food. And one could argue that there's great food all over the country. But you're never ever going to find a comparison to our top two foods. These are the ones that no other state can compete with. It's bagels and pizza.
There are many reasons why our pizzas and our bagels rule, and I will try to break it down here.
First and most simply, New Jersey's bagels are boiled before they are baked, giving them a dense and chewy texture. And the state's pizza is thin, crispy, and topped with tangy tomato sauce and delicious mozzarella cheese.
I've tried both in other places many other places, and they always disappoint. So not only are we famous for our boardwalks, and beaches, but we are also famous for our pizza and our bagels.
When it comes to pizza, New York may claim to have the best slices, and Chicago may brag about their deep dish, but let's be real, New Jersey's pizza is the real winner.
First off, the water. Yes, the water. New Jersey's water is apparently magical when it comes to making dough. Something about the mineral content makes the crust crisp and flavorful. And don't even get us started on the cheese. It's like the cows in New Jersey were put on this earth solely to produce the perfect mozzarella.
So, sorry, New York and Chicago, but when it comes to pizza, you just can't top the Garden State.
And now, our bagels. New Jersey's bagels are the best because they have that perfect chewy texture and crusty exterior that'll make you forget about any other bagel. Maybe it's the water, maybe it's the attitude, but either way, NJ knows how to do bagels right.
And don't even get me started on the variety of flavors and toppings. From classic everything to funky French toast, NJ's got it all. Sorry New York, but when it comes to bagels, the Garden State reigns supreme. Don't believe me? Next time you're traveling somewhere else in the country order of a bagel however, you normally eat it and be prepared to be underwhelmed.
Or grab a slice from the local pizza joint in Albuquerque and try to figure out how they can actually call it pizza.
So it's simple. New Jersey's snobbery about bagels and pizza is justified because the state has perfected both.
Opinions expressed in the post above are those of New Jersey 101.5 talk show host Judi Franco only.
You can now listen to Dennis & Judi — On Demand! Hear New Jersey's favorite best friends anytime, anywhere and any day of the week. Download the Dennis & Judi show wherever you get podcasts, on our free app, or listen right now.
Click here to contact an editor about feedback or a correction for this story.
Scenes from Jersey Pizza Joint's Pizza Bowl III
8 BANGIN' BAGEL JOINTS IN MONMOUTH & OCEAN COUNTIES
More From New Jersey 101.5 FM