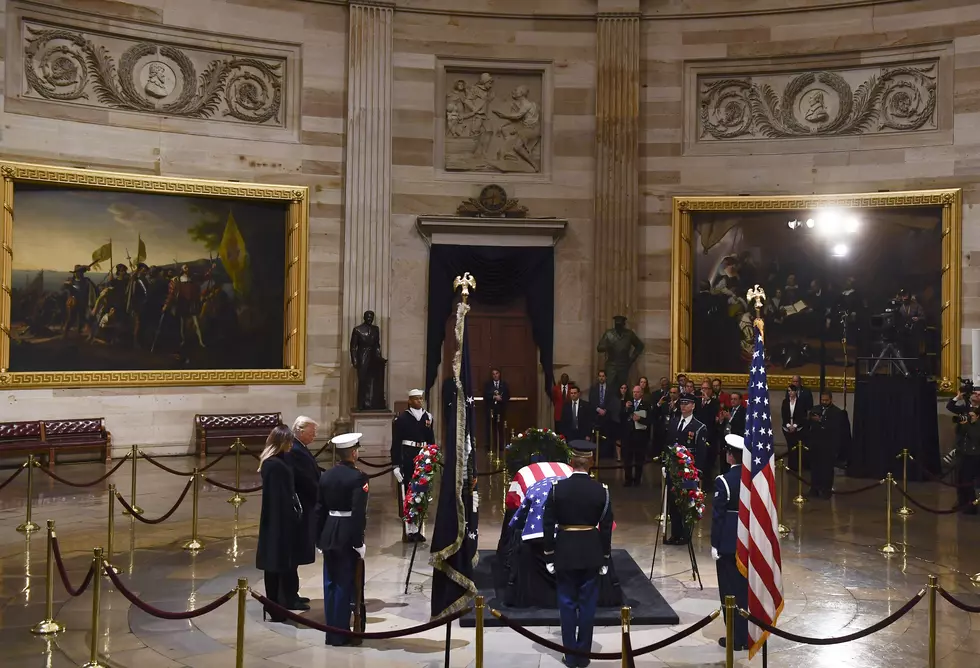 No mail delivery Wednesday, National Day of Mourning for George H.W. Bush
President Donald Trump and first lady Melania Trump, arrive to pay their respects to former President George H. W. Bush as he lies in state in the Capitol Rotunda (Brendan Smialowski/Pool via AP)
WASHINGTON — President Donald Trump ordered federal offices to be closed Wednesday to honor former President George H.W. Bush.
Trump signed an executive order Saturday, a day after Bush's death, directing federal agencies and departments to close "as a mark of respect for George Herbert Walker Bush, the forty-first President of the United States."
The proclamation includes the US Postal Service whose office will be closed for the day. No regular mail will be delivered and package delivery will be limited. FedEx and UPS will deliver as normal on Wednesday.
The New York Stock Exchange, NYSE American, NYSE National, NYSE Arca, and the Chicago Stock Exchange will all be closed on Wednesday to honor Bush. "It is appropriate that the New York Stock Exchange closes on Wednesday, the National Day of Mourning, to honor President Bush's enduring legacy," Stacey Cunningham, NYSE Group President, said in a statement.
Nasdaq, in a statement said, it will not trade on Wednesday. Banks will be open.
Trump had already proclaimed Wednesday a national day of mourning and ordered flags to fly at half staff for 30 days. Gov. Phil Murphy issued a similar order for U.S. and state flags until sunset on December  30.
A day of mourning, including the suspension of market trading, is commonly declared following the death of a president.
Bush will be honored with a state funeral and said President Donald Trump and first lady Melania Trump will attend a service at Washington's National Cathedral.
Bush will lie in state in Capitol Rotunda through Wednesday morning.
Material from the Associated Press was used in this report.
More From New Jersey 101.5 FM