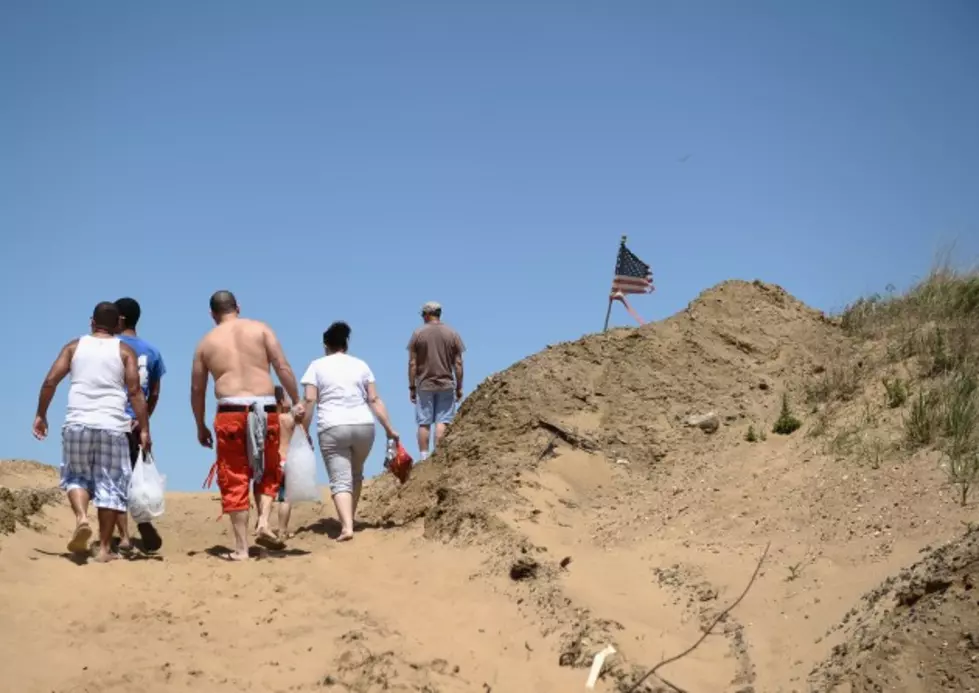 Want dunes to protect the Shore? NJ facing down 239 'hardcore' holdouts
Beachgoers walk up a dune on Memorial Day 2013 in Keansburg. (Photo by Michael Loccisano/Getty Images)
Jersey Shore homeowners who have refused to allow the state to build up dunes on their properties to protect against damage knew another storm like Joaquin could wreak havoc — and it did.
The argument against granting an easement has been twofold. Homeowners don't want their ocean views obscured, and they don't want their property values lowered.
But an official with the State Dept. of Environmental Protection said Monday New Jersey would continue to pursue eminent domain cases to force holdouts to give the OK for the dune build-ups.
"There are currently 366 easements that are still outstanding," said DEP press director Bob Considine. "What that amounts to in actual owners is we have 239 owner holdouts at this particular moment, and when we first started this process months after (superstorm) Sandy we needed about 4,200 easements down the entire coast of Jersey. So what you're dealing with now are basically the most hardcore of the holdouts."
"I wonder if the folks in Bay Head and Point Pleasant think it was a smart move to be fighting the dunes," he said.
"Margate: You are among the most selfish people in the state of New Jersey," Christie said at the time. "If this hurricane had come to shore, the lives it would have cost, I hope it would have been worth the vanity act."
But Margate Mayor Michael Becker said the city opposes building up dunes because his community protected by a sea wall, and his city would rather have more money to protect itself from bay flooding.
"We're such a nice town that it's a shame we got that kind of a comment," he said.
The beach protection work is done by the Army Corps of Engineers and the projects are federally funded, but the state has to get the easements or the jobs can't get done.
"What we're doing for the holdouts is to continue to go through eminent domain process to obtain the easements. We have several eminent domain filings in the courts and eventually we're going to have those easements. We just have to go through the legal process to obtain them," Considine said.
That legal process is time-consuming. Considine said no projects were midway through completion, but stopped because of easement problems. He said there were projects that should have started, but have not. It's most notable in the northern Ocean County area.
"There's more than a little irony here that the place where we're having the most resistance is the place that actually could use more beach the most — and we're talking about Bay Head," Considine said. "After the storm that we just had this weekend there are places in Bay Head where there is literally no beach."
Then owner of Jenkinson's filed a lawsuit against the federal and state governments that contested their authority to use eminent domain to condemn portions of land and build up dunes. The attorney representing Jenkinson's was John Buonocore Jr., a respected eminent domain lawyer.
"The power to take private property from law-abiding citizens can be abused by government, whether through lowball offers of compensation or attempts to take property on behalf of politically connected developers,"  Buonocore's law firm says on its website. "As an attorney, I take pride in standing up for the rights of property owners and in my ability to effectively fight city hall when others believe it can't be done. It can be done, and I do it every day."
While there is federal money to build up dunes now, that cash could disappear fast, Considine said.
"That funding is not guaranteed to be there forever. The federal government can take that if they decide these projects are never going to happen. We run the risk of losing that funding and that's a really bad thing," he said.
Kevin McArdle has covered the State House for New Jersey 101.5 news since 2002. Contact him at kevin.mcardle@townsquaremedia.com. Follow him on twitter at @kevinmcardle1. 
The Associated Press contributed to this story.