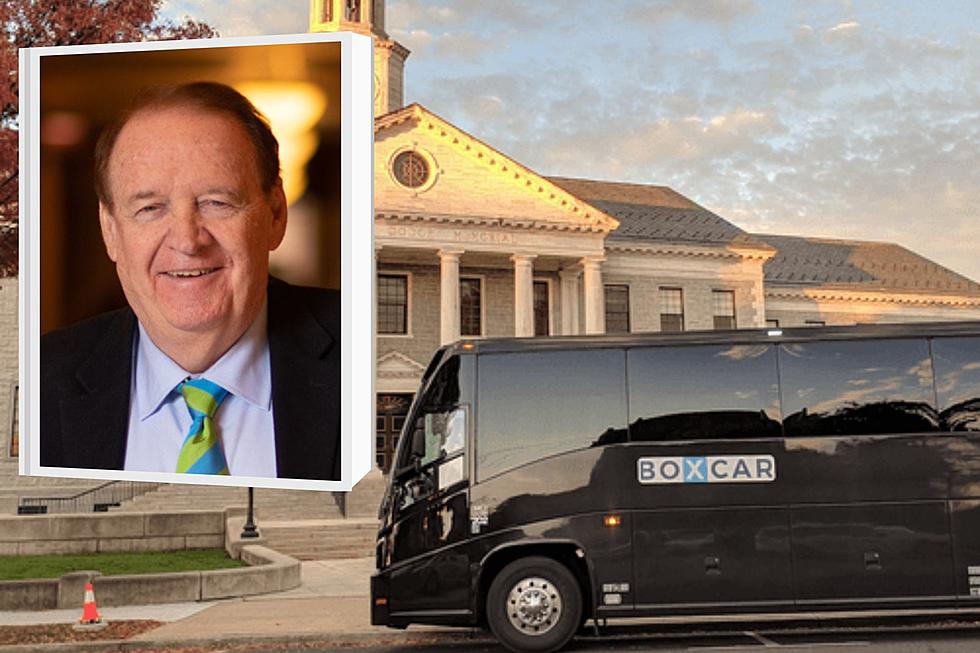 Two plans surface to help New York City commuters who rely on DeCamp as NJ Transit steps in
State Sen. Richard Codey (Sen. Richard Codey), a Boxcar bus (Boxcar)
As the clock ticks down to the end of DeCamp bus line's commuter service into New York City, two plans have surfaced to help displaced commuters but with a big difference as NJ Transit comes up with an emergency plan.
Starting Monday April 10 NJ Transit will modify four existing routes — 191D, 192D, 195D and 199D — during weekday peak periods to include parts of DeCamp routes.
NJ Transit spokesman Jim Smith said it would have additional details about the emergency service on Tuesday.
Boxcar adds service
A subscription commuter bus service called Boxcar plans to offer what it calls the Essex Express service on a route that combines DeCamp's 33 and 66 bus lines starting Monday, April 10.
One very big difference: Boxcar buses don't serve the Port Authority Bus Terminal. Instead, it offers curbside service throughout midtown. Buses leave New York from Sixth Avenue for the trip back to New Jersey.
Boxcar CEO and founder Joe Colangelo told New Jersey 101.5 that not providing service to the Port Authority has its pluses and minuses.
"Port Authority allows you to drop off in New York and turn around really fast and get back. That would be advantageous but there are no Port Authority gates available. Some people like that we're going through New York and we're dropping off closer to their work than they might otherwise get," Colangelo said.
Boxcar already runs commuter buses into the Port Authority Bus Terminal on routes called the  Bergen Bullet, the Ridgeliner, the Raritan Rocket and the Morris Meteor.
Tickets are sold in advance via the Boxcar app and are  The fare is $24.99 or $16.99 with a membership which costs $29.99 per month.
A Boxcar membership offers a 32% discount on tickets, extended booking, a free birthday ride, 25% off parking and the ability to cancel 20 minutes before departure. Coangelo said Boxcar makes the higher price worth it.
"It's a high commuting area. There's a lot of people with successful careers who are looking for maybe have a relaxing commute, an effortless commute and something that will be the most relaxing part of their day," Coangelo said. "They're really busy at their work, they're really busy at home, why not give them a little bit of downtime? And so I think this is our opportunity.
Coangelo said that NJ Transit's emergency plan does not change Boxcar's plan
Help for all NJ private carriers
State Sen. Richard Codey, D-Essex, proposed legislation Thursday to create a $60 million fund for the state's private bus carriers. It would be administered by the state Economic Development Authority. The Democrat whose district includes DeCamp's service area is concerned about the state's other private carriers.
"DeCamp is quite possibly the first domino to fall and we cannot expect NJ Transit or anyone else to fill this void. While ridership is obviously down from pre-pandemic levels, we can expect some rebound, just as we expect an eventual rebound in commercial real estate," Codey said in a statement, adding that private carriers service routes that NJ Transit cannot.
Codey said his plan is a "lifeline" and not a bailout.
"This is a lifeline to companies that provide a critically important service, a service that provides jobs and access to New York. The carriers' problem is easy to understand — as is the solution," Codey said.
Dan Alexander is a reporter for New Jersey 101.5. You can reach him at dan.alexander@townsquaremedia.com
Click here to contact an editor about feedback or a correction for this story.
Biggest NJ company layoff notices in 2022 and 2023
In some cases, workers may be offered back their jobs or transfers to different locations.
Here's a look at more than a dozen of the biggest announcements within two years.
Play ball NJ: These MLB pros are from New Jersey
A fair amount of New Jersey born baseball players have made it to the majors. These pros, active to start the 2023 season, all have NJ roots.
How much your school district gets under Murphy's proposed 2024 budget
Gov. Phil Murphy's porposed 2024 budget includes $1 billion in new spending for school funding including pre-K funding, pension and benefits, and an additional $832 million in K-12 aid, which is listed below by county and district.
More From New Jersey 101.5 FM