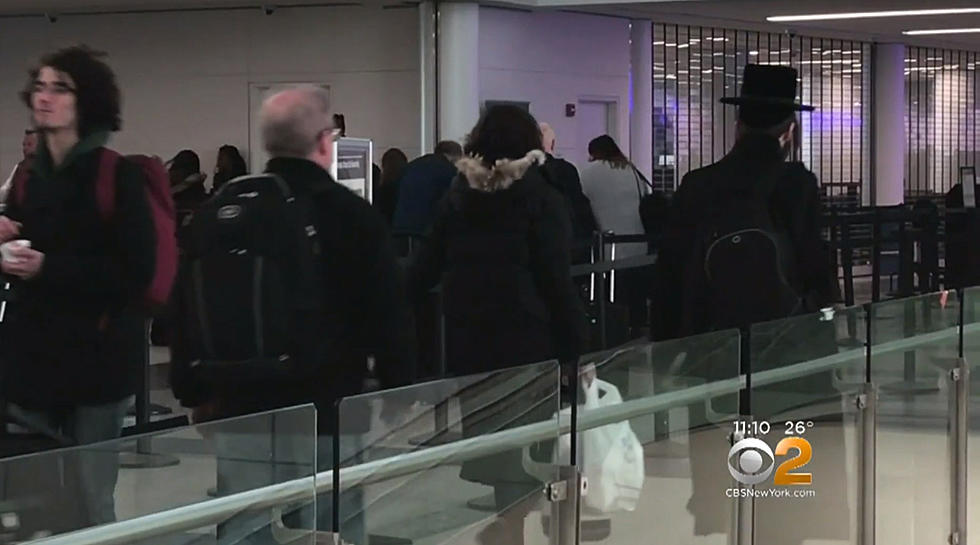 TV crew arrested with fake bomb at Newark Liberty Airport
Gate at Newark Liberty International Airport where police said a TV crew tried to sneak a fake bomb through security (CBS New York)
NEWARK — Nine members of a TV crew were arrested Thursday night as they filmed themselves trying to get a fake explosive device through a Newark Liberty International Airport security checkpoint.
Transportation Security Administration spokeswoman Lisa Farbstein said TSA agents detected the device in a carry-on bag in the airport's Terminal C as the crew secretly recorded the incident on video. The device included a motor, wires and PVC pipes, which are all indicators of an improvised explosive device such as a pipe bomb, according to the TSA.
The nine were arrested by Port Authority Police and charged with creating a false public alarm, interference with transportation and conspiracy and released pending a court appearance.
They face possible civil penalties from the TSA, which carry fines of over $13,000 for each violation of TSA security regulations.
Tom Carter, TSA's Federal Security Director for New Jersey compared the stunt to yelling fire in a theater.
"There is simply no excuse for trying to do something like this knowing it had the great potential to cause panic with the intention of turning that panic into a reality show. The reality is that all of these individuals were arrested and face heavy civil penalties as well," Carter said.
Ruben M. Montenegro, 44, Barclay Avenue, Staten Island
Samuel Micah Berns, 39, Magnolia Boulevard, Hollywood, California
Jacob M. Towsley, 34, East Koy Road, Portageville, New York
Michael L. Palmer, 51, McBaine Avenue, Staten Island
William Oaks, 36, Lewis Avenue, Brooklyn
Philip K. Nakagami, 26, Regent Street, Jersey City
Carlos F. Gonzalez, 33, 32nd Street, Queens
Timothy S. Duffy, 34, Village Lane, Sparta
Adolfo Lacola, 51, Drew Court, Staten Island
CBS New York, citing unnamed sources, reported the crew works for the production company Endemol Shine North America, and was recording a segment for the upcoming CNBC series "Staten Island Hustle."
The show, scheduled to debut in the spring, centers on "a group of animated, life-long friends and businessmen from Staten Island who've yet to come up with an idea or product too far-fetched for them to invest in," according to a release from CNBC.
Endemol also produces "Big Brother" for CBS, "Master Chef" on Fox, and the syndicated series "Page Six."
In a statement, Endemol said the device is a "specially designed suitcase" used to compact clothing and "has no other intended use."
Terminal C is home to United Airlines, among other carriers.
Material from the Associated Press was used in this report.
More from New Jersey 101.5:
More From New Jersey 101.5 FM