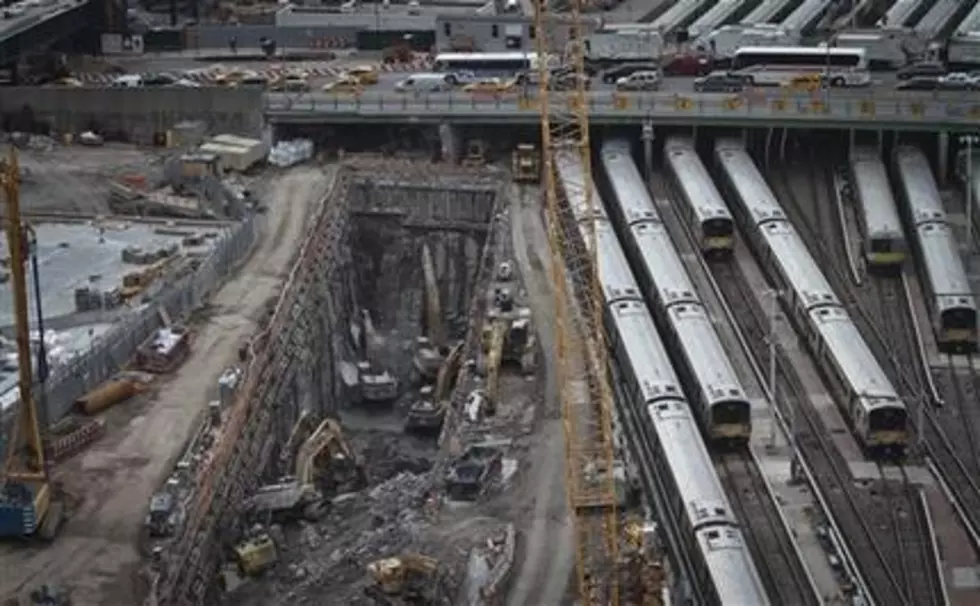 Trump plan: Feds won't pay more than 20% of Gateway cost
FILE - This photo taken on Thursday April 17, 2014, shows ongoing construction of a rail tunnel, left, at the Hudson Yards redevelopment site on Manhattan's west side in New York. Amtrak is constructing an 800-foot-long concrete box inside the project to preserve space for a tunnel from Newark to New York City that would allow it to double rail capacity across the Hudson River. (AP Photo/Bebeto Matthews, File)
New Jersey's hopes that the federal government could fund half the costs of a potential $30 billion project to modernize Hudson River rail crossings were dealt a blow Monday when President Donald Trump released a plan emphasizing private, rather than federal, investments.
The White House proposal isn't a final product, but it is far from the cost-sharing arrangement state officials hope for.
At an event in Jersey City, Gov. Phil Murphy said he was underwhelmed by the plan, both in general terms and specifically to the Gateway Tunnel project.
"Good words associated with it, but not a lot of coin," Murphy said.
President Donald Trump's administration said the plan would lead to $1.7 trillion in infrastructure spending – but only $200 billion of it would come from the federal government. The pool of money that would seemingly include the Gateway project would total $100 billion.
Murphy said the amount is a fraction of what New Jersey and the country need.
"I still believe that this is enough of a multi-state matter, it's enough of a national security matter, it's enough of a bipartisan matter, that at the end of the day we will get to a good place," Murphy said. "But I have to admit to you it looks like it's taking longer and the steps are more incremental that for my taste I'd like."
"The Gateway project is a non --  it's not optional," Murphy said. "This is pass/fail."
The proposal would also limit the federal share for projects to 20 percent – a far cry of the 50 percent New Jersey and New York hope to get for the Gateway rail tunnels.
The Trump administration said at the end of December that there was never an agreement between New Jersey and New York and the federal government for Washington to pay for half of the project, a consensus that was reached in 2015 with the Obama administration but never formalized.
Peter Kasabach, executive director of New Jersey Future, said a 20 percent cap on the federal government's share for a project like Gateway "sounds ridiculous."
"Projects that are of major national significance that represent such a huge percentage of the economy of the country should be getting a much larger share of federal resources," Kasabach said.
The White House plan heavily emphasizes private investment. Janna Chernetz, New Jersey senior policy director for Tri-State Transportation Campaign, says there could be private investment in the expansion of New York Penn Station that will be needed once new tunnels are built and the aging ones replaced but that the federal government must pay for half of the cost of the tunnel construction.
"The Gateway project is probably the most important infrastructure project, not only for New Jersey and for the region but for the entire country," Chernetz said.
Assemblyman Dan Benson, D-Mercer, the chairman of the Assembly Transportation and Independent Authorities Committee, said the blueprint is "exactly what we most feared" because it doesn't deliver needed, promised federal funds.
"This is not an infrastructure plan," Benson said. "This is an infrastructure pipe dream because such the paltry crumbs that they're throwing out there expecting that they'll get 5-to-1 matches of state funding to federal funding just is not going to happen for large projects."
Told about the plan's 20 percent cap on the federal share of projects, Martin Robins, the director emeritus of Rutgers University's Alan M. Voorhees Transportation Center, tapped his chest with his hand a few times, like Redd Foxx's Fred Sanford faking a heart attack on 'Sanford and Son.'
"That is very seriously impairing New Jersey's chances of moving the Gateway Project," Robins said. "Twenty percent compared to 50 percent, it's a very large setback, and it's going to be very difficult to achieve what we need to achieve.
"It's going to require an immense amount of readjustment about how New Jersey can fund its transportation," Robins said. "We just imposed a 23-cent increase on motorists, a gas tax increase, and this sets everything in flux. It's going to be a tremendous gap between what we have and what we will need."
Trump's proposal, in addition to calling for private investment, recommends making it easier for states to put tolls on interstates and commercialize the rest areas on those highways.
---
---