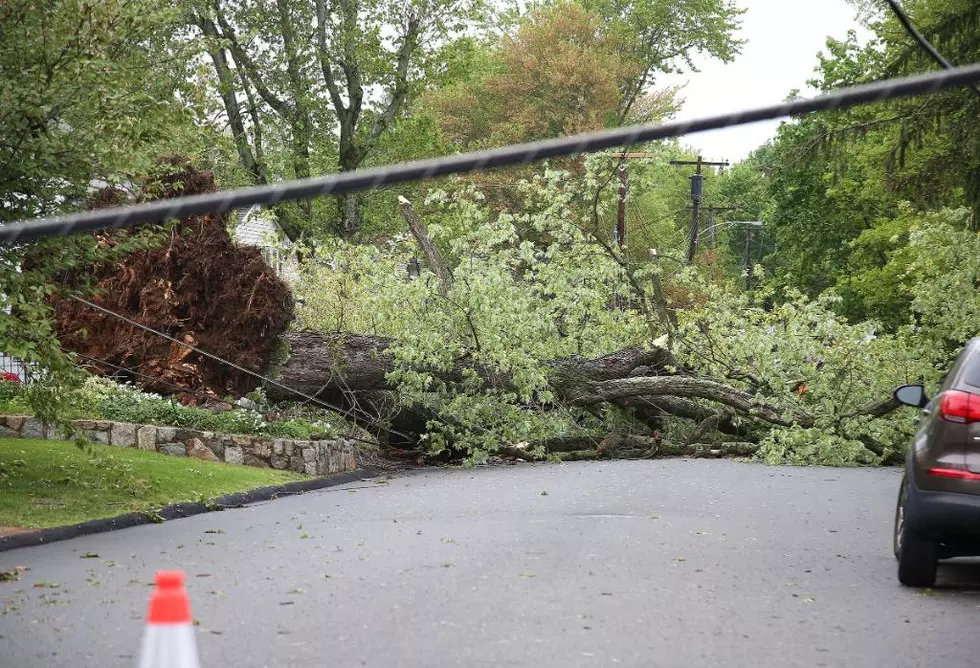 Thousands still without power, serious damage after NJ thunderstorms
(JCP&L)
TRENTON — Downed trees from Tuesday afternoon plunged thousands into the dark across New Jersey.
As of 3:15 p.m. on Wednesday over 40,000 remained without power across New Jersey, according to their respective outage maps.
1,400 JCP&L linemen, electrical contractors, FirstEnergy utility personnel, damage assessors, hazard responders, forestry supervisors, and dispatchers worked all day Wednesday or are on the way, according to the utility.
"The severe winds resulted in significant tree-related damage to our system, including broken poles and downed wires that will need to be replaced. Our restoration times reflect this widespread damage and also the hundreds of single outages that will require crews to travel to each individual location to make repairs," JCP&L statement president Jim Fakult said in a statement.
Earlier, spokeswoman Christy Hajoway told New Jersey 101.5 that their focus in the initial aftermath of the storm is to "de-energize live wires on the ground, open up road closures and really to make the area safe for our customers and our crews so they can begin making repairs as soon as possible," Hajoway
Hajoway encouraged customers to report any outages by calling 888-LIGHTSS or by using their app. She did not have an estimate when all power would be restored.
Spokesman Ron Morano said power is expected to be restored to most customers  by Thursday night.
The National Weather Service reported extensive tree damage in Sparta in Sussex County that closed down several roads.
New Jersey Fast Traffic's Bob Williams said Route 206 in Andover remained closed at Fredon Springdale Road on Wednesday morning with the northbound lanes taking two way traffic. Williams also cautioned drivers to watch for trees and power lines that may still be on the ground.
"It's a good idea to stay out of the ocean today if you can, whether as a swimmer or a boater," Zarrow said.
The fast changes in the atmospheric pressure prompted the NWS to issue an alert about abnormal storm surges and a "weather generated tsunami" along the Jersey Shore after the storms passed on Tuesday night
"Up to a foot of extra tide water is possible, which is enough to spark minor flooding concerns along coastal waterways," NJ 101.5 meteorologist Dan Zarrow said, adding that he did not see any unusual spikes on the tidal gauges along the shore.
Service was back to normal for NJ Transit train, light rail and buses following suspension of service on some lines during the storm due to debris and weather conditions. A picture on the agency's Twitter account showed a tree that fell on the Montclair-Boonton line tracks near Little Falls on Tuesday afternoon.
More From New Jersey 101.5 FM