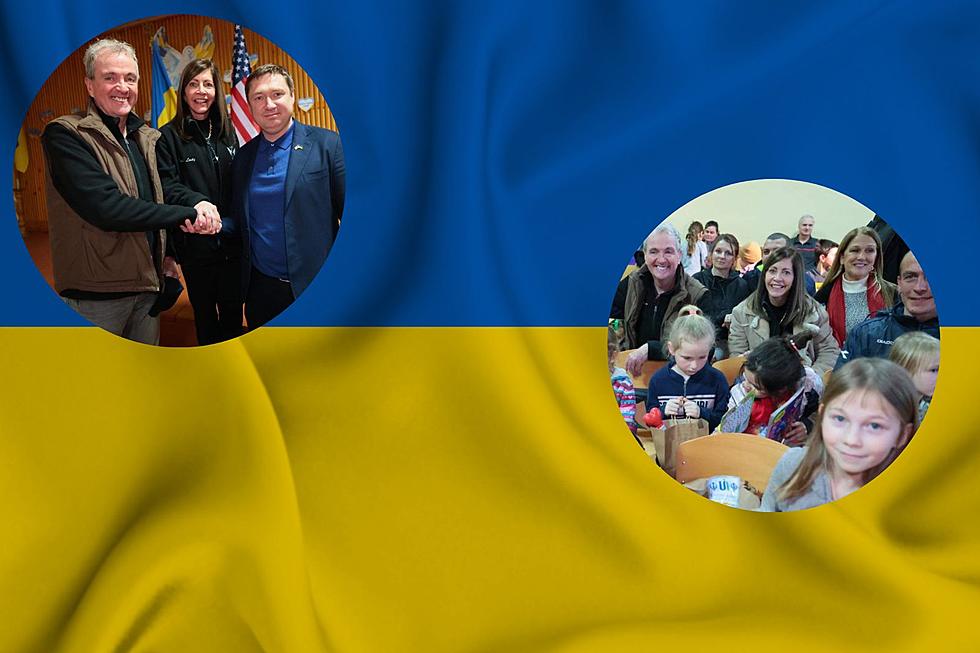 Surprise visit to Ukraine – NJ Gov. meets with refugee families
Gov. Phil Murphy/Twitter/Townsquare Media illustration
⬛ Gov. Murphy makes surprise visit to Ukraine
⬛ Murphy visited with local officials and refugee children from the war with Russia
⬛ The governor will speak Friday at a Global Security Summit in Germany
---
On his way to a global security conference in Germany, Gov. Phil Murphy took a detour to visit war-torn Ukraine.
Murphy tweeted out some details of the visit after he spent the day in the Lviv Oblast region.
After arriving in Krakow, Poland, Murphy's office says he crossed the border into Ukraine where he met with local government officials as well as orphans and refugees from the war.
Local officials tweeted photos of the governor and First Lady Tammy Murphy visiting one of the schools of the Sheginiv community where families who were forced to leave their homes due to the war now live.
Murphy has been a strong supporter of Ukraine in its war with Russia and has had harsh words for Russian President Vladamir Putin.
"Nearly a year after the Putin regime's brutal invasion," Murphy wrote in his tweet, "We reaffirm our support for the Ukrainian people."
The visit on Thursday was not announced as part of Murphy's schedule.
Today he begins attending the 59th Munich Security Conference where he will lead a panel discussion on how local leaders can handle international issues. He plans to discuss things like climate change and responses to global health threats, like the COVID pandemic.
Ahead of the conference, Murphy announced he was speeding up the timetable for New Jersey to be 100% fueled by green energy.
Murphy is no stranger to Germany. He was the U.S. ambassador to Germany during President Barack Obama's first term and lived there while he was an executive for Goldman Sachs. He still owns a home in Berlin.
His office says he will return to New Jersey on Monday.
Eric Scott is the senior political director and anchor for New Jersey 101.5. You can reach him at eric.scott@townsquaremedia.com
Click here to contact an editor about feedback or a correction for this story.
OMG! Cutest pets in New Jersey!
NFL pros from New Jersey
There are more than 60 active pros with NJ roots.
More than 10 players who made it to the NFL conference championship games this year have NJ ties — and four active NFL quarterbacks were born in the Garden State.
Some of them may even be on your fantasy football team.
Every NJ celebrity with a star on the Hollywood Walk of Fame
More From New Jersey 101.5 FM