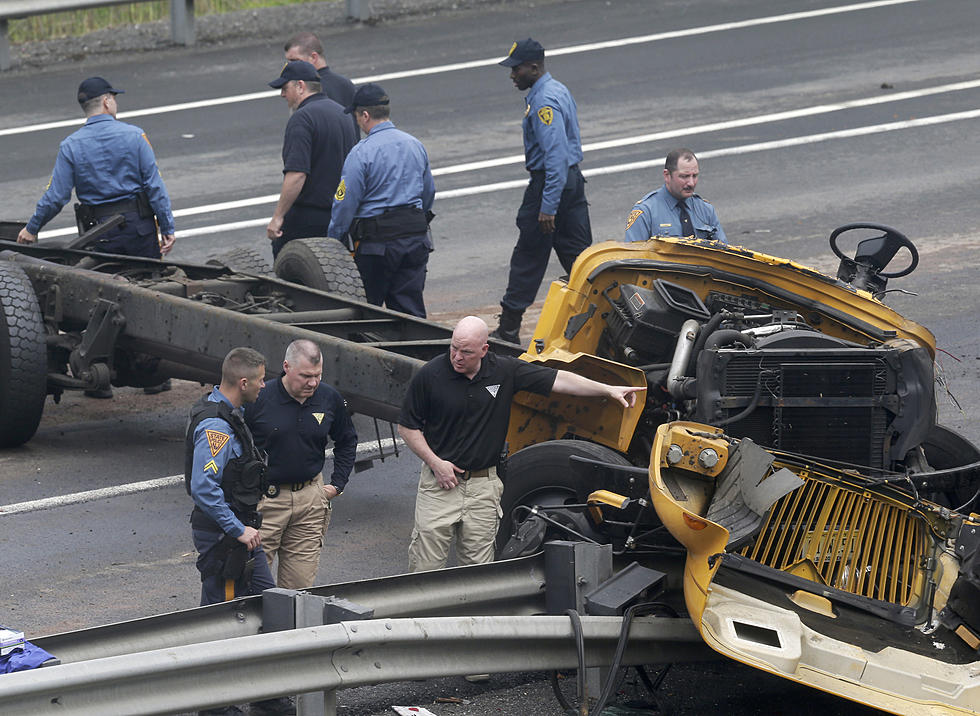 Student, adult dead after school bus torn apart on Route 80
AP
MOUNT OLIVE — At least two people have died after a school bus carrying fifth-grade students collided with a dump truck Thursday morning on Route 80.
One student from the East Brook Middle School in Paramus and an adult aboard the bus, which was carrying students on a trip to Waterloo Village, were killed by the crash in the westbound lanes near Exit 25.
At least 10 people in the crash were hospitalized.
Mount Olive Mayor Rob Greenbaum called the crash a "horrific scene."
The crash tore the bus' cabin from its chassis. The part of the bus that carries passengers overturned in the median and its front end was sheared off.
A 911 call recorded a dispatcher requesting 20 ambulances.
"I have a full school bus and I have victims on the ground. I have one child CPR in progress," the dispatcher said.
A boy who was on a New Jersey school bus that collided with a dump truck says the bus fell over and people were left "hanging from their seat belts."
Theo Ancevski says he was sitting in the fourth row from the front of the bus, which was taking students from East Brook Middle School to a historic site on Thursday. He says he thinks something hit a vehicle behind the bus. He says he "heard a scraping sound" and the bus "toppled over."
He says some people fled through the bus' rear exit and others escaped through the emergency exit in the roof.
State Police have not disclosed how many people were involved in the collision. Additional details about the crash would be revealed at a news conference Thursday afternoon.
"Our hearts are broken by today's tragedy," Gov Phil Murphy said in a message on his Twitter account. He was going to the East Brook Middle School to be briefed by emergency management personnel.
Route 80 westbound lanes remained closed Thursday afternoon.
Includes material copyright 2018 The Associated Press. All rights reserved. This material may not be published, broadcast, rewritten or redistributed
More From New Jersey 101.5 FM