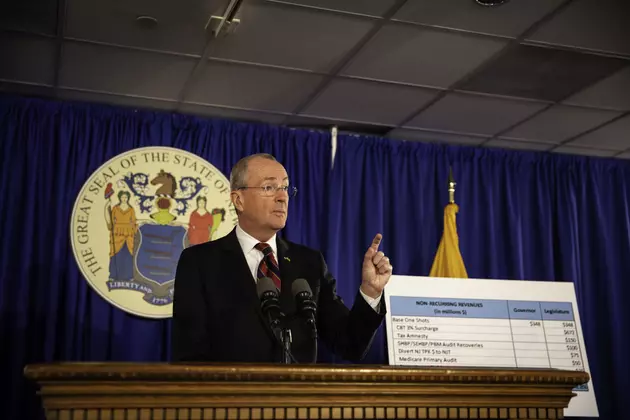 Shutdown showdown: Dems to send budget Murphy says he'll veto
Governor Phil Murphy hosts a press conference to discuss the budget on Monday, June 18, 2018. Edwin J. Torres Governor's Office.
A lot of sound, not that much fury, but signs of a government shutdown ahead, with the deadline for adopting a state budget now looming at the end of next week.
Democratic lawmakers say they intend to get a $36.2 billion budget for fiscal 2019 endorsed by committees on Tuesday, then approved by the full Senate and Assembly on Tuesday. Gov. Phil Murphy vowed he will veto the plan if it looks like one described to him last week – but lawmakers say it has changed.
Murphy said the lawmakers' budget appears to count on $1.4 billion in temporary revenues, which is four times more than the $348 million in one-shot revenues in the budget he proposed in March. He said that's not sustainable.
"I'm not going to certify a budget based on gimmicks. I know what will happen if I do. We've seen this before. We'll just find ourselves right back here next June if not sooner," Murphy said.
Murphy said priorities, including school aid, can't be funded without sustainable revenues that he says would be provided by increases in the sales tax, changes to the corporate tax and a higher tax on income over $1 million.
"We were sent here to fix Trenton and to stop the games. No made up revenues, no short-term gimmicks and one-offs. No promises made this year that can't be kept this year or the year after," he said. "This is my goal. And if takes my vetoing a budget for us to reach that goal, I am prepared to do so."
The budget proposed by Democratic lawmakers doesn't include the income and corporate tax proposals Murphy floated, but it does count on $805 million from a surcharge on C corporations with profits of $1 million a year. It would impose suggested taxes on home-sharing, ridesharing and e-cigarettes.
New Jersey's corporate business tax rate is 9 percent. An additional 2.5 percent would be charged on corporations with $1 million to $25 million in profits in New Jersey, while an additional 4 percent would be charged on corporations with more than $25 million in Jersey-based profits.
The CBT surcharge would phase out after two years.
Senate President Stephen Sweeney, D-Gloucester, agreed with Murphy that there hasn't been hostility – but the lawmaker says that's because there haven't been legitimate talks. He said this is the ninth state budget he has helped craft and that "take it or leave it" is not a negotiation.
"We've been open to compromise. We've been open to alternative ideas. But we will not be bullied into doing the wrong thing because the governor says to do it," Sweeney said.
Assembly Speaker Craig Coughlin, D-Middlesex, said no one wants a government shutdown. He said the placards Murphy showed at his news conference, purporting to show details of what Democrats in the Legislature have in their budget plan, were not accurate.
"I think it's incumbent upon the governor to take a look at what we actually put forth and I'm hopeful that when he does he'll recognize that 95 percent of the things that he's looked for are included in that budget," Coughlin said.
The budget legislation does not include $45 million for the first step toward tuition-free community college, as Murphy proposed, though it does include $5 million in planning grants to county colleges.
Murphy said he stands by his original budget and that he hasn't yet seen a full budget from the Legislature.
He said he doesn't want to shut the government and declined to speculate on when he would order state parks closed, should a deal not be reached by June 30.
"I don't want it. Let there be no doubt about it. But I'm not going to sacrifice what I believe are the principles of this state and its middle class in particular going forward," Murphy said. "Just a budget for the sake of a budget, to kick the can to July 1, will not have my name on it."
Assembly Minority Leader Jon Bramnick, R-Union, said Murphy isn't negotiating with Democrats or talking with Republicans and that his inexperience is showing. He thinks there will be a shutdown – and that it could be a long one.
"Only in Trenton do you see a shutdown in government because the Democrats cannot decide which taxes to raise," Bramnick said.
"The man thinks he's running Goldman Sachs, where he sits there, he's got the final say, and what he says goes," said Assemblyman John DiMaio, R-Warren. "It doesn't work like that here."
Murphy said he'd consider an alternative if a viable, sustainable one was presented.
"I understand I'm in politics. Compromise as a general matter is not – I'm not opposed to that. But it can't be to compromise the very core of our future," Murphy said.
---
---
More From New Jersey 101.5 FM