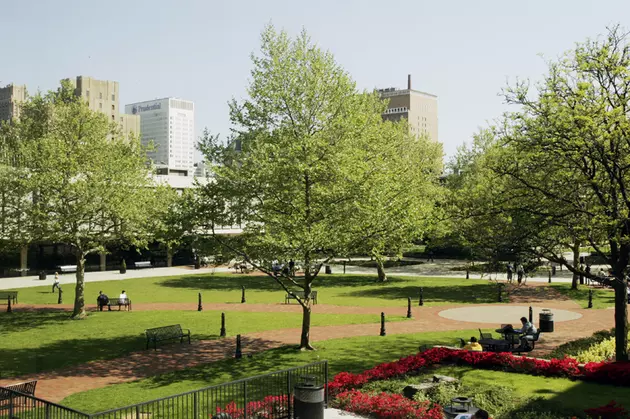 Rutgers students: Kick immigration officials out of career fair
Norman Samuels Plaza at Rutgers-Newark (Rutgers-Newark)
NEWARK — A group representing DACA students wants Rutgers University to "disinvite" agents from U.S. Immigration and Customs Enforcement Agency from attending a career fair.
The group, RUDreamers, argues in a Change.org petition the presence of ICE at the 12th annual Government and Public Service Career Fair on the Newark campus "would create an unsafe and exclusive environment for students and goes against the proactive and inclusive stance (Rutgers-Newark) has taken in fostering safety, support, and diversity in our community."
Among the 32 participants listed on the event's website are Christ Church; the Delaware Department of Correction; state police from New Jersey, Delaware, Pennsylvania, the Port Authority and Rutgers; the New York Police Department; Philadelphia Police; the FBI; the New Jersey Office of Homeland Security and Preparedness; the New Jersey Department of Children and Families; Target and the U.S. Army.
In the petition, RUDreamers blames ICE for being part of the what it calls an "increasingly hostile political and social environment regarding immigration."
It also says students who have had encounters with ICE agents would be "emotionally distressed" by their presence.
Messages to RU Dreamers and Rutgers University on Monday, which is President's Day, had not yet been returned.
The Newark office of ICE was sharply criticized by the pastor of the Reformed Church of Highland Park after it took church members into custody for being in the country illegally. The church provided sanctuary to others, as ICE does not generally conduct enforcement actions in sensitive spaces, including houses of worship.
Pastor Seth Kaper-Dale said he blamed ICE agents for ransacking the homes of Harry Pangemanan of Highland Park and Arthur Jemmy of Edison — both of whom are in the country illegally — after they went to the Reformed Church of Highland Park to seek protection.
"Let's keep recording ICE agents possessed by the logic of white supremacy and hyper masculinity as they knock down doors, ransack houses and try to haul away our friends. Let's make it harder for themselves as human beings to justify their own inhumanity," Kaper-Dale said.
ICE has denied the allegations.
"If true, these reports of vandalism are unfortunate; however, to suggest that ICE law enforcement officers were involved in such an incident is patently false," Spokesman Emilio Dabul said in an email to New Jersey 101.5. "ICE law enforcement officers carry out their sworn duties daily with the utmost professionalism, in accordance with their training. To suggest that they would cause intentional harm to property is irresponsible and spreads undue fear in the community, which the Reverend claims to support."
More from New Jersey 101.5: