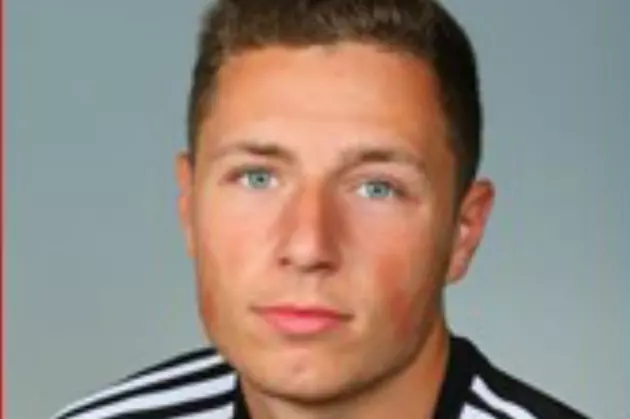 'Our hearts are broken' after Rutgers student killed in crash
Adrian Velazquez (Rutgers Athletics Newark)
NEWARK — A Rutgers Newark soccer star who died in a fatal crash over the weekend will be remembered during a ceremony in Kearny on Thursday.
Adrian Velazquez and Alfahtee Huey were killed on a Delaware highway on Saturday when their car drifted off the road and crashed into a tree. Velazquez was a star on the Rutgers Newark soccer team, helping the team win its first conference title last fall.
"Adrian was just beginning to explore his academic interests to select a major, but was as committed to success in the classroom as he was on the soccer field, where he was a defensive anchor of the men's soccer team whose play exuded his passion for the game," the school said in a statement. "He inspired deep affection among his teammates and classmates as well as in his hometown, with which he maintained strong connections."
Two passengers were also injured in the crash. The school identified them as Jose Barillas of Newark and Andres Medina of Howell. Both are sophomores at the Rutgers Business School and attended St. Benedict's Prep, according to the school. Huey also went to school at St. Benedict's, according to the school.
St. Benedict's posted on its Facebook page on Sunday night that Huey, Medina, and Monzon were all members of the class of 2016. The school said Medina is listed in critical condition, but Monzon "did not sustain serious injury."
"We are sending our most fervent wishes for a speedy recovery to them as we continue marshaling support for them," Rutgers-Newark said in a statement. "Our hearts are broken for Adrian's mother, Tania, his father, Javier, brothers Alexi and Daniel, as well as for his teammates and fellow athletes, friends and neighbors of the Kearny community, and all who knew him."
The school is offering counseling services for those affected by the crash. Students can call 973-353-5805 while staff can call 848-932-3956.
Friends and relatives of Velazquez are invited to the Thiele-Reid Family funeral Home in Kearny on March 8 from 4 to 8 p.m. A funeral Mass will be offered on Friday at St. Cecilia Church at 10 a.m., according to his obituary. Donations can be made to the Adrian Velazquez memorial Scholarship Fund care of the Ironbound Soccer Club. No services have been announced yet for Huey.
More From New Jersey 101.5
Contact reporter Adam Hochron at 609-359-5326 or Adam.Hochron@townsquaremedia.com
More From New Jersey 101.5 FM