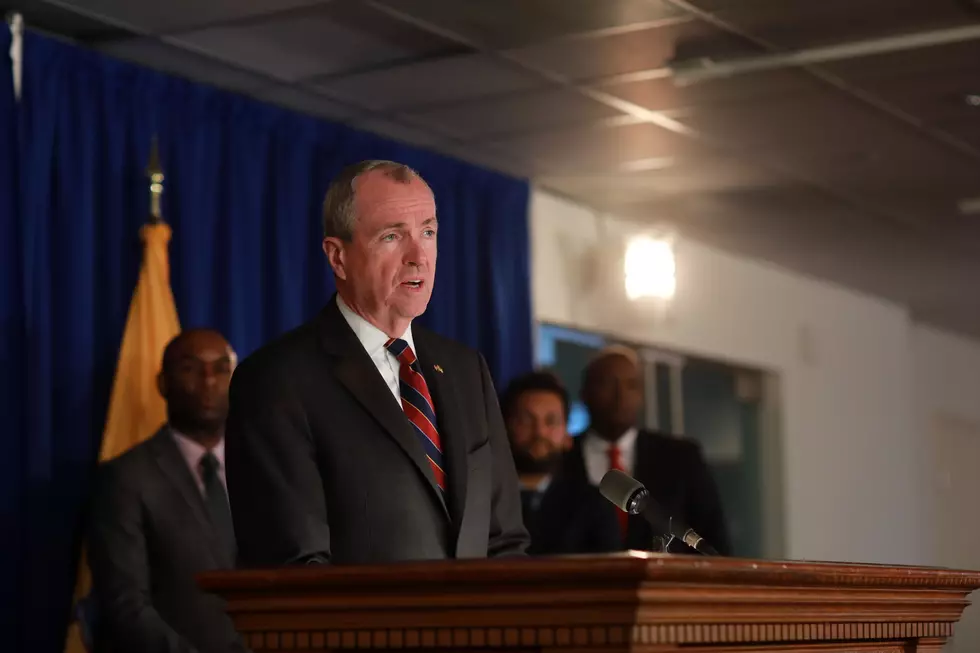 Murphy nixes superintendent salary cap — 204 already making more
Gov. Phil Murphy (Governor's Office)
TRENTON — Gov. Phil Murphy on Friday did away with salary caps for school superintendents.
The cap was one of former Gov. Chris Christie's signature tax-saving reforms.
The new law prohibits ceilings on salaries but sets guidelines for bonuses, benefits and retirement and resignation perks.
Christie implemented the $175,000 cap in 2011. In 2017, it was raised to $191,584 along with other incentives.
Critics — including locally school officials — had long complained that the caps made it difficult to attract and retain top talent to lead school systems. Many superintendents resigned and took jobs in other states or sectors rather than face pay cuts or flat salaries.
In 2017, New Jersey 101.5 reported that many superintendents were getting around the salary cap through bonuses and "allowances." One superintendent got more than $43,000 in allowances.
And this year, hundreds of superintendents already were making more than the cap as a result of the original law's provisions for added perks.
204 superintendents already over the cap
The data includes each superintendent's base salary along with their contractual bonuses, stipends and allowances, which are added up as "extras" in the list below. In some cases, those "extra" payments depend on meeting requirements particular to their contracts. Bonuses may not have been paid in this school year if certain goals were not met. And some superintendents' salaries are based on shared-service agreements in which they perform duties for more than one district. The data is from the budgets for the 2018-19 school year. For more detailed information about a particular superintendent's contract, search for it at the state Department of Education website. For an alphabetical list of all superintendents, scroll down.
Mark Finkelstein
Educational Services Commission of New Jersey — Middlesex County
Base: $288,207 + Extras: $61,706 = TOTAL: $349,913
---
DIANA LOBOSCO
Passaic County Vocational — Passaic County
Base: $262,023 + Extras: $61,655 = TOTAL: $323,678
---
Frank Gargiulo
Hudson County Vocational — Hudson County
Base: $237,469 + Extras: $75,419 = TOTAL: $312,888
---
Silvia Abbato
Union City — Hudson County
Base: $228,786 + Extras: $49,028 = TOTAL: $277,814
---
Marcia Lyles
Jersey City — Hudson County
Base: $231,000 + Extras: $43,707 = TOTAL: $274,707
---
Howard Lerner
Bergen County Vocational — Bergen County
Base: $262,274 + Extras: $10,500 = TOTAL: $272,774
---
James J. Jencarelli
Morris Hills Regional — Morris County
Base: $183,283 + Extras: $75,937 = TOTAL: $259,220
---
Christopher D Cerf
Newark City — Essex County
Base: $255,524 + Extras: $ = TOTAL: $255,524
---
Mackey Pendergrast
Morris School District — Morris County
Base: $196,584 + Extras: $57,983 = TOTAL: $254,567
---
Henry M. Poteat
Winslow Twp — Camden County
Base: $200,516 + Extras: $52,557 = TOTAL: $253,073
---
Dr. Margaret Hayes
Scotch Plains-Fanwood Reg — Union County
Base: $200,516 + Extras: $52,258 = TOTAL: $252,774
---
Daniel Fishbein
Ridgewood Village — Bergen County
Base: $205,616 + Extras: $45,817 = TOTAL: $251,433
---
James Santana
Northern Valley Regional — Bergen County
Base: $194,689 + Extras: $55,784 = TOTAL: $250,473
---
Richard O'Malley
Edison Twp — Middlesex County
Base: $212,344 + Extras: $37,634 = TOTAL: $249,978
---
Mark Schwarz
Madison Boro — Morris County
Base: $153,581 + Extras: $96,200 = TOTAL: $249,781
---
David A. Roman
Perth Amboy City — Middlesex County
Base: $205,000 + Extras: $39,730 = TOTAL: $244,730
---
Margaret Dolan
Westfield Town — Union County
Base: $204,526 + Extras: $40,058 = TOTAL: $244,584
---
Mr. Ronald C. Lee
City of Orange Twp — Essex County
Base: $196,584 + Extras: $45,000 = TOTAL: $241,584
---
Toback, Mark
Wayne Twp — Passaic County
Base: $196,584 + Extras: $42,828 = TOTAL: $239,412
---
Dr. Michael LaSusa
Sch Dist of the Chathams — Morris County
Base: $204,423 + Extras: $33,643 = TOTAL: $238,066
---
SALVATORE GONCALVES
Bloomfield Twp — Essex County
Base: $200,416 + Extras: $37,023 = TOTAL: $237,439
---
William O. George III
Middletown Twp — Monmouth County
Base: $200,515 + Extras: $36,777 = TOTAL: $237,292
---
Larrie Reynolds Ed.D
Mount Olive Twp — Morris County
Base: $200,516 + Extras: $36,693 = TOTAL: $237,209
---
P. Erik Gundersen
Pascack Valley Regional — Bergen County
Base: $169,689 + Extras: $66,997 = TOTAL: $236,686
---
RAVALLY, JOHN
Franklin Twp — Somerset County
Base: $196,584 + Extras: $39,627 = TOTAL: $236,211
---
George Solter
North Bergen Twp — Hudson County
Base: $196,584 + Extras: $39,566 = TOTAL: $236,150
---
Rosemary Martins Marks
Hackensack City — Bergen County
Base: $196,584 + Extras: $38,913 = TOTAL: $235,497
---
Christopher Tully
Bergenfield Boro — Bergen County
Base: $196,584 + Extras: $38,406 = TOTAL: $234,990
---
Pablo Munoz
Passaic City — Passaic County
Base: $200,000 + Extras: $34,680 = TOTAL: $234,680
---
EILEEN F. SHAFER
Paterson City — Passaic County
Base: $225,486 + Extras: $8,906 = TOTAL: $234,392
---
Julie Glazer
Nutley Town — Essex County
Base: $196,584 + Extras: $37,238 = TOTAL: $233,822
---
JOHNSON, AUBREY
New Brunswick City — Middlesex County
Base: $196,584 + Extras: $35,780 = TOTAL: $232,364
---
Eric M. Hibbs
Marlboro Twp — Monmouth County
Base: $195,416 + Extras: $35,811 = TOTAL: $231,227
---
Michele Robinson
Paramus Boro — Bergen County
Base: $196,584 + Extras: $34,218 = TOTAL: $230,802
---
Danny A. Robertozzi
Linden City — Union County
Base: $192,000 + Extras: $38,445 = TOTAL: $230,445
---
Teresa Rafferty
Piscataway Twp — Middlesex County
Base: $196,584 + Extras: $33,004 = TOTAL: $229,588
---
June Chang
Summit City — Union County
Base: $196,584 + Extras: $32,987 = TOTAL: $229,571
---
ROTA, KENNETH
Fort Lee Boro — Bergen County
Base: $190,000 + Extras: $39,500 = TOTAL: $229,500
---
Dave Aderhold
W Windsor-Plainsboro Reg — Mercer County
Base: $196,584 + Extras: $32,751 = TOTAL: $229,335
---
Dirk Phillips
Glen Ridge Boro — Essex County
Base: $174,689 + Extras: $53,936 = TOTAL: $228,625
---
Janet Fike
Morris-Union Jointure Com — Union County
Base: $217,548 + Extras: $10,960 = TOTAL: $228,508
---
VALESKI, VICTOR
East Brunswick Twp — Middlesex County
Base: $196,504 + Extras: $31,456 = TOTAL: $227,960
---
Patricia Blood
Kearny Town — Hudson County
Base: $196,584 + Extras: $31,236 = TOTAL: $227,820
---
Nancy Gartenberg
Montgomery Twp — Somerset County
Base: $187,174 + Extras: $40,104 = TOTAL: $227,278
---
Harold Dunsavage
Somerset Co Ed Serv Comm — Somerset County
Base: $214,773 + Extras: $11,619 = TOTAL: $226,392
---
Dr. David Miceli
New Providence Boro — Union County
Base: $183,283 + Extras: $42,027 = TOTAL: $225,310
---
Scott Oswald
Collingswood Boro — Camden County
Base: $178,082 + Extras: $45,800 = TOTAL: $223,882
---
Dave Healy
Toms River Regional — Ocean County
Base: $203,000 + Extras: $20,255 = TOTAL: $223,255
---
Elizabeth Jewett
Watchung Hills Regional — Somerset County
Base: $174,689 + Extras: $48,225 = TOTAL: $222,914
---
Thomas Farrell
Shore Regional — Monmouth County
Base: $177,500 + Extras: $42,148 = TOTAL: $219,648
---
Michelle Vella
North Plainfield Boro — Somerset County
Base: $156,460 + Extras: $63,124 = TOTAL: $219,584
---
David Cittadino
Old Bridge Twp — Middlesex County
Base: $195,250 + Extras: $24,000 = TOTAL: $219,250
---
Paymon Rouhanifard
Camden City — Camden County
Base: $213,360 + Extras: $5,080 = TOTAL: $218,440
---
Jeffrey Rutzky
West Orange Town — Essex County
Base: $177,500 + Extras: $40,157 = TOTAL: $217,657
---
Robert Zywicki
Weehawken Twp — Hudson County
Base: $179,689 + Extras: $37,915 = TOTAL: $217,604
---
Sarah Bilotti
North Warren Regional — Warren County
Base: $174,689 + Extras: $42,900 = TOTAL: $217,589
---
Frank R. Scarafile
Little Ferry Boro — Bergen County
Base: $176,543 + Extras: $40,945 = TOTAL: $217,488
---
RENE ROVTAR
Montville Twp — Morris County
Base: $200,516 + Extras: $16,884 = TOTAL: $217,400
---
Raymond Brosel
Voorhees Twp — Camden County
Base: $213,747 + Extras: $3,534 = TOTAL: $217,281
---
Michael Polizzi
New Milford Boro — Bergen County
Base: $178,183 + Extras: $38,765 = TOTAL: $216,948
---
Richard Tomko
Belleville Town — Essex County
Base: $204,084 + Extras: $12,780 = TOTAL: $216,864
---
Charles Sampson
Freehold Regional — Monmouth County
Base: $200,516 + Extras: $16,278 = TOTAL: $216,794
---
Judith Rattner
Berkeley Heights Twp — Union County
Base: $178,183 + Extras: $38,611 = TOTAL: $216,794
---
Scott Moffitt
Morris County Vocational — Morris County
Base: $207,965 + Extras: $8,590 = TOTAL: $216,555
---
Dr Anne Mucci
Mountain Lakes Boro — Morris County
Base: $186,948 + Extras: $29,224 = TOTAL: $216,172
---
Peter A. Capodice
Union County Vocational — Union County
Base: $211,820 + Extras: $4,147 = TOTAL: $215,967
---
Kevin Carroll
Green Brook Twp — Somerset County
Base: $169,689 + Extras: $45,778 = TOTAL: $215,467
---
Mario Cardinale
Butler Boro — Morris County
Base: $183,283 + Extras: $32,134 = TOTAL: $215,417
---
Loretta Radulic
Roxbury Twp — Morris County
Base: $196,584 + Extras: $18,783 = TOTAL: $215,367
---
McCorkell, Timothy
Monmouth Co Vocational — Monmouth County
Base: $210,399 + Extras: $4,787 = TOTAL: $215,186
---
Dr. Kathie Foster
Robbinsville Twp — Mercer County
Base: $178,500 + Extras: $36,475 = TOTAL: $214,975
---
Linda A. Madison
Middlesex Boro — Middlesex County
Base: $178,183 + Extras: $36,727 = TOTAL: $214,910
---
Robert Kravitz
Englewood City — Bergen County
Base: $196,584 + Extras: $18,000 = TOTAL: $214,584
---
Michael Wasko
Hanover Twp — Morris County
Base: $169,689 + Extras: $44,353 = TOTAL: $214,042
---
LAUREN BARBELET
Woodcliff Lake Boro — Bergen County
Base: $173,083 + Extras: $40,674 = TOTAL: $213,757
---
RONALD TAYLOR
Willingboro Twp — Burlington County
Base: $196,350 + Extras: $17,200 = TOTAL: $213,550
---
Dr. James Sarruda
Northern Burlington Reg — Burlington County
Base: $181,746 + Extras: $31,784 = TOTAL: $213,530
---
Carol Grossi
Hanover Park Regional — Morris County
Base: $178,183 + Extras: $35,067 = TOTAL: $213,250
---
Angelo Vilardi
Educ Serv Comm Morris Co — Morris County
Base: $192,638 + Extras: $20,001 = TOTAL: $212,639
---
Dr. Michlee R. Pillari
Woodland Park — Passaic County
Base: $173,083 + Extras: $39,445 = TOTAL: $212,528
---
John Bilodeau
Gloucester Twp — Camden County
Base: $175,000 + Extras: $37,387 = TOTAL: $212,387
---
Crystal Edwards
Lawrence Twp — Mercer County
Base: $167,500 + Extras: $44,879 = TOTAL: $212,379
---
Joanne Megargee
Leonia Boro — Bergen County
Base: $178,183 + Extras: $34,060 = TOTAL: $212,243
---
Jorden Schiff
Hillsborough Twp — Somerset County
Base: $200,516 + Extras: $11,700 = TOTAL: $212,216
---
Robert Gamper
Park Ridge Boro — Bergen County
Base: $181,747 + Extras: $30,444 = TOTAL: $212,191
---
CHRISTINA STEFFNER
Livingston Twp — Essex County
Base: $196,584 + Extras: $15,381 = TOTAL: $211,965
---
Dr. Hackett, Neely
Irvington Township — Essex County
Base: $196,584 + Extras: $15,200 = TOTAL: $211,784
---
Dr. Laurie Newell
Essex Co Ed Serv Comm — Essex County
Base: $181,938 + Extras: $29,569 = TOTAL: $211,507
---
Fredrick Mcdowell
Trenton Public School District — Mercer County
Base: $196,584 + Extras: $14,807 = TOTAL: $211,391
---
Emanuele Triggiano
Dumont Boro — Bergen County
Base: $178,183 + Extras: $33,110 = TOTAL: $211,293
---
Carol Birnbohm
Lenape Regional — Burlington County
Base: $196,584 + Extras: $14,694 = TOTAL: $211,278
---
William P. Hoey, Jr.
Ocean County Vocational — Ocean County
Base: $183,578 + Extras: $27,537 = TOTAL: $211,115
---
Clara Brito-Herrera
West New York Town — Hudson County
Base: $177,500 + Extras: $33,516 = TOTAL: $211,016
---
Brian Gatens
Emerson Boro — Bergen County
Base: $174,689 + Extras: $35,931 = TOTAL: $210,620
---
Davino, Michael
Springfield Twp — Union County
Base: $178,083 + Extras: $32,245 = TOTAL: $210,328
---
Dr. Raymond Gonzalez
Westwood Regional — Bergen County
Base: $174,689 + Extras: $35,411 = TOTAL: $210,100
---
Michael Romagnino
Cliffside Park Boro — Bergen County
Base: $204,526 + Extras: $5,275 = TOTAL: $209,801
---
Marie Cirasella
Midland Park Boro — Bergen County
Base: $178,083 + Extras: $31,435 = TOTAL: $209,518
---
Michael Burke
Cresskill Boro — Bergen County
Base: $174,689 + Extras: $34,616 = TOTAL: $209,305
---
Richard Tardalo
Clifton City — Passaic County
Base: $200,516 + Extras: $8,500 = TOTAL: $209,016
---
Kimberly Schneider
Mercer County Vocational — Mercer County
Base: $192,341 + Extras: $16,500 = TOTAL: $208,841
---
Dr. Matthew Murphy
Ramsey Boro — Bergen County
Base: $174,689 + Extras: $33,686 = TOTAL: $208,375
---
Scott McCartney
Moorestown Twp — Burlington County
Base: $196,584 + Extras: $11,781 = TOTAL: $208,365
---
Vincent Smith
Point Pleasant Boro — Ocean County
Base: $178,183 + Extras: $30,088 = TOTAL: $208,271
---
Joseph Meloche
Cherry Hill Twp — Camden County
Base: $196,584 + Extras: $11,531 = TOTAL: $208,115
---
Patrick Tierney
Jefferson Twp — Morris County
Base: $196,584 + Extras: $11,200 = TOTAL: $207,784
---
Joseph Isola
Howell Twp — Monmouth County
Base: $191,584 + Extras: $16,159 = TOTAL: $207,743
---
Richard Spirito
Hawthorne Boro — Passaic County
Base: $174,689 + Extras: $32,960 = TOTAL: $207,649
---
John Russo
Tinton Falls — Monmouth County
Base: $173,082 + Extras: $34,525 = TOTAL: $207,607
---
Patricia Doloughty
Burlington City — Burlington County
Base: $178,183 + Extras: $29,380 = TOTAL: $207,563
---
Craig Henry
Southern Regional — Ocean County
Base: $178,183 + Extras: $29,368 = TOTAL: $207,551
---
ALLISON ANGERMEYER
Prospect Park Boro — Passaic County
Base: $173,083 + Extras: $34,214 = TOTAL: $207,297
---
Joanne Newberry
Closter Boro — Bergen County
Base: $173,083 + Extras: $34,193 = TOTAL: $207,276
---
John Keenan
Greater Egg Harbor Reg — Atlantic County
Base: $167,500 + Extras: $39,738 = TOTAL: $207,238
---
Dr. Christopher Huss
Millstone Twp — Monmouth County
Base: $165,240 + Extras: $41,546 = TOTAL: $206,786
---
C. Lauren Schoen
Mahwah Twp — Bergen County
Base: $174,689 + Extras: $32,003 = TOTAL: $206,692
---
Ronnie Tarchichi
Pennsauken Twp — Camden County
Base: $167,500 + Extras: $39,113 = TOTAL: $206,613
---
Dr. Scott Rubin
Cranford Twp — Union County
Base: $196,584 + Extras: $10,000 = TOTAL: $206,584
---
Dr. Michael A. Wanko
Bayonne City — Hudson County
Base: $196,584 + Extras: $9,960 = TOTAL: $206,544
---
Dr. Richard Kuder
Wyckoff Twp — Bergen County
Base: $173,083 + Extras: $33,418 = TOTAL: $206,501
---
Dr. David S. Ridley
Hazlet Twp — Monmouth County
Base: $174,689 + Extras: $31,785 = TOTAL: $206,474
---
Christine Johnson
Hoboken City — Hudson County
Base: $172,994 + Extras: $33,373 = TOTAL: $206,367
---
Dr. Paul Casarico
Waldwick Boro — Bergen County
Base: $174,689 + Extras: $31,336 = TOTAL: $206,025
---
Michael A. Nitti
Ewing Twp — Mercer County
Base: $200,416 + Extras: $5,280 = TOTAL: $205,696
---
Beverly MacKay
Ramapo-Indian Hill Reg — Bergen County
Base: $174,689 + Extras: $30,794 = TOTAL: $205,483
---
Palestis, Ernest
Fair Lawn Boro — Bergen County
Base: $196,584 + Extras: $8,850 = TOTAL: $205,434
---
Mary Ann Bell
Burlington Twp — Burlington County
Base: $163,200 + Extras: $42,173 = TOTAL: $205,373
---
Robert McGarry
Holmdel Twp — Monmouth County
Base: $188,000 + Extras: $17,305 = TOTAL: $205,305
---
Scot Beckerman
Northern Highlands Reg — Bergen County
Base: $174,689 + Extras: $30,613 = TOTAL: $205,302
---
Dr. Carolyn M Kossack
Little Silver Boro — Monmouth County
Base: $173,083 + Extras: $31,995 = TOTAL: $205,078
---
Olga Hugelmeyer
Elizabeth City — Union County
Base: $205,000 + Extras: $ = TOTAL: $205,000
---
Barbara Longo
West Essex Regional — Essex County
Base: $174,689 + Extras: $30,230 = TOTAL: $204,919
---
Dr. Frank Kasyan
Manasquan Boro — Monmouth County
Base: $178,183 + Extras: $26,710 = TOTAL: $204,893
---
Ben-David, Michael
West Morris Regional — Morris County
Base: $174,689 + Extras: $29,686 = TOTAL: $204,375
---
VANWOERT, CHRISTINA
Chester Twp — Morris County
Base: $169,689 + Extras: $34,669 = TOTAL: $204,358
---
Gallagher, Daniel
Bound Brook Boro — Somerset County
Base: $174,689 + Extras: $29,565 = TOTAL: $204,254
---
Michael Salvatore, Ph.D.
Long Branch City — Monmouth County
Base: $200,516 + Extras: $3,192 = TOTAL: $203,708
---
Alex Anemone
West Milford Twp — Passaic County
Base: $170,445 + Extras: $33,209 = TOTAL: $203,654
---
KEVIN WEST
East Orange — Essex County
Base: $196,548 + Extras: $7,100 = TOTAL: $203,648
---
Thomas Smith
Hopewell Valley Regional — Mercer County
Base: $200,416 + Extras: $3,000 = TOTAL: $203,416
---
Frank Quatrone
Lodi Borough — Bergen County
Base: $200,516 + Extras: $2,855 = TOTAL: $203,371
---
Rosa Diaz
Carteret Boro — Middlesex County
Base: $175,000 + Extras: $28,328 = TOTAL: $203,328
---
Donna Cardiello
Wanaque Boro — Passaic County
Base: $173,083 + Extras: $29,845 = TOTAL: $202,928
---
Rory J. McCourt
River Vale Twp — Bergen County
Base: $173,083 + Extras: $29,618 = TOTAL: $202,701
---
Dr. Richard Katz
East Windsor Regional — Mercer County
Base: $196,584 + Extras: $6,100 = TOTAL: $202,684
---
James Heinegg
Caldwell-West Caldwell — Essex County
Base: $177,063 + Extras: $25,609 = TOTAL: $202,672
---
Rocco, Scott
Hamilton Twp — Mercer County
Base: $199,500 + Extras: $3,135 = TOTAL: $202,635
---
Robert Zega
Woodbridge Twp — Middlesex County
Base: $200,516 + Extras: $1,500 = TOTAL: $202,016
---
Michael Barcadepone
Allendale Boro — Bergen County
Base: $173,083 + Extras: $28,855 = TOTAL: $201,938
---
Dianne Veilleux
Middlesex Co Vocational — Middlesex County
Base: $187,686 + Extras: $14,165 = TOTAL: $201,851
---
MaryJane Garibay
Colts Neck Twp — Monmouth County
Base: $166,736 + Extras: $35,074 = TOTAL: $201,810
---
Barbara Sargent
Parsippany-Troy Hills Twp — Morris County
Base: $190,000 + Extras: $11,135 = TOTAL: $201,135
---
David Mango
Hackettstown — Warren County
Base: $193,483 + Extras: $7,615 = TOTAL: $201,098
---
Rocco Tomazic
Freehold Boro — Monmouth County
Base: $169,689 + Extras: $31,222 = TOTAL: $200,911
---
Richard Labbe
Sayreville Boro — Middlesex County
Base: $196,584 + Extras: $4,200 = TOTAL: $200,784
---
Christine Burton
Millburn Twp — Essex County
Base: $167,500 + Extras: $33,280 = TOTAL: $200,780
---
Scott Feder
South Brunswick Twp — Middlesex County
Base: $196,584 + Extras: $4,000 = TOTAL: $200,584
---
Ross Kasun
Freehold Twp — Monmouth County
Base: $195,416 + Extras: $5,000 = TOTAL: $200,416
---
Jennifer Fano
Randolph Twp — Morris County
Base: $196,584 + Extras: $3,797 = TOTAL: $200,381
---
Joseph DelRossi
Medford Twp — Burlington County
Base: $173,083 + Extras: $27,289 = TOTAL: $200,372
---
Rooney, Christopher
Monmouth-Ocean Ed Ser Com — Monmouth County
Base: $200,250 + Extras: $ = TOTAL: $200,250
---
Dr. Brian Zychowksi
North Brunswick Twp — Middlesex County
Base: $200,156 + Extras: $ = TOTAL: $200,156
---
James Albro
Wallington Boro — Bergen County
Base: $178,183 + Extras: $21,588 = TOTAL: $199,771
---
Dr. Gina Coffaro
Oakland Boro — Bergen County
Base: $169,689 + Extras: $29,953 = TOTAL: $199,642
---
Rosenberg, Michelle
Guttenberg Town — Hudson County
Base: $145,000 + Extras: $54,436 = TOTAL: $199,436
---
Paul Amoroso
Pompton Lakes Boro — Passaic County
Base: $178,100 + Extras: $20,760 = TOTAL: $198,860
---
Nick Markarian
Bernards Twp — Somerset County
Base: $196,584 + Extras: $2,275 = TOTAL: $198,859
---
John Niesz
Keansburg Boro — Monmouth County
Base: $165,650 + Extras: $33,115 = TOTAL: $198,765
---
Tova Ben Dov
River Edge Boro — Bergen County
Base: $192,150 + Extras: $6,600 = TOTAL: $198,750
---
Jeffrey Mohre
Washington Twp — Morris County
Base: $178,183 + Extras: $20,442 = TOTAL: $198,625
---
JOHN J. MARCIANTE JR. PH.D.
Manalapan-Englishtown Reg — Monmouth County
Base: $193,000 + Extras: $5,344 = TOTAL: $198,344
---
Craig Hutcheson
Kittatinny Regional — Sussex County
Base: $185,000 + Extras: $13,322 = TOTAL: $198,322
---
Matthew Helfant
Hasbrouck Heights Boro — Bergen County
Base: $169,000 + Extras: $29,233 = TOTAL: $198,233
---
Lazovick, Russell
Bridgewater-Raritan Reg — Somerset County
Base: $191,584 + Extras: $6,600 = TOTAL: $198,184
---
Caryn Cooper
Plainfield City — Union County
Base: $191,584 + Extras: $6,250 = TOTAL: $197,834
---
Anthony Grieco
Elmwood Park — Bergen County
Base: $157,500 + Extras: $40,210 = TOTAL: $197,710
---
Steve Forte
Denville Twp — Morris County
Base: $155,000 + Extras: $42,635 = TOTAL: $197,635
---
Dave Trethaway
Manchester Twp — Ocean County
Base: $195,145 + Extras: $2,360 = TOTAL: $197,505
---
Gregory Troxell
Phillipsburg Town — Warren County
Base: $185,000 + Extras: $12,382 = TOTAL: $197,382
---
Thomas Ficcara
South Orange-Maplewood — Essex County
Base: $196,584 + Extras: $784 = TOTAL: $197,368
---
Cochrane, Stephen
Princeton — Mercer County
Base: $196,584 + Extras: $258 = TOTAL: $196,842
---
Patrick Fletcher
River Dell Regional — Bergen County
Base: $178,183 + Extras: $18,500 = TOTAL: $196,683
---
Edward Stoloski
East Amwell Twp — Hunterdon County
Base: $166,050 + Extras: $30,550 = TOTAL: $196,600
---
Pinsak, Barbara
Montclair Town — Essex County
Base: $196,583 + Extras: $ = TOTAL: $196,583
---
DR. GEOFFREY ZOELLER
Rochelle Park Twp — Bergen County
Base: $135,000 + Extras: $61,474 = TOTAL: $196,474
---
Augustus Modla
Sussex County Vocational — Sussex County
Base: $180,303 + Extras: $16,145 = TOTAL: $196,448
---
Michael Fetherman
Cedar Grove Twp — Essex County
Base: $164,000 + Extras: $32,350 = TOTAL: $196,350
---
Mr. Joseph Langowski
Lumberton Twp — Burlington County
Base: $176,545 + Extras: $19,550 = TOTAL: $196,095
---
Matthew Mingle
Warren Twp — Somerset County
Base: $162,345 + Extras: $32,967 = TOTAL: $195,312
---
Christopher Nagy
Burlington Co Vocational — Burlington County
Base: $193,420 + Extras: $1,550 = TOTAL: $194,970
---
PATRICIA FITZGERALD
Camden County Vocational — Camden County
Base: $183,111 + Extras: $11,832 = TOTAL: $194,943
---
Joseph Bollendorf
Washington Twp — Gloucester County
Base: $180,868 + Extras: $14,000 = TOTAL: $194,868
---
Ruberto, Johanna
Flemington-Raritan Reg — Hunterdon County
Base: $191,584 + Extras: $2,880 = TOTAL: $194,464
---
Robert Beers
Manville Boro — Somerset County
Base: $165,000 + Extras: $29,200 = TOTAL: $194,200
---
John J. Hurley
Rutherford Boro — Bergen County
Base: $178,183 + Extras: $15,658 = TOTAL: $193,841
---
Dr. Darren Petersen
Montvale Boro — Bergen County
Base: $173,083 + Extras: $20,582 = TOTAL: $193,665
---
Kimberly Gruccio
Egg Harbor Twp — Atlantic County
Base: $175,000 + Extras: $18,350 = TOTAL: $193,350
---
Frances Wood
Somerset Hills Regional — Somerset County
Base: $169,869 + Extras: $23,300 = TOTAL: $193,169
---
BARRY CALDWELL
Atlantic City — Atlantic County
Base: $192,000 + Extras: $1,000 = TOTAL: $193,000
---
Craig Wigley
Lacey Twp — Ocean County
Base: $184,884 + Extras: $8,100 = TOTAL: $192,984
---
Terry Foppert
Union Co Ed Serv Comm — Union County
Base: $185,000 + Extras: $7,340 = TOTAL: $192,340
---
Kathleen Taylor
Ocean City — Cape May County
Base: $183,183 + Extras: $9,000 = TOTAL: $192,183
---
Stephen Genco
Jackson Twp — Ocean County
Base: $185,000 + Extras: $7,179 = TOTAL: $192,179
---
Matthew Spelker
Harding Township — Morris County
Base: $147,794 + Extras: $44,154 = TOTAL: $191,948
---