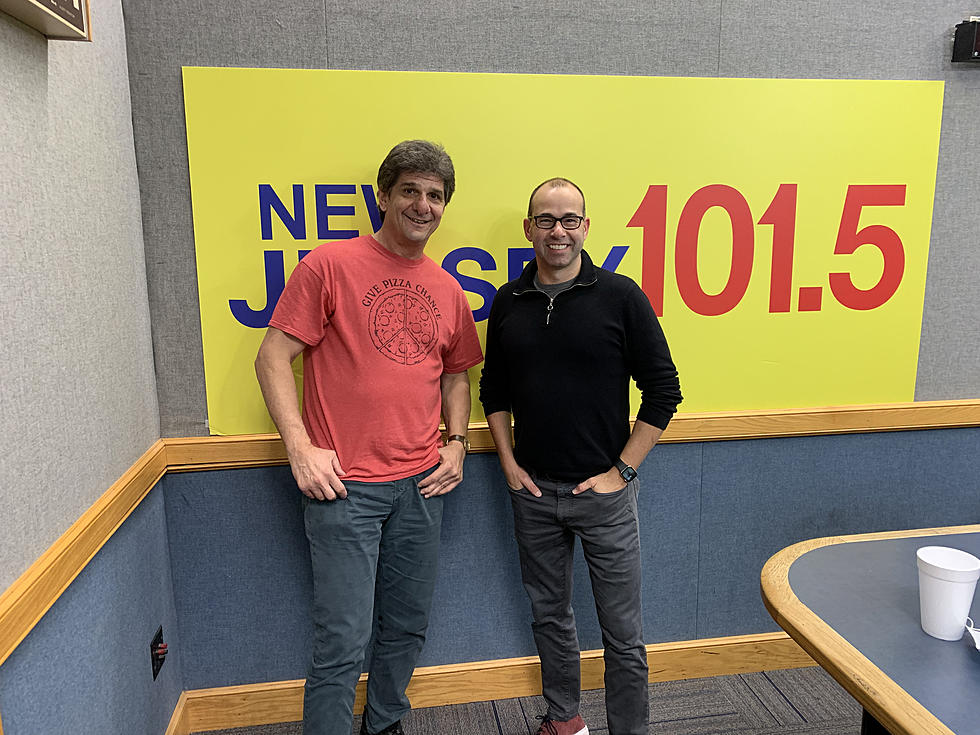 Impractical Jokers Murr dishes on tour and reveals surprise for seasons 10, 11
Sam Doyle photo.
The Impractical Jokers tour launches on January 28 and comes to the Prudential Center on Friday March 10. James S Murray aka "Murr" who's been in the studio on my New Jersey 101.5 show took time from their rehearsal to call in.
Tell us about the show?
"The shows are stand-up comedy" says Murr "We riff a lot but mostly a lot of its planned. We tell stories from our lives from the TV show, we shot hidden camera challenges just for the live tour you can't see on or anywhere else."
SPOILER ALERT
"In the new Impractical Jokers tour. You'll finally hear the story of what happened at my wedding. To date, we've never told the story and my wedding very likely is because of Smash Mouth breaking up two years ago" Murr continues." I bet you didn't see that one. But Smash Mouth was at our wedding performing they closed out the wedding. And you'll have to come to the Joker's tour to hear what happened. But something happened at our wedding and days later the band broke up."
What can you tell us about season 10?
"Season 10 of Impractical Jokers premieres Thursday, February 9 on both TBS and Tru TV, we're gonna be simulcast the whole season on both networks is pretty darn cool."
How long are you gonna keep going?
"As long as people watch. Season 10 is awesome. We got killer celebrity guests and punishments. The first episode on February 9, stars, Bret Michaels and Paul Rudd in the punishment. Episode Two is Post Malone Episode Three is John Mayer. Anthony Davis Kesha, it's a killer season coming up."
Who would you love to work with?
"We just finished filming the season a few days ago, but in season 11 Knock on wood 1 I would love to get Steve Carell on the show. I've heard Jim Carrey's a fan of love to get him on the show at some point that'd be wild. And I've also heard the Britney Spears as a fan. She'd be wild to have on the show too."
How's Joe (Gatto) doing?
"He's doing good. I'm gonna see him on Monday. He's great. He's doing good. He's touring constantly, by the way, check him out, just type in Joe Gatto comedy on Google and it will pull up his full tour. He's, you know, obviously home with the kids during the weekend. He's touring the weekends. And he's killing it. He's playing big theaters now across the country and doing really, really well."
What is your ultimate practical joke that you've never played but would love to?
"My friend, I cannot tell you because I'm going to do it in season 11. It's been in the works for months and months and months. And we simply couldn't pull it off in time for the end of season 10. We're up against air dates that are like that, and we couldn't pull it off. And the weather was no good to do it in January because it's an outdoor punishment."
"But it's going to change the TV show forever. It's been a plan for six months now. It's gonna cost a lot of money to do and it's going to be the greatest punishment in Impractical Jokers history, and we're going to start season 11 with it. I promise you."
To get tickets to see The Impractical Jokers March 10 at the Prudential Center click here.
Opinions expressed in the post above are those of New Jersey 101.5 talk show host Steve Trevelise only. Follow him on Twitter @realstevetrev.
You can now listen to Steve Trevelise — On Demand! Discover more about New Jersey's personalities and what makes the Garden State interesting . Download the Steve Trevelise show wherever you get podcasts, on our free app, or listen right now.
Click here to contact an editor about feedback or a correction for this story.
Here's where NJ legal weed is sold
The number of recreational cannabis dispensaries continues to grow, with close to two dozen state approvals given since the first adult recreational sales in the state back in April. Here is where the open sites are located.
The 10 Most Stolen Vehicles In New Jersey
More From New Jersey 101.5 FM