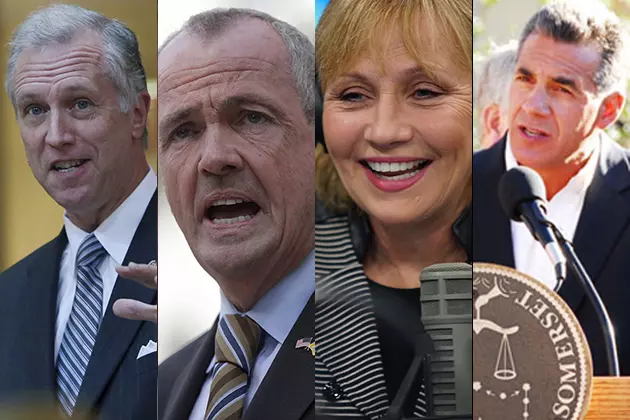 How Trump will affect voters in Tuesday's NJ primaries
John S. Wisniewski and Phil Murphy (AP File Photos), Kim Guadagno (Louis C. Hochman / Townquare Media) and Jack M. Ciattarelli (Jack M. Ciattarelli for Governor)
Democrats and Republicans in New Jersey are holding their primaries on Tuesday, when party voters will nominate gubernatorial candidates for November.
Turnout is expected to be low as usual, but unhappiness with President Donald Trump could encourage some voters to head to the polls and cast their ballots.
According to Rider University political science professor Ben Dworkin, the president's first five months in office "has motivated people who might be considered marginal Democrats.
"They're very active right now. There's a lot of passion in the Democratic grassroots."
"They're paying attention that there is a primary, and where they might not have voted in previous years, their anger towards Trump is getting them excited enough that they may come out and cast a ballot."
Last week, former Vice President Joe Biden appeared in Bergen County for an event endorsing Phil Murphy in the Democratic primary. Biden called New Jersey's governor race the most important election in the country in the next couple of years. Virginia is the only other state with a gubernatorial election this year. Congressional midterm elections are next year.
Dworkin does not believe Trump's low approval ratings will have the same effect on Republican voters.
"They're simply not thinking about him. This is a fight between Lt. Gov. Kim Guadagno and Assemblyman Jack Ciattarelli over who's going to lead the Republican party in the state of New Jersey in the post-Christie era," he said.
Dworkin noted both Donald Trump and Phil Murphy are very rich outsiders, but voters won't lump the two together because Murphy "had a major role in the Democratic Party.
"He spent four years as the finance chair for the national Democratic Party, he spent another four years as ambassador to Germany. So in one sense he has significant government experience."
He also predicted Christie's influence on the Republican Primary will be minimal to non-existent.
"Both candidates, Guadagno and Ciattarelli, have largely been avoiding him. If anything, they've talked about where they disagree with him," he said.
Christie has not endorsed any candidate in the primary, although at a recent news conference he praised Guadagno for her efforts as the state's business advocate in reducing New Jersey's unemployment rate.
"The fact is the lieutenant governor deserves credit for a lot of what's happened," he said.
Christie continues to have approval ratings at historically low levels. That, Dworkin says, means if you're a Republican seeking to win the primary you don't want to tie yourself to Christie in any way, shape or form.
Dworkin also said the fact that Guadagno was part of the Christie administration for the past eight years won't make much of a difference.
He added, "Where it will make a difference is in the general election, when you have independents, when you have Democrats who have supported Chris Christie in the past."
Also on New Jersey 101.5:
You can contact reporter David Matthau at David.Matthau@townsquaremedia.com
More From New Jersey 101.5 FM