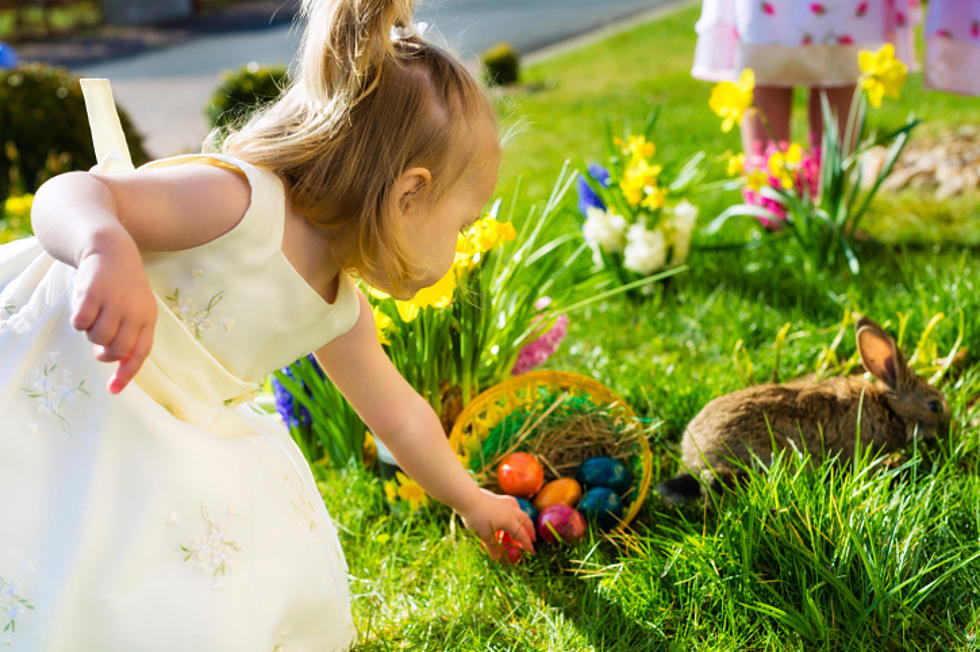 Has the Easter outfit gone extinct ?
Children on Easter egg hunt with bunny. (ThinkStock)
For decades getting a new Easter outfit every year was a rite of passage. It was going to the store getting a nice pair of pants, a new dress, sometimes if you were lucky a new suit, people did the best they could and dressed up for Easter.
I do not know whether it is the pandemic or the times have changed, but I feel the days of getting a new Easter outfit have passed us by. In looking at social media on Easter Sunday many are congenial in wishing all a happy Easter, but missing the pictures of people dressing up. There are many throwback pictures of families handsomely attired taken before or after church.
I have read where the catholic church reported that attendance at churches here in the United States of America are down over 20 percent. Of course with the pandemic, last year, some churches had to limit their attendance. So those families who are not worshiping on Sunday are forgoing the Easter outfits.
I have fond memories of Easter Sunday. My Mom was a single mother but my sister and I always had a new Easter outfit every year. My mom would wear a beautiful hat and white gloves and we would go out for a special breakfast or brunch after church.
There were Easter parades where the best outfit was awarded. I remember as a kid having to go to those Easter parades and my mom would tell me to get in the parade and I didn't want anything to do with it
Hard to believe but I was a big kid, so every year at Easter I wore suits or sports jackets and pants, they called them slacks back then and I looked like I stepped out of Don Draper's office from the TV series Mad Men, all I needed was a cigarette and a scotch and I was 9.
The sad thing about wearing an Easter outfit is that you couldn't take it off for the rest of the day. Normally after church, unless we were going somewhere you would come home and change but not on Easter Sunday. My mother would hold me hostage in those new clothes. You couldn't go out and play because you would dirty, rip or disintegrate your brand new outfit.
Easter Dinner was very special at our house. My Grandmother would cook lamb for Easter dinner. We would all sit around the table afraid to get the new outfit christened with gravy.
At some point during Easter Sunday, I would drop a huge blob of some toxic condiment that would never come out of my new Easter shirt to which my mother would scream "you ruined your Easter outfit". This ritual went on till I was in my 20's.
I realize now the importance and impact dressing up on Easter Sunday had on the family and others. It was putting your best foot forward for your church and your family and lifting the spirits of enjoying the special holiday. I make light of it but I miss it.
The post above reflects the thoughts and observations of New Jersey 101.5 weekend host Big Joe Henry. Any opinions expressed are Big Joe's own.
How the world saw New Jersey — 1940s to 1980s
This is how New Jersey saw the world from 1940-to 1980. All these photos are from AP and Getty publications, meaning they were used in a magazine or newspaper. There has been plenty of inventions and history made in New Jersey. Check the photos below.
NJ beach tags guide for summer 2022
We're coming up on another summer at the Jersey Shore! Before you get lost in the excitement of sunny days on the sand, we're running down how much seasonal/weekly/daily beach tags will cost you, and the pre-season deals you can still take advantage of!
More From New Jersey 101.5 FM