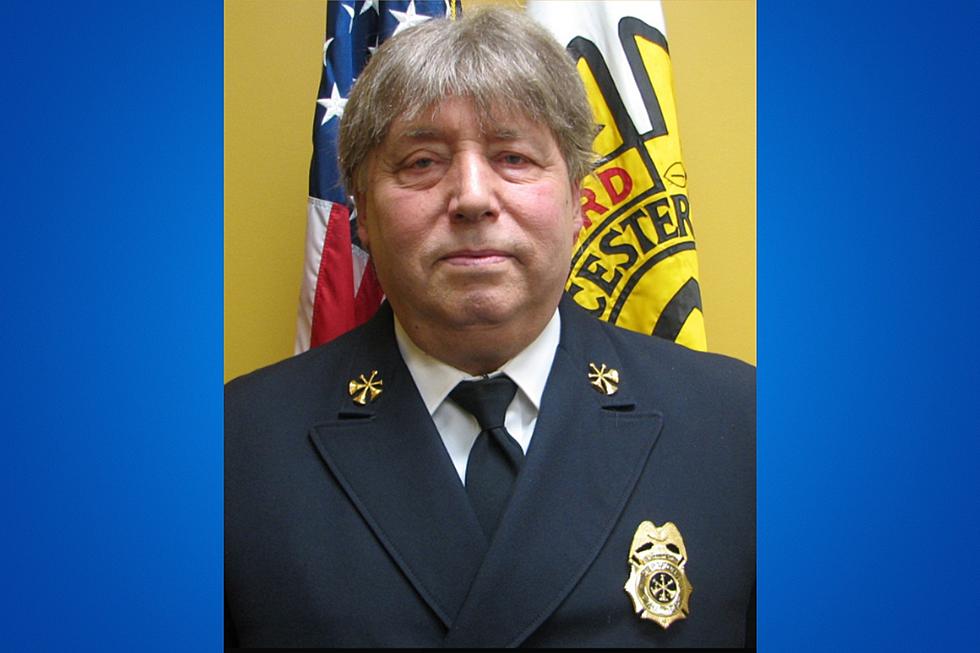 Former Deptford, NJ fire chief dies after 'on-duty incident'
Former Deptford Battalion Chief Jeff Pfeiffer. (Deptford Fire Department)
🔴 A retired fire battalion chief died after an on-duty medical emergency
🔴 Jeff Pfeiffer's passing is recognized as a Line of Duty Death after over 50 years of service
🔴 It's the second tragedy to impact Deptford first responders this month
---
DEPTFORD — A former battalion chief for the Deptford Fire Department has died this weekend following a response to a fire.
Former Battalion Chief Jeff Pfeiffer suffered a cardiac arrest at the Almonesson Lake Firehouse on Thursday night, according to the Gloucester County Office of Emergency Management. Pfeiffer served the township as a firefighter for over 50 years. The Deptford Fire Department first announced his passing on Saturday.
"It is with sincere grief that we share that we have lost former Battalion Chief Jeff Pfeiffer," the department said. "We will share more details on this wonderful and heroic leader and firefighter in the days ahead."
As the medical emergency happened following a report of smoke at a residence, Pfeiffer's passing has been recognized as a Line of Duty Death. A service will be held April 13, according to Mayor Paul Medany.
The OEM offered its "deepest condolences" to Pfeiffer's family and friends in a statement late Sunday morning.
"We are grateful to Chief Pfeiffer for his dedication to the fire service and thank he and his family for his years of devotion and commitment to the Deptford Twp. and Gloucester County communities."
Former Deptford battalion chief a 'very rare' individual
Mayor Medany told New Jersey 101.5 that he attended grammar school with Pfeiffer. He said that the former battalion chief and his younger brother Christopher Pfeiffer got involved in the local fire department's youth programs as young teenagers and began serving as firefighters as soon as they could legally get on a truck at around 18 years old.
"It's incredible. He dedicated his whole life to that fire company," Medany said, adding that Pfeiffer died at 67 years old.
Along with being dedicated volunteers, the Pfeiffer family also owned a local business operating in the Deptford industrial park.
"They absolutely made an impact," Medany said. "Those kinds of individuals are very rare but Deptford is lucky to have quite a few of them. These guys in the volunteer fire department, they start when they're young and stay with it and we're just fortunate to have them."
Shot Deptford cop still in ICU
Pfeiffer's death comes as the Deptford first responder community is also pulling for Officer Bobby Shisler who was shot in the line of duty on March 10. Shisler was shot in the leg and hospitalized after conducting a pedestrian stop.
According to the OEM, Shisler is still struggling to recuperate following the incident.
"Without giving private details please just know that Bobby is still fighting very hard to recover in the ICU, and this has been an exhausting and emotional time for his family, who has not left his side throughout the past 2 weeks," the OEM said on social media.
The shooting also resulted in the death of Mitchell Negron Jr., 24, who authorities said was the man stopped by Shisler. The Attorney General's Office is investigating.
Rick Rickman is a reporter for New Jersey 101.5. You can reach him at richard.rickman@townsquaremedia.com
Click here to contact an editor about feedback or a correction for this story.
Up or down? Average property tax changes in NJ in 2022
Below are the average property tax bills for every municipality in New Jersey last year.
The towns are listed from the biggest cut in the average bill to the highest increase. On the county maps, the deeper red color means a higher increase above 2% whereas the darker green signifies a smaller increase or a reduction.
Each listing also shows how the average tax bill is split among the county, school and municipal governments.
How much your school district gets under Murphy's proposed 2024 budget
Gov. Phil Murphy's porposed 2024 budget includes $1 billion in new spending for school funding including pre-K funding, pension and benefits, and an additional $832 million in K-12 aid, which is listed below by county and district.
Play ball NJ: These MLB pros are from New Jersey
A fair amount of New Jersey born baseball players have made it to the majors. These pros, active to start the 2023 season, all have NJ roots.
More From New Jersey 101.5 FM