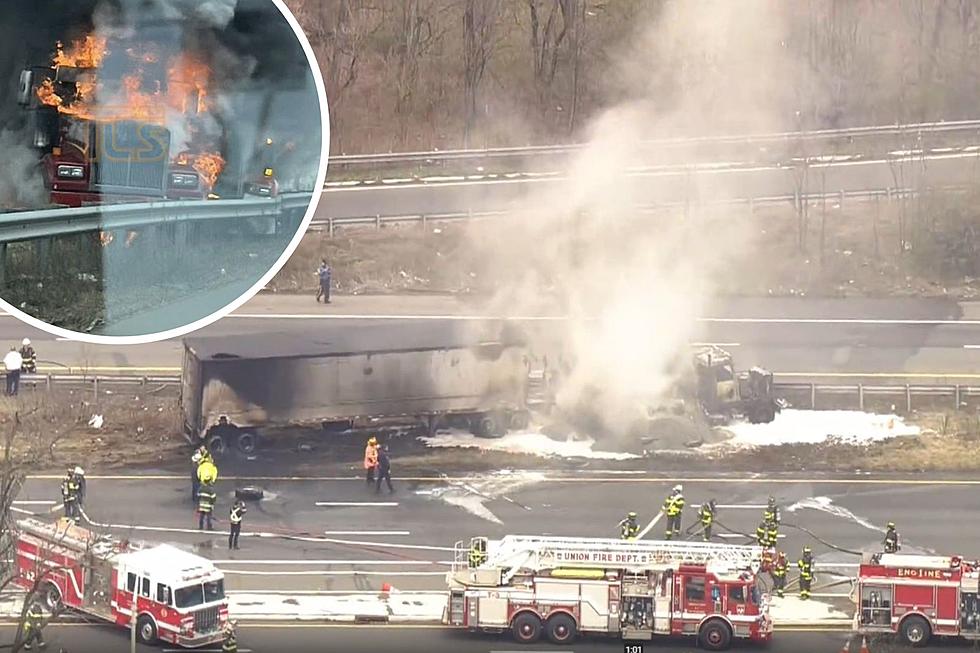 Fatal crash involving dump truck, pickup and tractor-trailer closes Route 78 in NJ
Crash on Route 78 eastbound in Springfield 3/28/23 (The Lakewood Scoop) (NBC 4 New York)
🔴 A dump truck, tractor-trailer and a pickup truck crashed on Route 78
🔴 The driver of the dump truck was killed in the crash
🔴 The express lanes will be closed for most of the afternoon commute
---
A fiery fatal crash between a dump truck, tractor-trailer and a pickup truck on Route 78 left one person dead and will keep lanes closed through the afternoon commute.
State Police Lt. Lawrence Peele said the three vehicles crashed near Exit 49 (Route 24) in Springfield Township around 12:30 p.m. The driver of the dump truck was killed in the crash.
The name of the driver or the circumstances of the crash were not disclosed by Peele.
Video of the crash shows the tractor-trailer after it rear-ended the dump truck, causing it to spill its load.
Both directions of the Express lanes were closed by the crash as of 3:30 p.m. and will likely remain shut through the afternoon commute for clean-up and an investigation, according to NJ DOT spokesman Steve Schapiro.
The closure caused rubbernecking delays in the local lanes and delays on Route 24 eastbound for several miles approaching Route 78.
The crash is the first fatal crash on Route 78 in Union County of the year and the second on the entire highway.
Dan Alexander is a reporter for New Jersey 101.5. You can reach him at dan.alexander@townsquaremedia.com
Click here to contact an editor about feedback or a correction for this story.
Most affordable places to live in New Jersey
SmartAsset released a study analyzing the
most affordable places to live in New Jersey
. The eighth annual study weighed several factors, including taxes, homeowners' insurance, and home costs relative to the local median income.
Up or down? Average property tax changes in NJ in 2022
Below are the average property tax bills for every municipality in New Jersey last year.
The towns are listed from the biggest cut in the average bill to the highest increase. On the county maps, the deeper red color means a higher increase above 2% whereas the darker green signifies a smaller increase or a reduction.
Each listing also shows how the average tax bill is split among the county, school and municipal governments.
LOOK: The 25 least expensive states to live in
---
More From New Jersey 101.5 FM