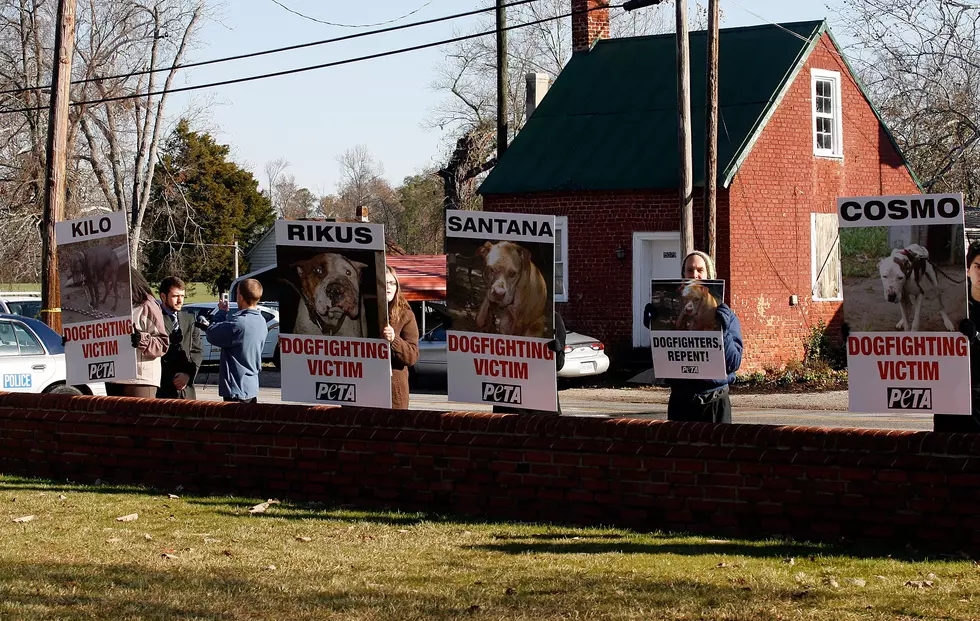 Sickening New Trend in Dog Fighting Emerges, Called "Trunk Fighting" [AUDIO]
Geoff Burke, Getty Images
This shows us all just how far down into the depths of depravity some humans can go. Call it animal abuse on wheels.
There's a disturbing new fad emerging in Florida called 'trunk fighting.'
Two dogs are put in trunk, bets are made on which animal will survive and the car is driven around until no noises are coming from the trunk. The ringleaders then open the trunk and see which dog is still alive.
One New Jersey lawmaker is trying to make sure there are strict penalties if this 'fad' catches on in the Garden State.
"This horrific new fad takes animal cruelty to a new level," says Assemblyman Ron Dancer. "Pitting two animals against each other in a fight to the death for money is sickening enough. Now these criminals have gone mobile."
"They have adapted to law enforcement making raids on fixed locations. As a result, they have graduated to keeping their gambling rings on wheels to avoid the raids."
People who engage in this new form of dog or animal fighting known as 'trunk fighting' and who bring minors to witness animal fighting, will face increased penalties under legislation introduced by Dancer. The measure makes trunk fighting a third degree crime which carries a three to five-year jail term and fine up to $15,000.
It also provides civil penalties for the crime, including fines of up to $3,000 for the first violation and up to $5,000 for a subsequent offense.
The Assemblyman's bill also clarifies that bringing a minor under the age of 18 to be present at and witness the fighting or baiting of an animal is also a third degree crime and carries a civil penalty of $3,000 to $5,000.
"Subjecting minors to the brutality of this cruel practice is an unconscionable offense and a form of child abuse," says Dancer. "No child should ever be permitted to witness such brutality where animals are baited to fight to the death. Violence often breeds violence. If children are raised in an atmosphere where there is violence they are more likely to behave violently. Increased fines and penalties will help protect these innocent victims."
Specifically, 'trunk fighting' involves putting two dogs or other animals in the trunk of a car, aggravating them by putting on loud music then driving them around while they fight. When the driver doesn't hear any more noise, he then drives to collect and distribute the bets as the trunk is opened. The animal that is killed or the most injured is thrown out while the surviving animal goes on to fight again.
There is anecdotal evidence that trunking is happening in New Jersey says Dancer. There are documented cases of it in Florida. Trunking doesn't require a ring or a yard, nor does it require a basement, which most Florida residents are without. It can be done anywhere at any time.
Animal rights activists are demanding that Florida Governor Rick Scott investigate and raise awareness about this shocking new fad.