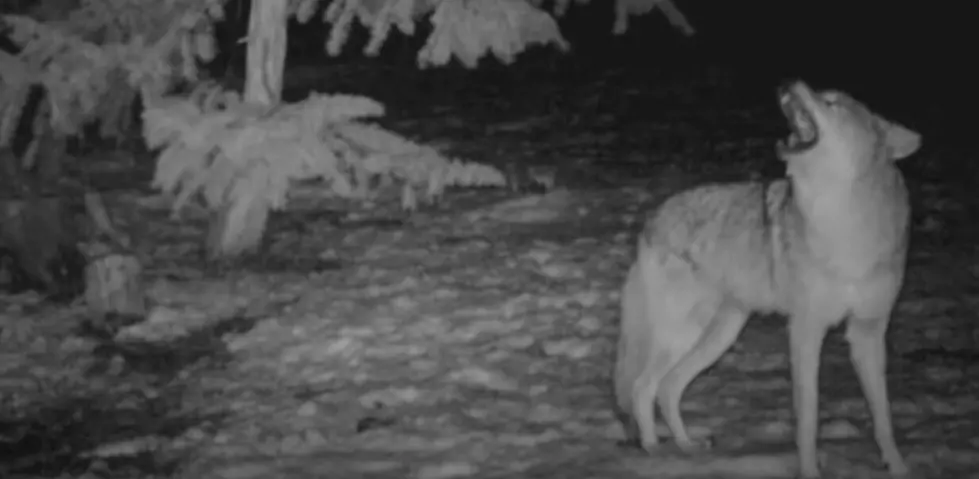 Creepy audio of coyotes howling in NJ
YouTube
Angie in Dennis Township posted on Facebook the sounds of coyotes howling, yipping, and barking the other night near her home.
Angie's property backs up to Beaver Swamp where there is plenty of wildlife, so Angie has experienced the wonders of nature around her home.
But the sounds of the coyotes' cries in the night can be especially unsettling. As Angie said in her post, "I swear the sound is closer and closer every night".
We have a recording of the howling that Angie hears at night and you can listen to it below.
This seems like a good time to give you some facts about the coyotes living in South Jersey.
Here are Some Facts About the Coyotes Living in New Jersey
🐺 In 2023, coyotes have been documented in nearly 400 municipalities from all 21 counties of New Jersey, 94% of the state's land area, according to NJ's Fish and Wildlife Department.
🐺 Before 1980, very few coyotes were known to populate South Jersey.
🐺 The first known record of coyote occurrence in New Jersey was recorded near Lambertville, Hunterdon County in 1939.
🐺 It remains unclear how coyotes came to be in New Jersey. the Fish and Wildlife Dep't says they never imported coyotes, but there is some evidence that private citizens may have brought some.
🐺 NJ's Fish and Wildlife Dep't says adult coyotes in NJ range in weight from 20-50 lbs.
🐺  Coyotes adjust well to their surroundings and can survive on whatever food is available. They prey on rabbits, mice, birds, and other small animals, as well as young and weakened deer.
🐺 Coyotes, along with foxes, are sometimes afflicted with mange which can result in significant hair loss. The loss of fur can result in making the identification of a coyote difficult, resulting in reports of a "mystery" animal, or even a cougar, or possibly the mountain lions people have been reporting seeing recently.
🐺 In suburban and urban areas of NJ, coyotes have occasionally attacked small pets. Although attacks on humans are extremely rare in New Jersey, as with any predatory animal they can occur.
🐺 According to Weston.org, if you hear coyotes in the night and listen closely, you might hear the yip-howling coming from different directions; however, don't feel as though you are surrounded by hundreds of coyotes.
It's an auditory illusion known as the "beau geste" effect and is due to the variety of sounds produced by a male and female coyote and the way sound gets distorted as it passes through the environment. Basically, two coyotes can sound like seven or eight animals.
Let's listen to the coyotes Angie hears in her Dennis Township backyard and then some other coyotes recorded in New Jersey at a much closer distance, so you can really hear the howling.
South Jersey's Real Life Ghost Town - Amatol
Cold Cases: South Jersey's Unsolved Murders & Mysteries
More From New Jersey 101.5 FM