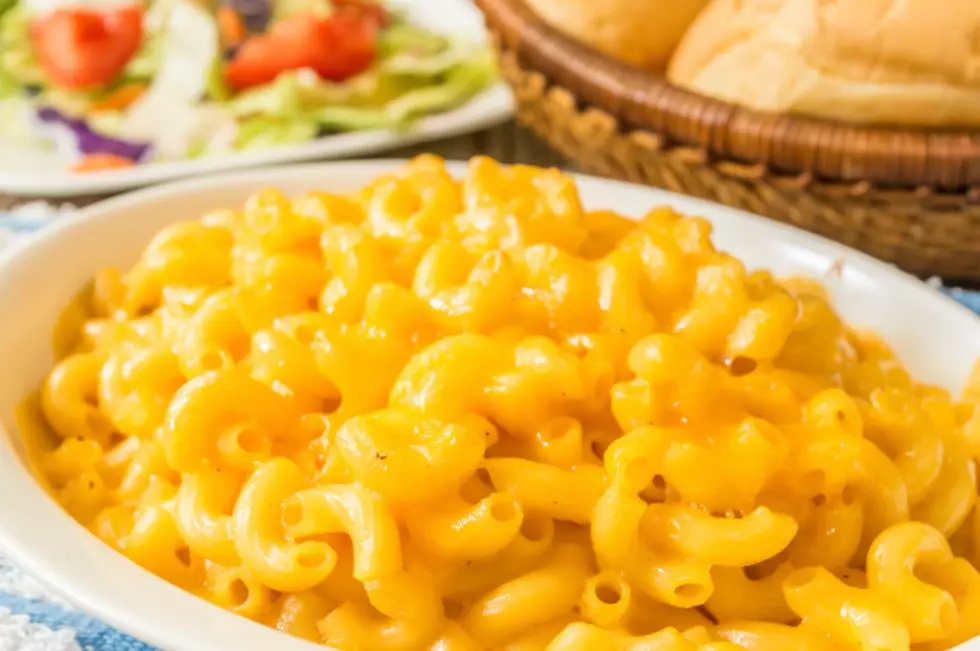 Big Joe Henry's best places for the best mac and cheese in New Jersey
ThinkStock
Barbecue season is taken very seriously here in New Jersey. We know extra care and attention have been focused on your grilling meats but what about the sides?
Good mac and cheese is so much more than the stuff that comes out of a Kraft Mac and Cheese box. I know it tastes pretty good but that's because you're used to the flavor and repetition of the same boring flavor. You need to expand your mac and cheese awareness and I'm just the guy to brighten your mac and cheese intellect and senses.
We have some outstanding places to get very good mac and cheese here in the Garden State.
There are some establishments on this list that are known for other signature dishes but their mac and cheese is worth the trip. Mac and cheese is overlooked when going to a restaurant because there is a misconception that you can get it home in a boring box so why bother at the restaurant?
You need to try the mac and cheese at these New Jersey restaurants. They are very good at making homemade mac and cheese and in my opinion worth the trip just for that wonderful underappreciated side dish.
Here are some of my favorite places to get the best mac and cheese in New Jersey. I like the standard mac and cheese and the places that I have selected serve up the standard mac and cheese and they do it very well. In no particular order.
The Ark Pub & Eatery — Pt. Pleasant Beach, NJ
Holy smokes! This is a restaurant that in my opinion has one of the best hamburgers in the state. It also has some outstanding mac and cheese. I was skeptical to add the mac and cheese with my order only because the burgers are so filling. Well, the mac and cheese dish didn't have a chance and I only got through ¾ of my burger, believe it or not. The Ark's mac and cheese is worth the trip, come hungry, it's a very creamy dish with perfectly cooked macaroni. It is delicious.
Emma's — Jersey City, NJ
Walking into Emma's is a walk into a southern kitchen oasis. The fried chicken is outstanding and I was told by everyone who frequented Emma's to get the mac and cheese. I did and it was also outstanding. The mac and cheese dish is loaded with real cheese and slightly broiled to give it a slight hardness to the top of the dish. Go to Emma's have the mac and cheese and get one for me to go.
The Committed Pig 3 locations
Summit, Morristown and Manasquan, NJ
The Committed Pig has expanded because of its popularity amongst barbecue and breakfast fans. They have a great mac and cheese that is so good they put it on a burger and it's one of their biggest sellers. I like the mac and cheese by itself, it boasts of three cheeses and is finished with panko bread crumbs. Check out the Committed Pig near you.
Kim Marie's — Asbury Park, NJ
I enjoy Kim Marie's; they have good comfort food and a great bar. I've been there a few times after hosting shows at the Paramount Theatre or Wonder Bar. Kim Marie's mac and cheese is made with provolone, American and cheddar and they add toasted bread crumbs. It is very good. I also like the Irish Egg Rolls made with corned beef, have them with a side of mac and cheese, and maybe wash it down with a cold beer. Life is good!
The Cabin — Freehold, NJ
There is a mystery that swirls around my head concerning The Cabin's mac and cheese. For some reason, the restaurant understates the tasty side dish. It's simply listed with other side dishes. On a visit to The Cabin somebody in my group got the mac and cheese with their dinner. They said, "Big Joe you have to taste this!" I did and ordered two side mac and cheese dishes for me. It's good. I don't know the cheeses in there, I think it's the standard white American cheese but I'm not sure. The one thing I am sure of is that it's good!
The Bonefish Grill — Manalapan, NJ
The Bonefish Grill serves up a good mac and cheese. As I stated in the intro of this ranking I am focusing on those restaurants that serve up the standard old-fashioned mac and cheese. Well, Bonefish Grill is a very slight exception to those criteria. They serve up a very creamy, cheesy, delicious mac and cheese that is topped with bread crumbs and bacon. The bacon on the top is the equivalent to the cherry on top of a sundae, it was very good. I let them slide and put them on my best list.
Proving Ground — Highlands, NJ
The Proving Ground sports a great view and good comfort food that includes very good mac and cheese. Their mac and cheese is a three-cheese blend that is served with panko bread crumbs. It is creamy and rich and they give you the option of jazzing it up with fried buffalo chicken or beef brisket. You have to have a good staple mac and cheese recipe before you add more to it, the Proving Ground does.
Trap Rock Restaurant & Brewery — Berkeley Heights, NJ
The Trap Rock is a pretty cool place with good food. It is apparent that a lot of thought went into the menu and the tough thing for me is the many options that I want on the menu. The decision process is a drawn-out procedure. I had their mac and cheese with beef brisket. While the beef brisket that topped my mac and cheese was good, it was the four-cheese mac and cheese that was the star. I suggest it's a definite choice the next time you go.
There are other New Jersey restaurants that I can recommend but I feel these are the core restaurants that I like for the best mac and cheese here in New Jersey. Put down the box of mac and cheese and go out and enjoy.
The post above reflects the thoughts and observations of New Jersey 101.5 weekend host Big Joe Henry. Any opinions expressed are Big Joe's own.
Click here to contact an editor about feedback or a correction for this story.
New Jersey's license plate designs through the years
QUIZ: Can you identify 50 famous companies by their logos?
How well do you know the logos of 50 of the world's most famous companies? Keep scrolling to see if you can guess which icon belongs to which brand.
More From New Jersey 101.5 FM