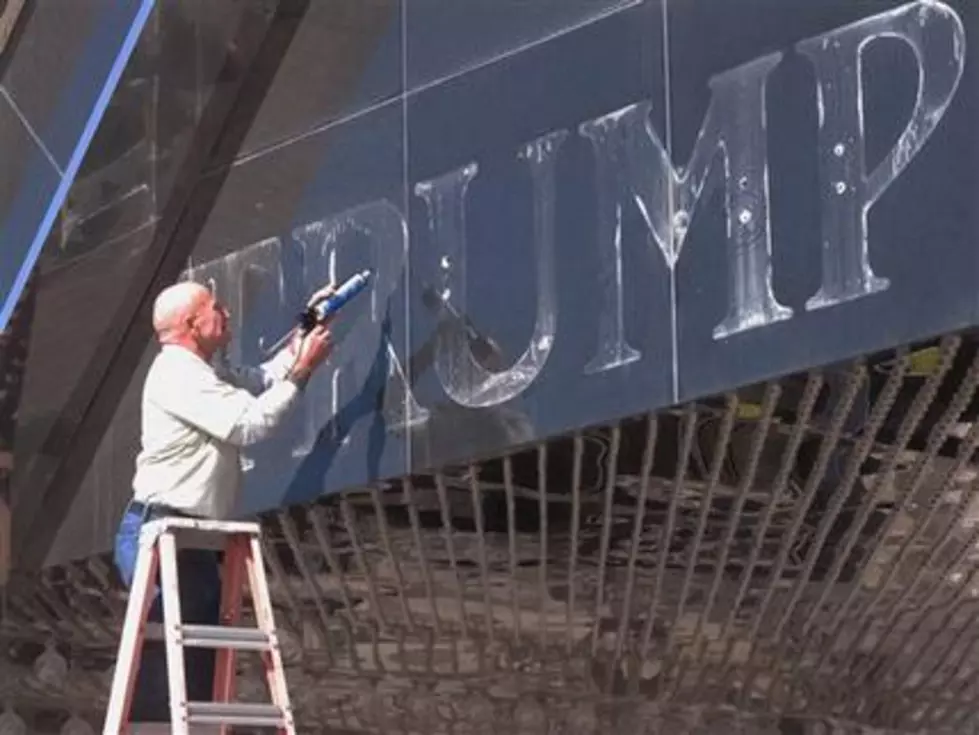 2014 timeline of Atlantic City's battered casinos
In this Oct. 6, 2014 photo, a worker applies caulk to holes in the facade of the former Trump Plaza casino in Atlantic City N.J. after letters spelling out the casino's name were removed. The casino closed on Sept. 16, 2014, one of four to go out of business in Atlantic City in 2014. (AP Photo/Wayne Parry)
ATLANTIC CITY, N.J. (AP) -- Four of Atlantic City's 12 casinos shut down in 2014 (and a fifth nearly joined them before being rescued under a last-minute financing arrangement). Here's a look at what was the worst year for the city's casino industry in its 36-year history:
Jan. 13: The Atlantic Club Casino Hotel closes, bought out of bankruptcy court by two competitors (Tropicana Entertainment and Caesars Entertainment) that stripped it for parts and shut it down. It was the first of four Atlantic City casinos to go belly up in 2014.
Jan. 14: State regulators announce that Atlantic City casino revenue fell below $3 billion for the first time in 22 years, dipping to $2.86 billion for 2013.
May 7: Caesars Entertainment CEO Gary Loveman says Atlantic City has too many casinos, and one or more needs to close.
May 20: A panel of Wall Street analysts at a regional gambling conference says a market that has already lost one casino this year still has too many.
June 10: The Borgata Hotel Casino & Spa gets a refund of more than $88 million under a settlement it reached with Atlantic City over how much the city's top casino should pay in property taxes, one of several costly casino tax appeal cases draining the city's finances.
June 19: Revel files its second bankruptcy case in as many years, warns it will close if a buyer cannot be found.
June 27: Caesars Entertainment announces it will close the Showboat Casino Hotel on Aug. 31.
July 12: Trump Entertainment Resorts says Trump Plaza will close in mid-September.
Aug. 12: Revel Entertainment announces it will close the casino in September after failing to find a buyer for it.
Aug. 31: Showboat closes.
Sept. 2: Revel closes.
Sept. 3: Thousands of newly jobless casino workers apply for unemployment benefits at the Atlantic City Convention Center as Miss America contestants arrive in the city.
Sept. 9: Trump Entertainment Resorts files its fourth bankruptcy case and threatens to close the Taj Mahal if it cannot get substantial tax breaks from the city and state.
Sept. 16: Trump Plaza closes.
Oct. 1: Canadian company Brookfield Asset Management wins a bankruptcy court auction for Revel at $110 million.
Nov. 12: Gov. Chris Christie convenes second Atlantic City summit; suggestions include a powerful state manager for the city.
Nov. 19: Brookfield scraps deal to buy Revel, says it can't reach deal with bondholders over debt from costly casino power plant.
Dec. 2: Two state senators unveil a tax assistance plan for Atlantic City's eight casinos.
Dec. 9: U.S. Bureau of Labor Statistics says Atlantic City area has lost 9,900 jobs in past 12 months, the most of any metropolitan area in the nation.
Dec. 18: Billionaire Carl Icahn pledges $20 million to keep the Taj Mahal open throughout 2015, drops closure threat.
More From New Jersey 101.5 FM