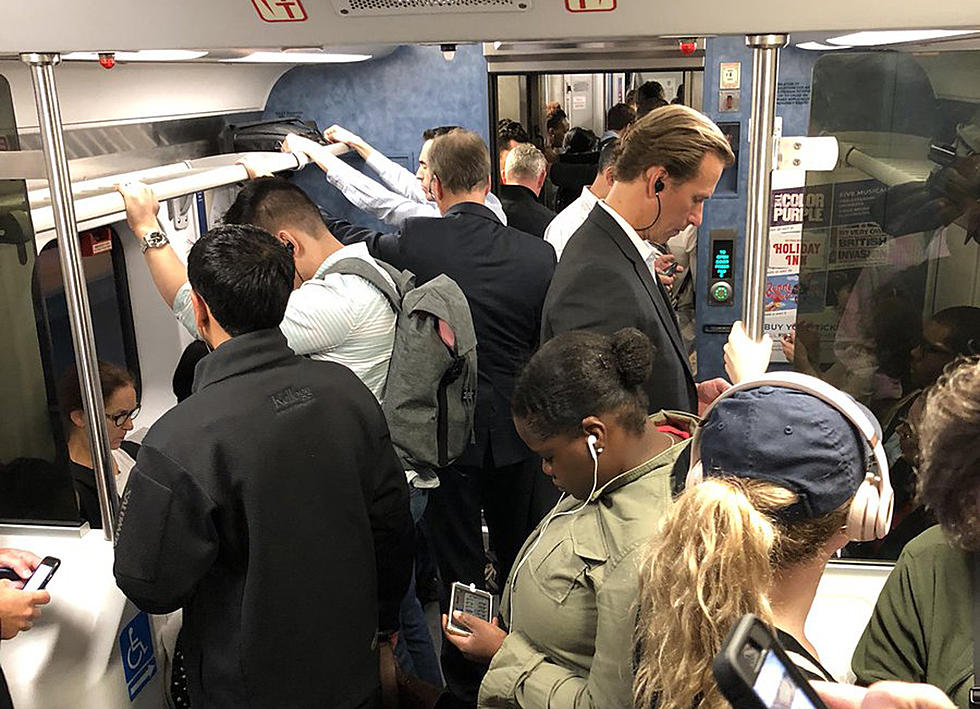 Will NJ Transit's bad Monday lead to a terrible Tuesday?
A crowded NJ Transit train leaves Newark's Broad Street station (Cookes Ferrary via Twitter @MCookes)
NEWARK — NJ Transit service nearly went from bad to worse for some riders as service on a portion of the Raritan Valley Line was temporarily suspended early Tuesday morning.
A Conrail freight train derailment near the North Branch station in Branchburg led to the suspension of service between the end of the line in High Bridge and Raritan. Service was restored by 5:45 a.m.
Somerset County Dispatch had no information about the derailment and a representative for Conrail has not yet returned a message.
Meanwhile, "engineer availability" was blamed by NJ Transit for at least 17 canceled trains during Monday afternoon's commute, based on a count of each line's respective Twitter accounts for trains that had been scheduled to run between 3 p.m. and 8 p.m.
The Morris & Essex Line had the most, with six canceled trains, followed by five on the Montclair-Boonton Line.
Spokeswoman Nancy Snyder had no additional explanation for the absences, and pointed to the schedule changes announced last week that take effect Oct. 14 she said will provide more "sustainable" service, as NJ Transit puts on the final push to meet a Dec. 31 deadline to install Positive Train Control (PTC) systemwide.
The changes will eliminate 18 daily trains on five lines. A 10 percent discount on all rail fares will be in effect in November, December, and January.
NJ Transit has said it is about 50 engineers short of being fully staffed and has stepped up training and recruitment.
Executive Director Kevin Corbett told New Jersey 101.5 that engineers sometimes do not give notice of their absence and do not show up.
Corbett said that when engineers give warning about taking vacation or sick days, that information is worked into normal scheduling and it usually is not an issue. But when engineers are absent with no notice given, that is unacceptable and disciplinary action can result.
"We are pursuing that as per the contract. We have a union contract that goes through 2019 and, money aside, we expect people to show up to work," he said.
"It's not just about money. It's a certain commitment to your job and that's not acceptable to me and we are pursuing the discipline process as per the contract."
James P. Brown, general chairman of the Brotherhood of Locomotive Engineers & Trainmen did not return a messages seeking comment about the cancellations.
NJ Transit riders took to Twitter to express their frustration at Monday's cancellations.
More From New Jersey 101.5 FM