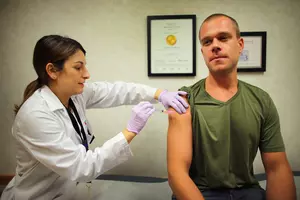 Whooping cough surfaces in NJ, residents urged to get vaccines
( Joe Raedle/Getty Images)
Three reported cases of whooping cough that surfaced last week in Lakewood's Orthodox Jewish communities appear to be related to an outbreak in Brooklyn, according to Ocean County Health Department officials.
The Asbury Park Press reported health officials are reaching out to residents about the importance of getting a Tdap vaccination, especially for those who have contact with small children.
Whooping cough, or pertussis, can be deadly in infants. According to the Centers for Disease Control, the highly contagious bacterial respiratory infection causes violent coughing fits and a characteristic "whooping" sound, making it difficult for inflicted people to breathe.
Tdap vaccine is recommended for all adults, teenagers, preteens and pregnant women who will be around a new baby, according to health officials
The CDC reports whooping cough vaccines are effective in 7 out of 10 people who get them within the first year, but the protection decreases over time. Only 3 or 4 people out of every 10 are protected after four years.
Those inflicted with pertussis can be infectious for up to three weeks, or up to five days after starting antibiotics, according to the Asbury Park Press.
Whooping cough spread in northern Ocean County in 2012, and according to health officials, it surfaced during a national outbreak in 2010.
The Ocean County Health Department offers Tdap vaccinations to anyone over the age of 19 every first and third Tuesday of each month between 1 p.m. and 4 p.m.. No appointment is necessary. For information, call the health department at 732-341-9700, ext. 7604.
CHEMED Center for Health Education in Lakewood also offers Tdap vaccines. To schedule an appointment call CHEMED at 732-364-2144, ext. 214.
More From New Jersey 101.5 FM