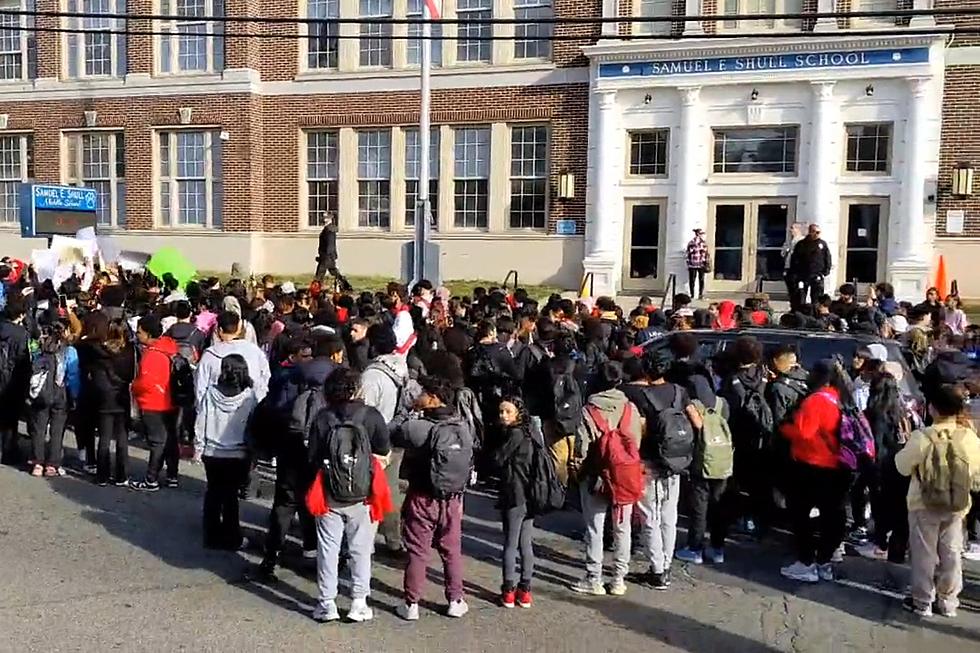 Perth Amboy, NJ super rebukes teachers' union for urging student walkout
Perth Amboy high school protest on 2/27/23. (Jim Murdoch News 12 via Twitter)
🔴 Hundreds of students left class at Perth Amboy High School for a walkout Monday
🔴 They called for more security after a fifth grader was stabbed by another student
🔴 Superintendent David Roman said he was "disappointed" in the teachers' union for encouraging the walkout, but union officials denied involvement
---
PERTH AMBOY — The superintendent of Perth Amboy schools is chastising the local teachers' union for calling on students to walk out for a protest during school hours in response to the stabbing of an 11-year-old boy.
Hundreds of high school students left class during second period and gathered outside around the front of Samuel E. Shull Middle School on Monday morning. Chanting, "We want change," they called for greater security amid concerns about violence between students.
It comes after a fifth grader was stabbed near his home just a few blocks away from the middle school on Wednesday shortly after dismissal, according to the mayor's office. The attacker, a sixth grader, used a kitchen knife and was arrested on Friday.
Superintendent David Roman said in a statement Monday that "some" students walked out of class. He reiterated that the stabbing did not occur on school grounds.
Roman added that the walkout was encouraged by individuals with "political objectives" and the Perth Amboy Federation, the local teachers' union.
"Although we support students' freedom of speech, students should not do so during school hours. We are extremely disappointed that our teachers' union leadership would encourage such a blatant disregard for school rules," Roman said. "Anyone who took advantage of this unfortunate situation and our students in this way to further a self-serving or political cause should be held accountable."
But Patricia Paradiso, president of the union, told New Jersey 101.5 that the students chose to protest on their own.
"We had nothing to do with the student walkout, but we support our students' rights to express themselves peacefully," Paradiso said. "We think our students represented themselves extremely well."
The union president previously said that teachers had reported that it was common for students to bring knives to school. Parents told CBS 2 New York that they've repeatedly called for metal detectors and backpack searches.
"We also think it's ironic that the letter mentioned that union leadership encouraged a "blatant disregard for school rules" when it is the district's lack of enforcing school rules that led to this tragedy in the first place."
Rick Rickman is a reporter for New Jersey 101.5. You can reach him at richard.rickman@townsquaremedia.com
Click here to contact an editor about feedback or a correction for this story.
2023 Seaside Heights Polar Bear Plunge
Photos from the 2023 Seaside Heights Polar Bear Plunge, which raised $2.5 million for the Special Olympics New Jersey.
More From New Jersey 101.5 FM