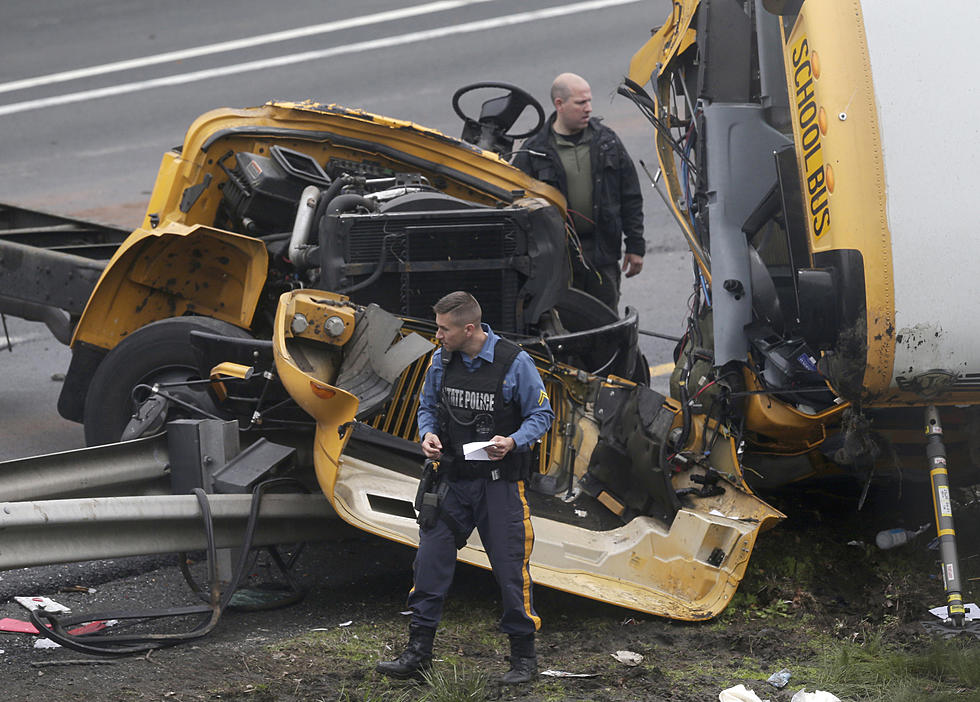 Paramus school bus driver in fatal crash: 14 license suspensions
Emergency personnel work at the scene of a school bus and dump truck collision, injuring multiple people, on Interstate 80 in Mount Olive, N.J., Thursday, May 17, 2018. (AP Photo/Seth Wenig)
TRENTON — The driver of the school bus involved in a horrific crash with a dump truck on Route 80 last Thursday has a record with eight speeding violations and 14 license suspensions.
Sources close to the investigation not authorized to speak to the media identified the driver as Hudy Muldrow Sr., 77, of Paterson. His son, Hudy Muldrow Jr, told CBS New York that his father remained hospitalized for injuries to his shoulder, a leg and his stomach.
A spokeswoman for the Motor Vehicle Commission told New Jersey 101.5 that Muldrow Sr. has eight speeding violations on his record since 1957, when he first got his license.  The most recent speeding violation was in 2001, resulting in two points against his license. The record does not indicate what speed he was going.
He was involved in at least one other crash but the record does not indicate who was at fault.
The MVC said as of Tuesday his driver's license and CDL are still valid with no active points.
Muldrow Jr. told NJ.com on Tuesday morning that his father was a good driver.
A Department of Transportation official who viewed video of the crash told New Jersey 101.5 that the front of the bus was sheared off after being struck by a dump truck.
The video shows the bus coming from southbound Route 206 onto westbound Route 80 and appears to try to get to an emergency lane in the median by crossing three lanes of traffic. The video shows the dump truck striking the bus with such force that the bus rips apart. Muldrow Jr. told CBS New York that his father denies trying to make a U-turn.
Morris County Prosecutor's Office spokesman Peter DiGennaro said the investigation is still active and had no additional information to disclose Tuesday.
The office of Paramus schools Superintendent Michele Robinson declined to comment Tuesday.
A vigil is scheduled at the East Brook Middle School  Thursday night to commemorate the one-week anniversary of the crash.
More From New Jersey 101.5 FM