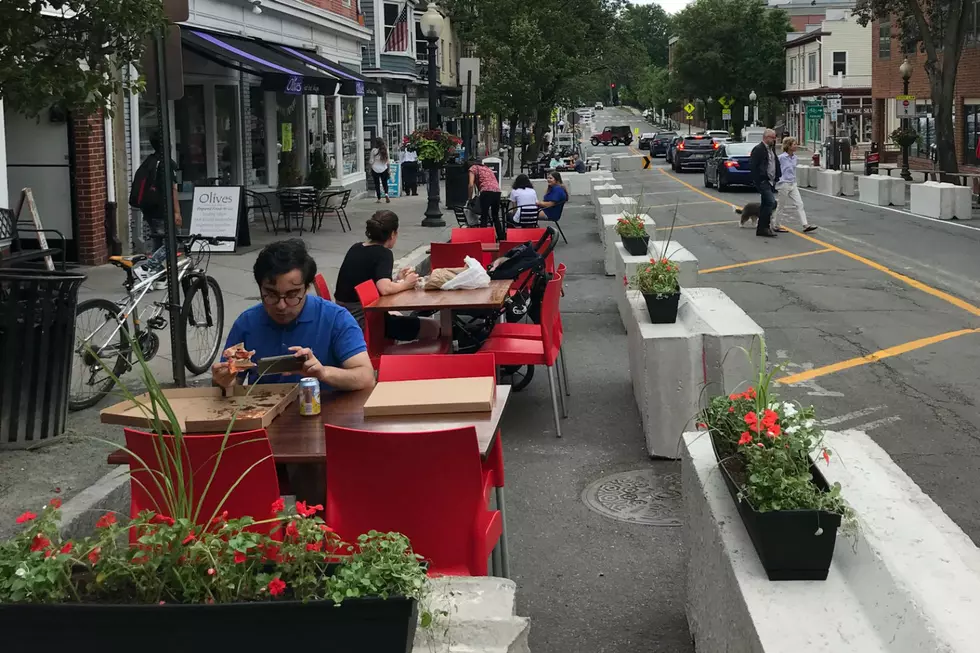 6 spots in NJ and PA make Top 100 outdoor dining restaurants
(Brian Lang, Townsquare Media)
 🍴 Three NJ restaurants are tops for outdoor dining, according to OpenTable
 🍴 Delicious food and beautiful views and diner reviews were key features
 🍴  Three Philadelphia restaurants also made the list
---
Ahhh… dining "al fresco." Sipping a cold glass of white wine while munching on a light fare of seafood and maybe a salad, while enjoying a cool evening breeze, and live music as the sun sets is a perfect summertime treat.
So, OpenTable put out its list of the 100 Most Popular Restaurants for Outdoor Dining.
The list features restaurants from coast-to-coast, determined by verified diner reviews.
According to their picks, the chosen spots offer delicious food, beautiful views, and incredible outdoor dining experiences.
What's even better is that three New Jersey restaurants and three Philadelphia eateries made the cut.
Philadelphia
Parc (French)
227 18th Street (Corner of 18th and Locust Street), Rittenhouse Square
Parc pays tribute to French café culture, serving breakfast, lunch, and dinner seven days a week, according to OpenTable.
You'll feel like you're in Paris as you enjoy classic French fare from café au lait, croissants, and Quiche Lorraine to start your morning to steak frites, escargot, tuna carpaccio, Beef Bourguignon, and plateaus of fruits de mer, all while enjoying the vintage framed paintings, photos, and antiques.
Be sure to save room for dessert. Some French favorites served include Moelleux Au Chocolat (warm chocolate cake, crunchy milk chocolate center, hazelnut crunch, and praline sorbet), and Profiteroles (pate a choux, vanilla ice cream, and bittersweet chocolate sauce).
The French doors spill onto a sidewalk terrace covered by a dark red awning perfect for dining "en plein air."
Reservations are accepted for both indoor and outdoor dining.
What are people saying about Parc on OpenTable?
"Our favorite lunch spot in Center City. Nice location on the square. Service was excellent. Always had a great experience here."
"The best! I'm looking forward to coming back again!"
"Parc never disappoints! Great menu choices, consistently delicious, outstanding service, and great ambiance. Definitely authentic Paris cafe vibes. A perennial favorite from midweek to a special occasion. And omg the bread basket."
1906 at Longwood Gardens (Contemporary American)
Route 1, Kennett Square
The upscale dining experience at 1906 is named in honor of the year Pierre S. du Pont purchased the grounds that were developed into Longwood Gardens, according to the 1906 restaurant website.
Open six days a week (closed on Tuesdays), 1906 offers seasonal fare with a focus on locally sourced and sustainable ingredients.
Featured menu items include:
White Gazpacho (green grapes, cucumber, marcona almond)
Chicken salad and fried oysters (green circle chicken, bibb lettuce, pepper jam, remoulade, and lemon vinaigrette)
Diver scallops (San Marzano tomatoes, pattypan squash, gigante beans, lemon, and capers).
For the table, try the artisan cheese platter (local cheese, candied pecans, fruit, Catskill provisions honeycomb, and crostini).
Outdoor dining requires a refreshing cocktail.
Try the Cucumber Garden (Revivalist botanical gin, St. Germain, cucumber, sugar syrup, and Fever Tree club soda)
Mezcal Watermelon Margarita (Banhez Espadin mezcal, Barrows ginger liqueur, watermelon, agave, lime, prickly pear, and a smoky salt rim)
Prosecco Float (raspberry-beaujolais sorbet, Ardevi prosecco, berries, and mint).
Reservations are required for both dining and timed admission for the Gardens entry.
Go to https://tickets.longwoodgardens.org to purchase tickets and make reservations.
What are some OpenTable reviews about 1906?
"The food was amazing and the service was excellent!"
"The food presentation was awesome and the food was cooked to perfection - I had the salmon entree and the taste was marvelous!"
"The cocktails were refreshing, our dinner was lovely, and the desserts were fun, creative, and delicious! This was our second time eating at 1906, and we'd go back again."
Talula's Garden (Contemporary American)
7th Between Walnut and Locust, Washington Square
Locally-sourced ingredients along with a light European touch, change with each season at Talula's Garden. The elegant restaurant surrounded by lush plants and vegetation throughout, has partnered with award-winning restaurateur Aimee Olexy to bring a true farm-to-table experience to customers.
"The indoor-outdoor space exudes a cozy, upbeat vibe, with attention to detail that extends from the gorgeous patio to the cheese bar," according to Talula's Garden website.
Enjoy some of their favorite dishes including:
Candied bacon strips (with a sweet and spicy sriracha glaze)
Freshly baked carrot cake scones (coconut caramel, whipped cream cheese icing, and candied pecans)
Lamb bolognese (fresh rosemary pappardelle, basil ricotta, fragrant tomato sauce of lamb, spinach, and Italian breadcrumbs)
Tuna tartare (spicy chili-garlic crisp aioli, charred scallion-ginger vinaigrette, snap peas, mint, cilantro, and crispy shallots)
Ruby beets (organic balsamic, whipped goat cheese and ricotta, and pistachio)
What are people saying on OpenTable?
"Absolutely loved the ambiance with the botanical, woodsy, garden vibe. Summer menu was awesome - service was excellent and the food was scrumptious as were the cocktails. We had the mushroom soup, Caesar salad, Lamb Bolognese, and the Branzino"
"Amazing as always. I took my husband here for his birthday. The staff was kind and thoughtful. The food was great. I had the workaholic drink - it was incredible. We love this place!"
"Another amazing meal at Talula's Garden. This time we had a wonderful dinner with impeccable service by Francis and his team. Not one thing was less than perfect. We can't wait to return."
New Jersey
Three Garden State restaurants made the top 100 list as some of the best and most popular places to dine outdoors this summer season. It probably comes as no surprise that the trio of eateries are located at the Jersey Shore, specifically a beachside city in Monmouth County and a seaside resort at the southern tip of the state.
Rooney's Oceanfront Restaurant (Seafood)
100 Ocean Avenue North, Long Branch
Rooney's Oceanfront Restaurant is in a picturesque location in historical Long Branch. A huge bi-level deck brings diners even closer to the view of the Atlantic Ocean.
Rooney's provides carefully crafted coastal cuisine to give patrons a sense of closeness to the sea. The menus continually change to offer a different dining experience to each and every visit.
The Raw Bar is a fan favorite at Rooney's which offers dishes like middle neck clams, jumbo shrimp cocktail (U7 shrimp served with cocktail and green goddess sauces), raw bar sampler (Rooney's Rochambeau oysters, middle neck clams, jumbo shrimp cocktail), Chef's Colossal (2 lb. chilled lobster, jumbo shrimp cocktail, middle neck clams, Rooney's Rochambeau oysters, and more).
A popular item is the Bloody Mary Shooter (Rochambeau oyster topped with a pickle, celery, dehydrated olive, and Rooney's Classic Bloody Mary Mix)
Other fan favorites include the Lobster Mac-A-Rooney (lobster cream sauce, Maine lobster meat, parmesan, and mozzarella cheese)
Blackened fish tacos (assorted Halibut, Mahi, and swordfish, chipotle aioli shredded Romaine, salsa verde, pico de gallo)
Angry Lobster (a house favorite pan roasted in its original shell, olive oil, garlic, hot pepper flakes, and basil, served over a bed of linguini).
What are some of the positive reviews? 
"The service was wonderful. Very relaxing to sit outside looking at the ocean."
"Calamari very fresh and flavorful, and the lobster with sides was ordered by all and well prepared. Although messy as expected was totally devoured. Service, while very busy, was excellent."
"Great food, great service. Super nice having dining room overlooking the ocean. Will be back!"
"This is our favorite place down the shore. We enjoy coming here and have always had a great experience. Views are great and the food is always great!"
Sapore Italiano (Italian)
416 South Broadway, West Cape May
"Dining at Sapore is a sublime experience, a continuous pursuit of Italian cuisine with local ingredients with the cozy ambiance of a restored Victorian home," according to the Sapore Italiano website.
The entrée options include homemade pasta, seafood, chicken, veal, and risotto dishes, made with local farm ingredients. A gluten-free menu is also available.
Sapore is BYO so don't forget to bring along a bottle of your favorite red or white to accompany your meal.
Some favorite dishes include:
Spaghetti alla Sapore (spaghetti pasta sauteed with shrimp, garlic, cherry tomatoes, artichokes, extra virgin olive oil in a white wine lemon sauce)
Pollo alla Saltimbocca (chicken breast topped with prosciutto, spinach, and mozzarella cheese in a white wine demi-glaze sauce)
Veal Saltimbocca (veal medallions topped with porcini mushrooms, prosciutto, and fresh mozzarella cheese in a cognac demi-glaze sauce)
A refreshing dessert is Lemon Ripieno (a lemon sorbetto made with lemons from Sicily, and served in the natural fruit shell)
What are people saying on OpenTable?
"The best Italian restaurant in the area. Love it and go every time we are in Cape May."
"Sapore Italian is the best Italian in Cape May. Been coming here for years."
"They always have the best food. They take reservations and it's a BYOB."
Tisha's (Contemporary American)
322 Washington Street, Cape May
Open seven nights a week for dinner, Tisha's is a fine dining restaurant in Cape May and has been in operation for 30 years. It is considered "a must-try in the Cape May restaurant community" according to its website.
The restaurant offers New American cuisine to please even the most sophisticated palates. Tisha's offers both indoor and al fresco dining for lunch and dinner. Feel free to sit on the back patio, bring a bottle of wine (BYOB) and enjoy a meal
Some menu favorites include:
Grilled swordfish (swordfish grilled and topped with roasted peppers, spinach, and goat cheese set over mashed potatoes, and green beans finished with a balsamic glaze)
Thai salmon and shrimp (grilled Atlantic salmon, jumbo shrimp red mashed potatoes, green beans, finished with a sweet Thai chili sauce),
Seafood risotto (jumbo shrimp, local sea scallops, little neck clams, assorted mushrooms, toasted pignoli nuts, and baby spinach sauteed in a sherry cream sauce)
OpenTable reviews:
"I go to Tisha's every summer when on vacation in Wildwood Crest. It is always an incredible experience. The service is always excellent and we never feel rushed. We sat and relaxed and had appetizers, entrees and finished with dessert. The food was amazing. I highly recommend it!"
"Came to Cape May for the weekend and booked a reservation at Tisha's after reading all of the reviews. The food was amazing and the service was great. We sat on the back patio and the ambiance was superb. I highly recommend Tisha's and we will definitely be coming back!"
"This is my go to place in Cape May, with incredible service, food, and ambiance. Definitely fine dining! Prices reasonable, good portions and BYOB, white linen tablecloths. Wait staff, superb. Recommend getting reservations."
With so many outdoor dining choices to choose from in the great Garden State and in Philly, do you agree with these?
A full list of the 100 most popular outdoor dining experiences according to OpenTable can be found here.
Report a correction | Contact our newsroom
Incredibly stunning new restaurant in Central Jersey
More From New Jersey 101.5 FM