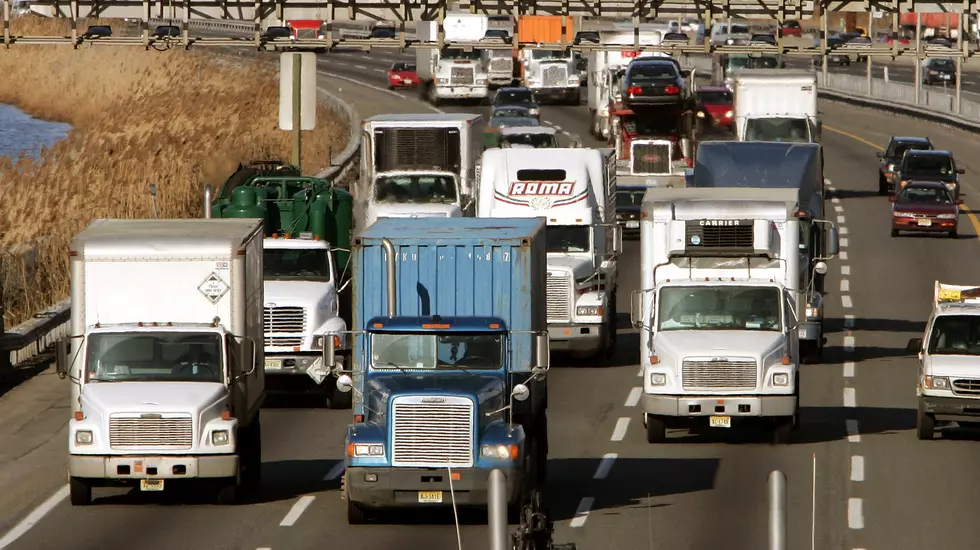 If NJ Transit strike happens, here's how to prepare for the worst
The New Jersey Turnpike could get a 25-mile backup if NJ Transit rail workers go on strike. (Photo: Getty Images)
A 25-mile backup on the New Jersey Turnpike.
Traffic on Garden State's busiest highways crawling along at 15 mph.
Absolutely no parking. Anywhere.
That's the nightmare scenario traffic experts say commuters should expect Monday morning if both sides in the ongoing NJ Transit negotiations can't reach a settlement and nearly 4,200 rail workers go on strike.
"It's going to mean catastrophic traffic. It's going to put tens of thousands of vehicles onto our already crowded roadways," Tracy Noble, a spokeswoman for AAA Mid-Atlantic, said Tuesday.
More than 100,000 commuters rely on NJ Transit trains to take them to New York everyday. But NJ Transit's contingency plan would only be able to accommodate just 40,000 of those commuters with added bus service.
For everyone else, commuters will have to work from home, brave the traffic or find a place to stay overnight.
"We want to stress how critical it is for folks to be planning now," Noble said.
New Jersey 101.5 has compiled this comprehensive guide to getting through the potential gridlock should the strike occur.
We've included NJ Transit's contingency plan for added bus service and links to all the transit service alerts. But first, here are some options if taking a bus is not for you.
In addition to the traffic jams on the major highways, Noble said the backup eventually will reach local roadways.
For a trip that usually lasts an hour, Noble says commuters should budget two to three hours
"I hope that folks are planning on leaving well ahead of the time that they need to be in their office because it can be hours on end," she said.
The added traffic also means a greater chance for accidents, which would cause further delays.
In an effort to ease along traffic, the state Department of Transportation says it will postpone any routine maintenance from Route 440 to the New York state line and everything east of Route 287.
Veronica Vanterpool, the executive director of the nonprofit Tri-State Transportation Campaign, said Tuesday that the New Jersey Turnpike Authority should consider a bus-only lane on the Turnpike and the Port Authority should consider bus-only lanes in the Holland Tunnel and the across the George Washington Bridge.
"You want to move people expediently, and as many as you can, and we know you can move more people in a bus," she said.
Officials are hoping that at least some of the 60,000 rail commuters who would be displaced by a strike would consider working from home.
Although there are no legal requirements for employers to make accommodations for workers, the Insurance Institute for Business and Home Safety says employers should have work-from-home contingency plans in place so that employees can focus on their work rather than on the hassle of getting there.
The Partnership for New York City, a business organization, has estimated that a rail shutdown would cost New York City employers $5.9 million per hour and would hit the financial industry most heavily.
Or find another place to stay
The Metropolitan Transportation Authority (MTA), which runs the mass transit system in New York City, suggests commuters stay with friends or family who live in New York in the event of the strike.
If you plan on staying at a hotel, the average nightly rate for a hotel in lower Manhattan starting Sunday ranges from $206 to $376, according to Expedia.com, which reported that 40 percent of hotel rooms in the city already were booked for next week.
In Jersey City, where commuters can hop on the PATH trains to 33rd Street and the World Trade Center, hotels rooms next week already were 65 percent booked by Wednesday afternoon. The average nightly rates ranged from $209 to $272.
In Newark, which also has access to PATH, hotels near downtown were 50 percent booked and nightly rates ranged from $190 to $485.
Call a cab or summon an Uber
The company behind the ride-sharing app Uber said Wednesday that it expects high demand around the PATH stations, light rail stations, Newark Airport and the ferry terminals. (Areas highlighted in blue in above map.)
"We're encouraging drivers to service to these areas and will communicate with them via text, in-app message and email to provide updates on any disruptions like road closures, etc.," a company spokesman told New Jersey 101.5.
"We encourage all riders to share their trips using the Fare Split feature in the Uber app. Our hope is that riders will use Uber to travel to and from transit hubs in New Jersey rather than attempting to cross one of the bridges or tunnels in a private vehicle."
Unlike taxicabs, which have its fares regulated by local municipalities, Uber will spike prices to meet demand
Transportation officials also are encouraging commuters to car pool, not only to lessen the number of cars on the roads, but also to deal with the first-come-first-served parking rules at the park-and-ride facilities NJ Transit would open during a strike (see below.)
Commuters can coordinate carpooling with coworkers or sign up with one of the state's nonprofit transportation management associations (TMAs), listed below, which can match commuters based on where they live and work.
NJ Transit is boosting peak service on 29 New York bus routes near rail stations.
Northeast Corridor: 108, 112, 115 and 129 bus routes
North Jersey Coast Line: 116 and 133/135 bus routes
Raritan Valley Line: 113 and 114X bus routes
Morris & Essex Lines: 107X and 114X bus routes
Montclair-Boonton Lines: 191X and 324 bus routes
Main/Bergen County Lines: 145, 160L, 160T, 160P, 163P, 164SX, 190P/D, 190R, 190X and 192X bus routes
Pascack Valley Line: 151, 162, 163L, 165P, 165R and 165T bus routes
To lessen traffic congestion and delays at the Lincoln Tunnel, NJ Transit will make the following service adjustments in case of a strike:
The 156R, 158 and 159R bus routes serving the River Road corridor will terminate at the Port Imperial Ferry Terminal in Weehawken on weekdays, enabling cross honoring with connecting NY Waterway ferry service. Weekend service will operate on its regular route to/from New York.
The 126 bus route in Hoboken will operate on a reverse routing on weekday mornings, beginning at Willow Avenue and 19th Street and operating south to Hoboken Terminal for cross honoring with PATH and ferry service. In the evening, the 126 bus route will operate from Hoboken Terminal back to Willow Avenue and 19th Street. Weekend service will operate on its regular route to/from New York.
The 153 bus route will not operate. Customers should use 159 bus service, which provides frequent service in the Fort Lee area and connects with NY Waterway ferry service at Port Imperial Ferry Terminal in Weehawken.
The 329 bus route will not operate. Customers should use 124 or 129 bus service as an alternate.
Take a NJ bus from a new park-and-ride
NJ Transit is setting up five park-and-ride lots that will operate in the event of a strike.
The bus service, as well as parking, will be first-come-first-served.
The buses will depart the lots between 6 a.m. to 10 a.m. and return to the lots between 4 to 8 p.m. No reverse commuting available.
NJ Transit tickets and passes with an origin or destination of New York, Newark or Hoboken will be cross-honored on these services, including connections with PATH and NY Waterway services.
MetLife Stadium to Port Authority Bus Terminal, New York
PNC Bank Arts Center, Holmdel to New York City (Academy Bus)
Hamilton Rail Station to Newark Penn Station for PATH service
Metropark Rail Station to Harrison PATH Station
Ramsey/Route 17 Rail Station to Lincoln Harbor Ferry, Weehawken
NY Waterway, which will honor NJ Transit tickets and passes, provides ferry service to New York City from Belford Middletown, Hoboken Terminal, Hoboken 14th Street, Liberty Harbor/Marin Blvd., Lincoln Harbor, Paulus Hook, Port Imperial/Weehawken and Port Liberte ferry terminals.
NJ Transit would provide shuttle bus service from the Ramsey/Route 17 Rail Station to Lincoln Harbor/Weehawken Ferry Terminal.
NJ Transit passes and tickets also will be honored on Seastreak ferry service from Atlantic Highlands and Highlands to Pier 11 in New York.
Both companies expect heavy volume and long lines if a strike should occur.
New York's Metropolitan Transportation Authority would operate extremely limited, rush-hour, peak-direction shuttle bus service for Metro-North customers from the following locations:
Middletown Station (to Beacon Station on the Hudson Line)
Harriman Station (to Tarrytown Station on the Hudson Line)
Palisades Center Park and Ride in West Nyack (to Tarrytown Station on the Hudson Line)
West of Hudson customers using NYS stations should carry their Metro-North ticket (monthly, weekly or one-way) for use on the shuttle buses.
Metro-North will cross-honor West of Hudson Metro-North tickets on the Hudson, Harlem and New Haven Lines.
Don't worry (too much) about light rail
The strike will not shut down the Newark Light Rail, Hudson-Bergen Light Rail and River Line service, all of which will operate regular weekday schedules with extended peak hour service. But there certainly would be more riders than usual, so be sure to add extra time to your commute.
Essential websites and apps
David Matthau and The Associated Press contributed to this report.
More From New Jersey 101.5 FM