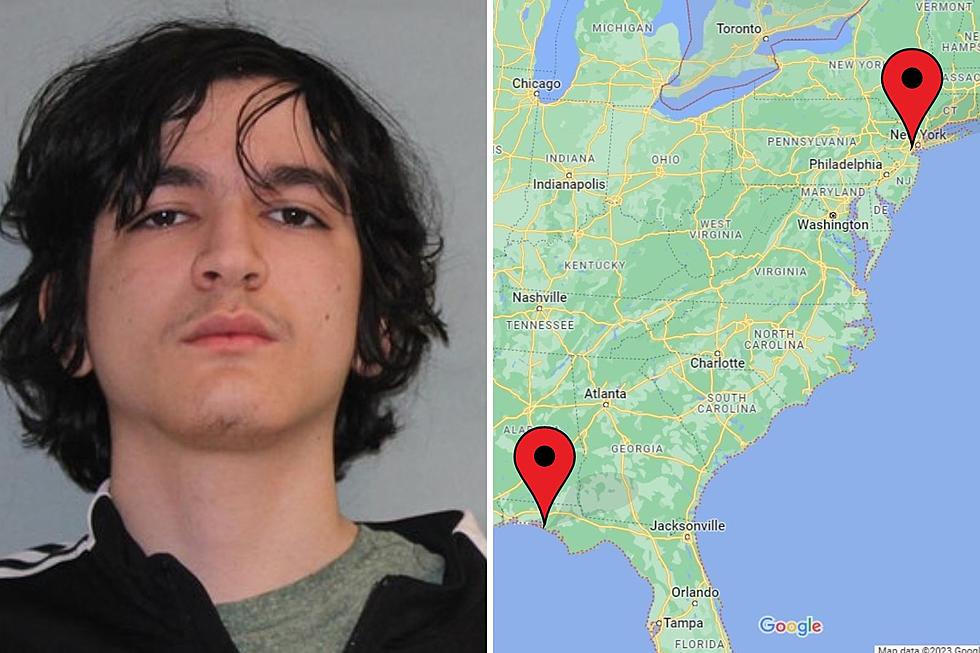 NJ teen's calls threatened to shoot black students and girlfriend, cops say
Brad Parga (Santa Rose Sheriff's Office), markers showing Guttenberg, NJ & Milton, FL (Google Maps)
A New Jersey teen who made three threatening swatting calls to a Florida high school in 2022 that were met with a full police response has been charged.
The caller was identified by Santa Rosa County Sheriff Bob Johnson as Brad Parga, 17, of Guttenberg. He was arrested in February at his home and brought to Florida to face charges.
The FBI's Newark office, which assisted with the arrest of Parga, was familiar with him as "a person of interest in other investigations involving false threats of terror," according to the warrant affidavit in the case.
He is son of Hermes Parga, according to the document.
Taking responsibility for swatting calls
Johnson said the first call from Parga was received on Valentine's Day at Milton High School about a shooting that was about to occur. According to the warrant affidavit in the case, the caller said he was going to shoot all the African-Americans at the school.
A second call was received three days later by the Milton police about pipe bombs and pressure cooker bombs at the Milton High School, according to Johnson.
During the investigation, Parga also bragged about being part of a group that made swatting calls resulting in police responding to private homes and how they wound up being reported by the media.
The sheriff's office received a call on Feb. 27 about a shooting at a home that was also fake.
"The caller calls back and says 'we were swatted.' He also says he's responsible for the calls at Milton High School," Johnson said.
A third call on April 11 threatened that a boy was coming to the high school to shoot his girlfriend in the head. Investigators learned that the girlfriend had a "prior interaction on the internet" with the caller. The girl told investigators that Parga said he was part of a group that hated Blacks.
Connection to New Jersey swatting calls?
Parga was charged as an adult with making false reports of using a firearm in a violent manner and disruption of school functions. Charges could be added after police check his electronic devices, according to Johnson.
The sheriff played a portion of a recording of one of Parga's calls in which he calmly said he was walking around the campus with an AR in a duffle bag.
"I'm not there to kill everyone, man. I'm just there to hurt three people that I don't like. I'm willing to die today at this point," Parga was quoted as saying.
"When it comes to swatting and making calls like this, we are going to go to the ends of the Earth to come get you," Johnson said. "I don't care if you are in New Jersey, California, whatever. We will bring you back to face charges and that is what is going to happen to Mr. Parga."
Police in 10 New Jersey municipalities received calls about active shooters in schools on Oct. 17.  Police in other states received similar threats in the fall. No arrests have been announced in any of the cases.
The FBI's Newark office Tuesday morning did not respond to New Jersey 101.5's request for more information.
Dan Alexander is a reporter for New Jersey 101.5. You can reach him at dan.alexander@townsquaremedia.com
Click here to contact an editor about feedback or a correction for this story.
Weird things NJ taxes - and some they don't
In general, New Jersey assesses a 6.625% Sales Tax on sales of most tangible personal property, specified digital products, and certain services unless specifically exempt under New Jersey law.
However, the way the sales tax is applied in New Jersey sometimes just doesn't make sense.
New Jersey puts out an itemized list for retailers that spells out what is, and what is not, taxed.
Perhaps because this is New Jersey, there are some bizarre and seemingly contradictory listings.
LOOK: Baby boomer baby names that have gone out of style
Using info from the Social Security Administration's baby name database,
Stacker
compiled a list of baby boomer baby names that have declined in popularity.
LOOK: Here are the best lake towns to live in
Many of the included towns jump out at the casual observer as popular summer-rental spots--the Ozarks' Branson, Missouri, or Arizona's Lake Havasu--it might surprise you to dive deeper into some quality-of-life offerings beyond the beach and vacation homes. You'll likely pick up some knowledge from a wide range of Americana: one of the last remaining 1950s-style drive-ins in the Midwest; a Florida town that started as a Civil War veteran retirement area; an island boasting some of the country's top public schools and wealth-earners right in the middle of a lake between Seattle and Bellevue; and even a California town containing much more than Johnny Cash's prison blues.
More From New Jersey 101.5 FM