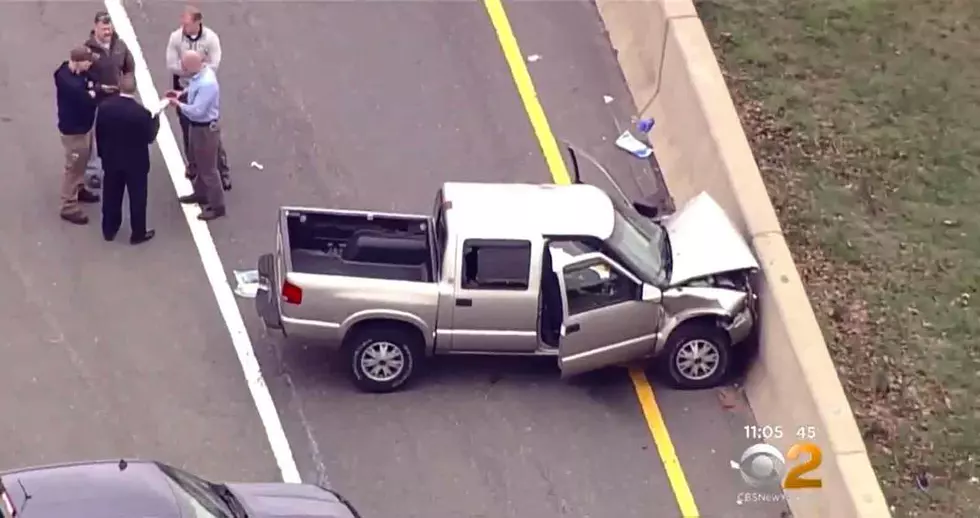 NJ State Police shot at pickup driving straight at him at Turnpike rest stop, report says
Pick up involved with a shooting at the Molly Pitcher service area on the NJ Turnpike in Cranbury (NJ DOT)
CRANBURY — The New Jersey Turnpike's Molly Pitcher service area is open for travelers but many questions remain about Thursday's shooting involving a New Jersey State Police trooper.
A police investigation at the service area on the southbound side just south of exit 8A in Cranbury led to the driver of a pickup truck being shot around 2:45 p.m. and pronounced dead at the scene, according to a preliminary investigation by the state Attorney General's Shooting Response Team.
The driver's body was removed from the vehicle on Thursday night.
NBC 4 New York cited sourses saying the truck with Delaware plates took off when a trooper approached. The driver backed up into a second State Police vehicle and was ordered to stop.
The driver instead drove at a third State Police officer who opened fire, sources told NBC 4. The driver was hit and crashed his vehicle into a concrete barrier at the entrance ramp, the sources said.
The identities of the State Police officer and the person shot have not yet been disclosed by the Attorney General's office.
More from New Jersey 101.5
More From New Jersey 101.5 FM