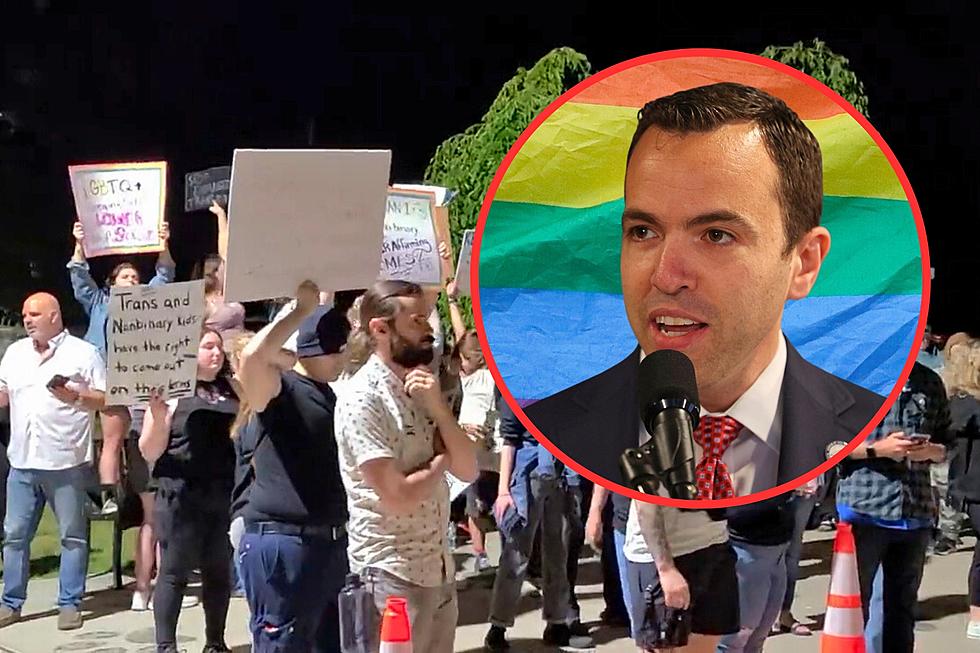 NJ schools' controversial trans student policy blocked by judge
(AP Photo/Pavel Golovki/@NJPECoalition via Twitter/Edwin J. Torres/NJ Governor's Office).
🌈 A judge has put a temporary hold on policies affecting trans students in 3 school districts
🌈 The policy would require parents to be notified of a change in their child's gender identity
🌈 AG Matthew Platkin calls the hold a "major victory for civil rights"
---
A New Jersey Superior Court judge has placed a temporary hold on policies passed by three Monmouth County school districts that would require teachers to notify parents about changes in their child's gender identity.
In June, the Middletown, Marlboro, and Manalapan school boards passed similar policies that they said would give parents the information they need to know about their children. Supporters of the policies argued that parents shouldn't have to co-parent with the government.
But on Friday, Judge David Bauman sided with Attorney General Matthew Platkin, whose office sued the districts over the policies. The state argued that the policies would disproportionately impact transgender students and be discriminatory.
"As the Superior Court correctly found, and as we have argued from the start, it is likely that these new policies violate the rights of our most vulnerable residents by discriminating against them on the basis of gender identity or expression," Platkin said.
The ruling is not a final outcome. Instead, the preliminary injuction prevents the school boards from implementing the changes or modifying current guidelines on parental notification while the suit is ongoing.
In the decision, Bauman said that the state showed that the policies would likely have a "disparate impact on transgender, gender nonconforming, and nonbinary youth."
"Those long-standing policies, which were uncontroversial and widely accepted until just a few months ago, protected the rights of transgender students and permitted schools to inform parents about their children based on individualized and non-discriminatory assessments of a particular child's needs and circumstances," Platkin said.
Both sides were able to argue their cases in a two-hour court hearing before Bauman on Tuesday. Supporters of the school boards' policies appeared to come away satisfied with how the hearing was conducted.
The Marlboro school board released a statement Saturday and said it "refutes" the state's argument that the policies are discriminatory.
"In fact, the Board believes that the Judge's ruling, which places the Board's policy on hold for what could be several years, is a significant step backwards for parents who have a constitutional right to be aware and involved in the upbringing of their children," the statement said.
Marc Zitomer, an attorney for Marlboro, said to NJ.com that it could be years before a final decision is made.
New Jersey 101.5 has reached out to Middletown school board President Frank Capone and Vice President Jacqueline Tobacco for comment.
Report a correction 👈 | 👉 Contact our newsroom
LOOK: The longest highways in America
LOOK: Do you know these 50 famous acronyms?
This list from
Stacker
features a collection of the most common acronyms and their meanings. Popular abbreviations include establishments like ACLU, YMCA, ad the AARP.
More From New Jersey 101.5 FM