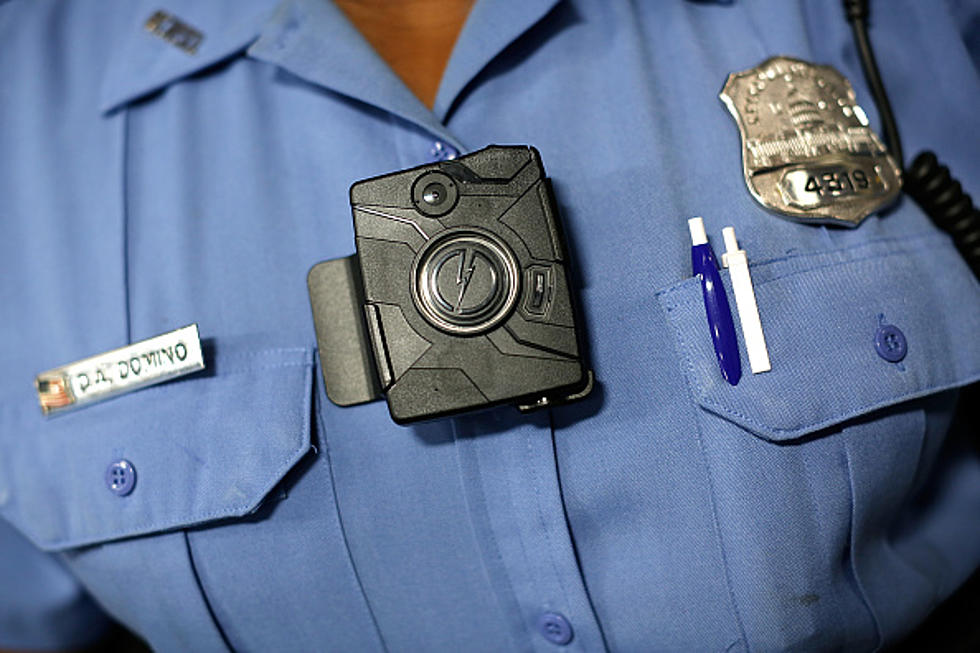 NJ police officers give differing opinions on body cameras
A police officer wears a body camera (Win McNamee, Getty Images)
If you think New Jersey residents are torn over police officers wearing body cameras, you're not alone. I brought up the discussion again this morning and we had a few members of New Jersey law enforcement call in and they all had varying opinions on whether it is a good thing or not.
Personally, I don't think New Jersey residents want police cameras for anything other than to catch an officer doing something nefarious. It comes from a place of mistrust of our police officers and I think its misguided and not well placed at all. I don't think the public is ready to see what the officers see on a daily basis.
My first call on the topic was a police officer from Toms River who believed the cameras were a great thing for them. Since he started eight years ago, the cameras have been in the car and as recently as two years ago, officers started wearing body cameras. According to Mark, the feedback has been nothing but positive regarding the cameras.
"The evidence that we get on these cameras has so much value for us when it comes to documenting evidence and capturing evidence and writing reports," he said.
On the opposite spectrum, a police officer who did not want to be identified by name, believes that body cameras are a horrible idea for officers. The officer brought up the privacy issues for victims and for witnesses.
"Every time I go into a house where there's a half-naked bloody and beaten woman on the ground, that's gonna be on tape," he said. "Rape victims, that's gonna be on tape. When I'm doing CPR to your spouse and we're cutting off their shirt, that's gonna be on tape and that's there forever."
The officer also made a strong point regarding witnesses: "Witnesses don't want to come forward and be on camera. They want to give you their information and disappear because they don't want retaliation. Especially when it comes to violent crimes."
Patrick Colligan, president of the New Jersey State PBA, joined into the conversation to inject his opinion as well. Colligan brought up the cost factor and how to pay for the expensive equipment and to run the cameras and data storage.
"These cameras aren't $500. Some of them are in excess of $2,000. The idea I guess was noble but you have to realistic when you're going to pay for this and $25 per DUI isn't going to pay for this."
Frank from Ewing, who is also a police officer, was torn over the cameras. Frank said that their department's laws are stricter than most, and that unlike the state attorney general's guidelines, once their cameras are on, they're not allowed to be turned off.
Frank noted that he believes if he was wearing a body camera that it actually could have helped made things much easier when charges had been brought up against him last year. The officer was cleared of all charges, but it took a long time to clear it up.
"I do like the idea of a body camera I just think we need to tweak it better," he said.
What do you think? Do you think that NJ police officers should wear body cameras? Leave your comments below.
More From New Jersey 101.5 FM