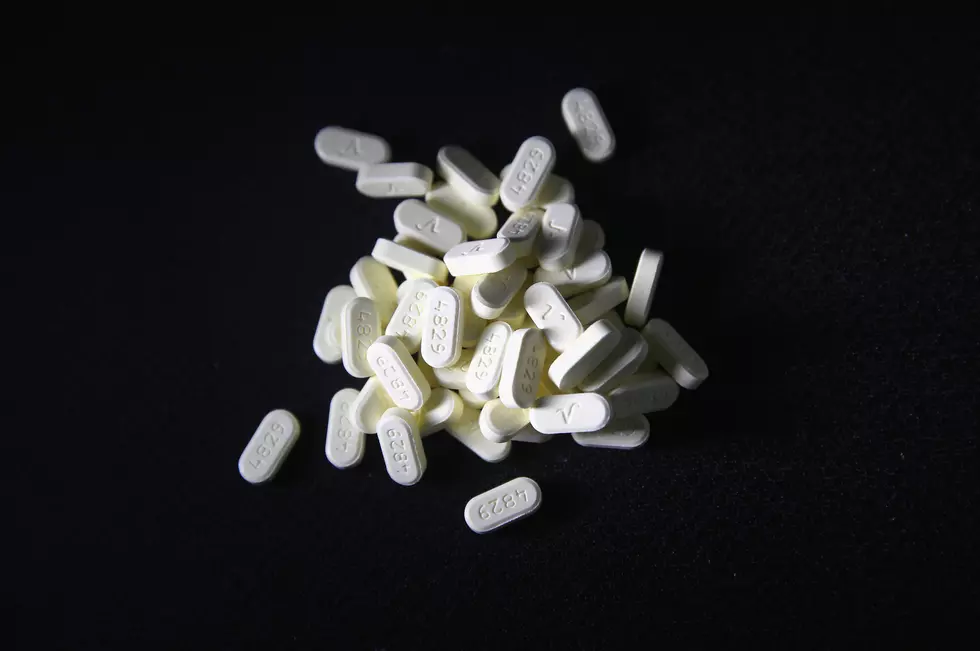 This Saturday, get rid of the danger in your medicine cabinet
Getty Images
Dozens of local police and sheriff's departments from New Jersey's 21 counties will participate in the 12th annual National Prescription Drug Take-Back Day on Saturday, Oct. 22. The effort is coordinated by the U.S. Department of Justice Drug Enforcement Administration.
The program is voluntary and is usually held twice a year. Departments are given collection boxes, but some communities that don't participate on the designated take-back day collect prescription drugs year-round, according to Timothy McMahon, Special Agent with the New Jersey DEA division. He noted the collection totals fluctuate from year to year.
"As an example, the take-back we had on April 26, 2014, statewide we collected 19,200 pounds. The take-back on Sept. 27, 2014, it was 14,370. And then the take-back we had on Sept. 26, 2015, was 14,875 pounds. And then we had one this past spring, April 30, and that was 17,785 pounds," said McMahon.
Police departments bring the collected prescription drugs to their county prosecutor's office for pick-up by the DEA  to be destroyed. McMahon pointed out it usually takes four army trucks to haul away roughly 9 tons of prescription drugs.
"We collect them, then we transport them and their taken to an incinerator facility where they're incinerated and destroyed," McMahon said.
The heroin and prescription opioid epidemic gripping New Jersey and the nation has validated the importance of holding the drug take-back program each spring and fall.
"A lot of times the problem with the abuse of the prescription drugs starts from the medicine cabinet," said McMahon. Sometimes only a handful of a 30-pill bottle will get used, "so now the remainder of the prescription is just sitting up in the medicine cabinet, and that's easy access," McMahon added.
Children, friends who come over to visit, and even babysitters can get into the medicine cabinet. Another concern McMahon pointed out is people accessing medicine cabinets during real estate open houses.
"People bouncing from house to another for the sole purpose of walking through the house and trying to find and steal the prescriptions that are out there, and that's contributing to this opioid problem that we have, the increased number of overdose deaths that we have. Then there's a direct correlation, a direct transition from people abusing the pills going into heroin abuse," McMahon said. He pointed out that realtors usually tell their clients to secure their valuables and jewelry before an open house, but many overlook what's in their medicine cabinet.
With statistics today showing that 80 percent of new heroin users started out abusing the prescription opioids, McMahon stressed "that's why it's vitally important to get rid of them. Just get them out of the house. If we don't need them, get rid of them."
The most recent statistics available from the U.S. Centers for Disease Control and Prevention show that in 2014 there were 47,055 accidental overdose deaths nationwide.
"Approximately 60 percent of those were directly related to either heroin or the prescription opioids," he said.
McMahon added that in New Jersey, 1,310 people died from accidental drug overdoses in 2014, with heroin or prescription opioid abuse directly attributed to 781 of those deaths.
McMahon noted that because the Prescription Drug Take-Back program is anonymous, the DEA isn't checking and keeping track of the specific types of pills being turned in. He explained that turning the pills in at drop-off locations for incineration later is safer than flushing them down a toilet, mainly because of the environmental impact.
"Scientific studies on water shows that there are traces of prescription drugs in the system, so anything that can be done to eliminate that is great," said McMahon.
For those who are unable to get to a collection facility, he suggested an alternative ways of disposing of prescription drugs.
"The recommendation is to mix the pills in [discarded] cat litter or coffee grounds and dispose of it that way. But ideally, we'd like them to come to the take-back day and dispose of it that way. This way there's 100 percent assurance that it's getting incinerated and destroyed," McMahon said.
Additional information about the National Prescription Drug Take-Back Day and a list of participating police departments in New Jersey can be found by going to www.dea.gov and clicking on the Got Drugs icon.