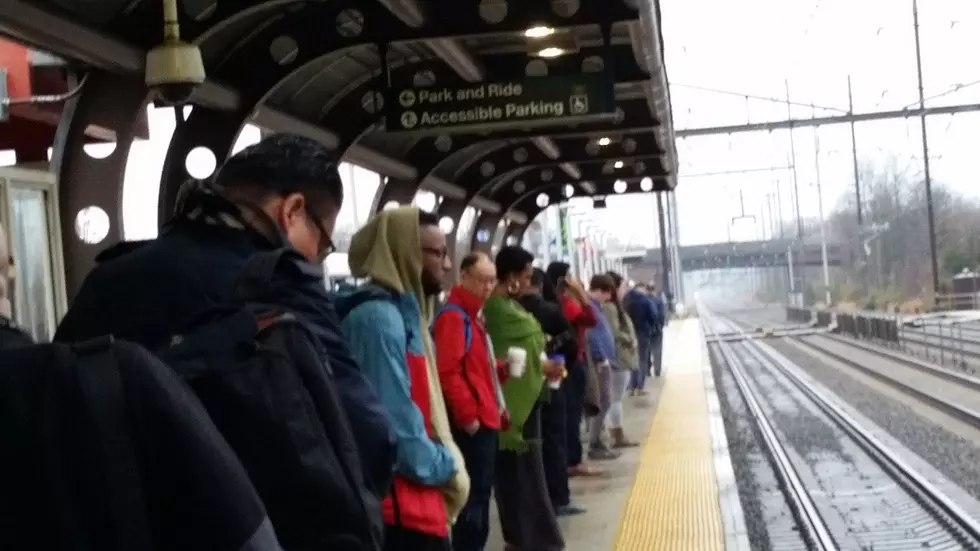 More NJ Transit cancellations following late Beyonce concert
Passengers await the train at Hamilton station
(Dan Alexander, Townsquare Media NJ)
NEWARK — NJ Transit's rough week of cancelled trains continued this morning with over a dozen trains cancelled on Friday morning.
Six trains were announced as being cancelled before 6 a.m. on Friday morning as part of a total of 14, according to the respective Twitter accounts for each NJ Transit line. The Morris & Essex Line and Montclair-Boonton Line had the most cancellations.
The cancellations came hours after the weather delayed Beyonce concert at Met Life Stadium which didn't start until 11 p.m. Riders who took NJ Transit trains to the Meadowlands from Secaucus complained on Twitter about a lack of service when the concert let out.
According to a release before the concert the last train was expected to leave the Meadowlands around 1 a.m.
NJ Transit has not yet returned a message about Beyonce or Friday's cancellations. Earlier in the week the railroad blamed PTC installation on its rail cars, staffing shortages and a higher than usual number of crew absences.
The trains cancelled on Friday morning as of 8:20 a.m. were:
5:52 a.m. (#52) from Port Jervis
9:50 a.m. (#4328) from Summit
8:24 a.m  (#6315 from Penn Station NY
8:56 a.m. (#6216) from Montclair State
6:12 a.m. (#0209) from Hoboken
7:10 a.m. (#0208) from Montclair State
7:40 a.m. (#6215) from Penn Station NY
7:32 a.m. (#312) from Summit
6:14 a.m. (#0408) from Gladstone
6:44 a.m (#6614) from Dover
6:07 a.m. (#852) from Mount Olive
5:33 a.m. (#6606) from Dover
5:26 (#3702) from Jersey Avenue
8:52 a.m. (#1650) from Anderson Street
Five trains were canceled on Thursday morning and anther 10 in the afternoon between 3 p.m. and 8 p.m., according to a count on the individual line Twitter accounts. Plus, there was a 15 minute delay on trains in and out of New York Penn Station because of an Amtrak signal problem near Secaucus.
More From New Jersey 101.5 FM