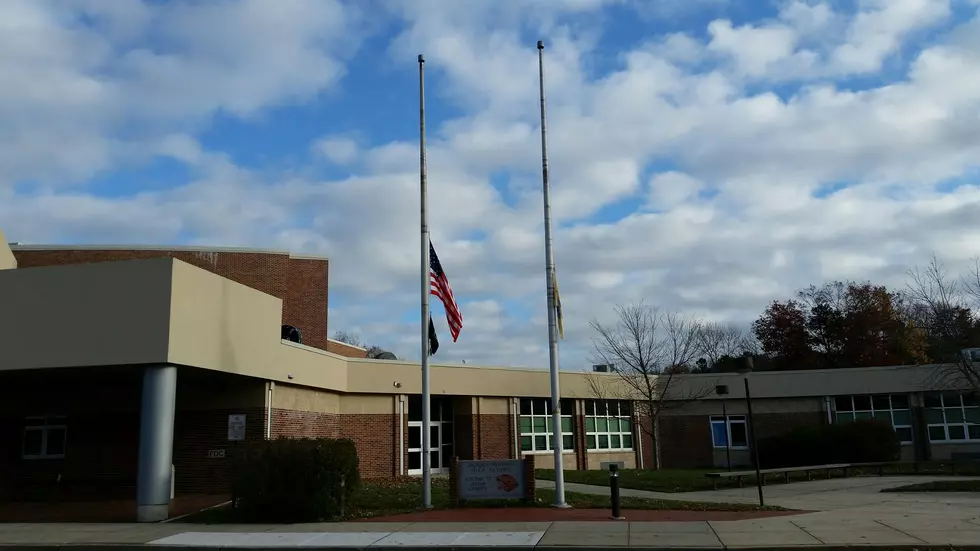 Jackson board approves armed security in schools
Flags fly at half-staff in front of Jackson Memorial High School (Dan Alexander, Townsquare Media NJ)
JACKSON — Security staff at an Ocean County school district will be allowed to carry weapons under a measure approved Tuesday night.
By a 7-0 vote the Jackson School Board unanimously approved a policy that would allow the district's 11 full-time and two part-time security guards who are qualified, trained and willing to carry a weapon in district buildings, according to district spokeswoman Allison Erwin.
Superintendent Stephen Genco told the board that most of the existing staff is made up of retired law enforcement and meets legal criteria to carry a weapon.
"It gives us another option and another layer to the many security measures we already have in place, It is not our intention to arm everyone, but we are looking to add that option to a portion of our security staff," Genco told the board.
"Now that this policy is in place we can work on the details of how to implement it, including working with the Jackson Police Department on training in response protocols and procedures,'' Genco said.
Following the shooting at Stoneman Douglas High School in Parkland, Florida that killed 17, many New Jersey school districts including Cherry Hill, Woodbridge, and East Brunswick increased their security and added armed guards
Jackson's vote came hours after a 15-year-old student was arrested at Brick Memorial High School for making "threats of violence towards others in the school," according to a statement from Brick Police.
The student was charged with making a terroristic threat and suspended from school, according to police, who said students and staff were never in any danger during the incident.
More from New Jersey 101.5:
More From New Jersey 101.5 FM