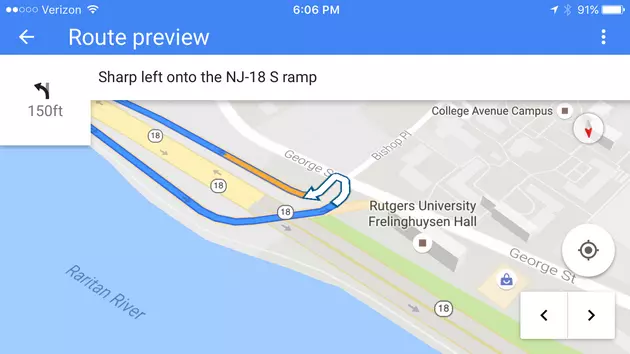 It's illegal to mount your GPS on your windshield? Well, for now …
Screenshot from Google Maps app
Tickets for it are rare, but it's technically against New Jersey law to attach a GPS device to a car's windshield.
A bill that had been unanimously approved by the Senate in March was advanced by the Assembly transportation committee Monday that would let drivers mount or locate GPS equipment, including a holder for a smartphone, on their cars' windshield, dashboard or console, so long as it doesn't interfere with the driver's vision.
Assemblyman Paul Moriarty, D-Gloucester, said the bill would protect what's common practice.
"This is changing the law so that people aren't getting pulled over needlessly by police and then getting a ticket for what basically people are already doing," Moriarty said. "Uber cars do it. Lots of people do it."
The bill advanced in a 12-0 vote, but there were some concerns raised.
Assemblywoman Sheila Oliver, D-Essex, the former Assembly speaker, said she worries about an increase in distracted driving.
"We all drive and we see all kinds of devices that are mounted. We even see people watching TV when they're driving down the street," Oliver said.
"I saw someone this weekend with that device. Their cell phone was in it, and they were texting," Oliver said. "I guess what I just want to emphasize is, yeah, I can see where we need to create the opportunity to use your cell phone for navigation, but we also at the same time have to return to focus on the issue of distracted driving in New Jersey."
Assemblyman Nicholas Chiaravalloti, D-Hudson, said he'd prefer that the bill not allow equipment to be installed on windshields.
"I think the idea of giving permission to put the GPS, attach it to your windshield, with wires hanging down and all, goes to the speaker's point," Chiaravalloti said. "There really is no need for that. You can attach it to your console, which as a fan of Waze I do, but I think allowing drivers to attach things to their actual windshields I think does create the distracted driving issue."
Assemblyman John Wisniewski, D-Middlesex, said he gets the concern – "I'm Mr. Anti-Distracted Driving. I've taken my lumps for that," he said – but that the proposal is a good one because it protects drivers from summonses who can't afford high-end cars with built-in GPS systems.
"If you are not able to buy or lease a newer model vehicle, and you do need to use electronic directions, you're either going to be forced to prop the GPS unit or your phone in your ashtray holder or something like that and have it fall off and cause a distraction or have it affixed someplace," Wisniewski said.
Assemblywoman BettyLou DeCroce, R-Morris, said there are arm devices that hold smartphones that aren't attached to windshields, and Assemblyman James Kennedy, D-Union, said the proposal actually could reduce distractions, not increase them.
"Knowing where you're going when you're driving is important because if you don't think you really are distracted, and you could end up doing lots of crazy stuff," Kennedy said.
---
---
More from New Jersey 101.5:
More From New Jersey 101.5 FM