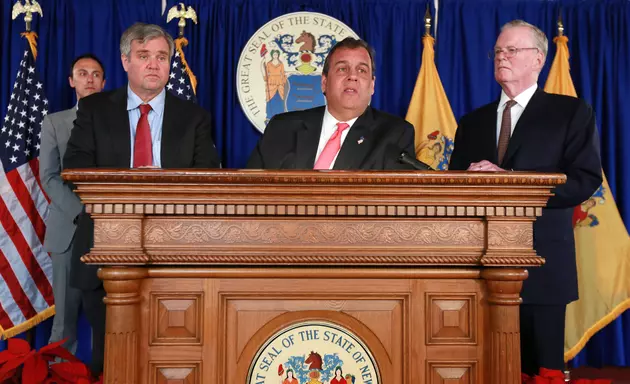 How will Murphy tackle NJ's $90B pension deficit?
(Governor's Office/Tim Larsen)
The panel appointed by Gov. Chris Christie to study public workers' benefits over the last three years produced one final report, hoping to catch the attention of Gov.-elect Phil Murphy.
The suggestions were similar to those from three prior reports – moving toward a more 401(k)-style retirement system, bringing health benefits more in line with the private sector. The idea: Use savings from health benefit changes to afford the bigger pension contributions that are needed.
Commission chairman Tom Healey says the pension deficit has grown from $80 billion to $90 billion over the last three years, despite larger contributions and committing 30 years of proceeds from the state lottery toward the pension payments.
"The bottom line of this, our final report, is that while some progress has been made, it has not been enough," Healey said.
"New Jersey is now dead last in the Mercatus Center ranking of states by fiscal health," he said.
Commission member Tom Byrne, who also heads the State Investment Council, says the pensions should be fixed before they become the "Pac-Man" eating all discretionary spending in the state budget and the retirement security of 800,000 people.
"The personalities in Trenton are going to change, but the math is not changing. And if anything, the math is getting a little bit worse," Byrne said.
Unions have long ago stopped negotiating with Christie, after the state didn't ramp up payments as called for under 2010 and 2011 reforms. They said they'll talk more once full payments are made, but Christie said that'll take years and $2.6 billion, and can't be a prerequisite for discussing reforms.
"We're not going to be able to tax our way out of this situation. There's simply not enough taxing capacity left in this state to do that," Christie said.
The types of changes to local health benefits the commission envisions would require superseding collective bargaining.
"In desperate moments like this, when we've allowed this situation before this administration to get as bad as it's gotten, we need to take statewide action," Christie said.
Christie said he's not sure how Phil Murphy will handle public worker benefits, given his campaign promises, but hopes he recognizes the fiscal reality of it.
"I hope this is a 'Nixon goes to China' situation. I hope it's that a Democratic administration and Democratic Legislature can speak truth to these unions and make them understand that there's no place else for them to go," he said.
Byrne said he's "guardedly optimistic" that Murphy, who studied the state's benefits programs in 2005 under then-Gov. Dick Codey, is financially sophisticated and understands the challenge.
Healey said the pensions were in much better shape when Murphy studied them in 2005 but that the incoming governor understands the issues.
"Whether he's able to execute I think, just as Gov. Christie said, that's the tricky part that we can't control," Healey said.
---
---
More From New Jersey 101.5 FM