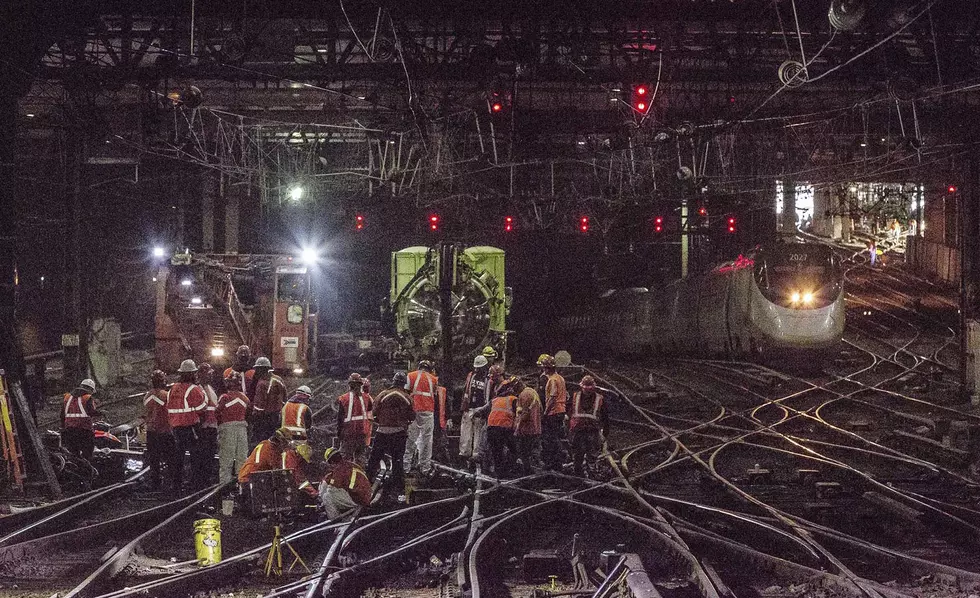 NJ Transit delays, road traffic: Survival guide for 'summer of hell'
Workers repair rails inside New York's Penn Station (Chuck Gomez/Amtrak via AP)
NEWARK — After months of derailments, delays and crowded conditions, Amtrak begins an estimated $30-40 million infrastructure renewal project at New York Penn Station.
The project will take what originally had been planned as two years of work and try to finish it all in just eight weeks.
Crews will work 24 hours a day on three tracks at a time at the 112-year-old station, which used by Amtrak, NJ Transit and the Long Island Railroad.
The work involves full replacement of of the tracks and switches known as "A interlocking," which is a critical mechanism that routs trains that enter Penn Station from the Hudson River tunnels and the LIRR West Side Yard.
Which NJ Transit lines area affected?
The Morris & Essex Lines are by far the most affected, with inbound service ending at Hoboken Terminal.
There will be four inbound trains before 7 a.m. that will go to New York Penn Station.
NJ Transit will also run buses every half hour between 7 and 9 a.m. from Summit and Maplewood.  An express bus will run from South Orange Station into New York Penn Station.
There is no direct rail service during the afternoon commute from Penn Station. All riders will have to depart from Hoboken Terminal.
NJ Transit will also offer deep discounts on the Morris & Essex Lines.
North Jersey Coast Line service will end at Newark Penn Station. Customers can utilize rail service to Secaucus and transfer to Hoboken-bound trains. Hoboken tickets will be honored at Secaucus. See gate agent upon arrival.
What are my best options into New York?
PATH, NJ Transit buses, private bus carriers  (Lakeland, DeCamp and Community Coach) and New York Waterway will cross honor NJ Transit tickets between Hoboken and New York.
Driving into New York is another option but you won't be alone in that decision. There will likely he heavier volume on Route 80, Route 78 and the tunnels and bridges.
What else can I do to avoid delays?
Mayors of some of the towns along the Morris & Essex Lines are suggesting people work from home a few days, if they can, to reduce the number of riders.
South Orange Village President Sheena Collum posted a letter for workers to give their employers, explaining their lateness and the need to work from home.
Uber, the ride-share app company, is encouraging commuters to use its uberPOOL service, which matches up to two riders in a vehicle.
"For many commuters, taking Uber to or from the PATH or ferry stations may be the best option to avoid traveling through the bridges and tunnels when crossing the Hudson River," spokesman Craig Ewer said.
Why aren't the other lines affected?
NJ Transit said this plan is the safest and avoids daily delays throughout the system. The railroad can not divert as many trains from the Northeast Corridor, North Jersey Coast or the Raritan Valley lines to Hoboken.
Why is the work being done?
The catalyst for the accelerated schedule was a series of significant delays, two caused by train derailments, in the last few months.
Among the major incidents since last year:
More from New Jersey 101.5: