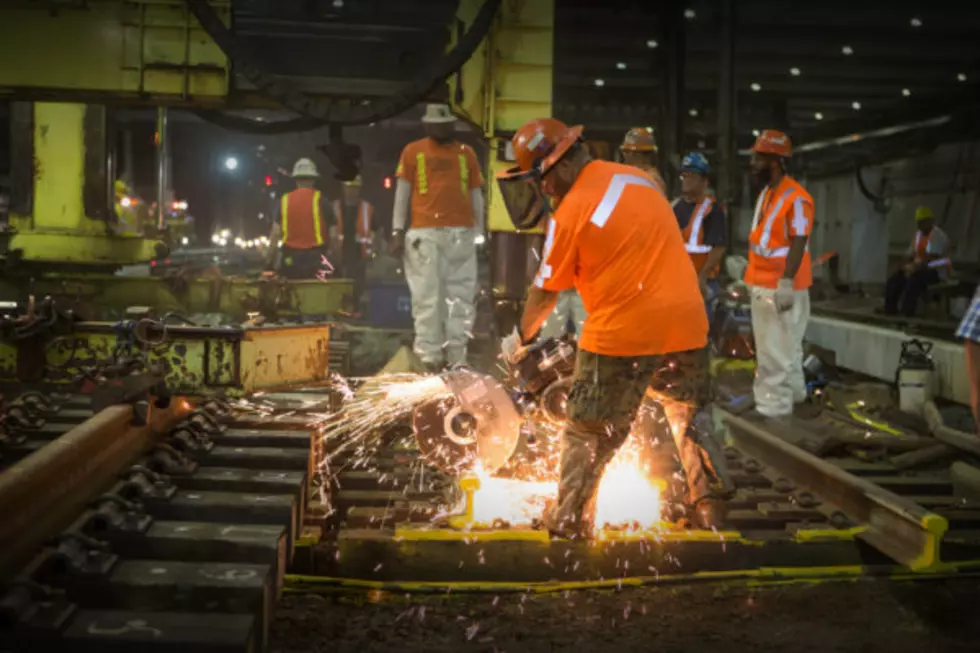 Halfway through NJ Transit's 'Summer of Hell' … and riders seem pretty happy
Emily Moser /
HarlemLine.com
NEWARK —  At the halfway point of the New York Penn Station rehabilitation, many riders seem to be happy with the progress of the work and the minimal delays.
From NJ Transit and Amtrak to Morris & Essex Line, riders reached by New Jersey 101.5 gave the project high praise for how smoothly the "Summer from Hell" has gone during Amtrak's New York Penn Station infrastructure renewal project scheduled to end by Sept. 1.
The Morris & Essex Line was the most affected by NJ Transit's summer schedule, with most inbound service ending at Hoboken. Riders would have to take PATH, a NY Waterway ferry, or a NJ Transit bus into Manhattan.
"Surprisingly enough, my Morris and Essex commute has been smooth. I was afraid that taking three separate trains run by three different entities — NJ Transit, PATH, MTA Subway — to just get to work would be hell," rider Justin Lew Black of Maplewood said. "Instead, there have been no hiccups, and my commute is about the same amount of time that it was during the spring delays into Penn Station. That doesn't seem all that great, but being on a train without major delays is far less stressful."
After a frustrating time trying to find an alternative that worked for her, Caitlin Wade settled on the one of the early morning direct trains.
"I've been coming in early, getting into Hoboken by 7:30 a.m. so the crowds aren't too bad. The PATH has been on time for the most part, coming frequently. It's always going to be a pain and an inconvenience, but I have to say that they are doing a better job than when this first started," Wade said.
NJ Transit spokesman Charles Ingolia gave a lot of credit to passengers for preparing and planning for the summer schedule.
"They seem to have adjusted rapidly to the menu of options they have and they are making the transition from day one. They've acclimated themselves to it and they're getting to work. Things are working well," Ingolia said.
NJ Transit also made some adjustments to the summer schedule by adding express buses and reducing service where it wasn't being used. "We've been really careful managing our equipment and assets. We've looked at what customers tell us they want and what they're actually using," Ingolia said.
Amtrak Chief Engineer Gary Williams also thanked not only passengers but the employees for delivering the project on time and safely.
"We are at week four, which is 50 percent of the way through the project. It's important for us to finish with the same focus and determination as we started this project and most importantly to continue to to do it safely," Williams said.
Williams said the success of the summer project could lead to other similar closures in the future.
"We will ask our partners at at the MTA, LIRR, and NJ Transit for maybe some extended outages after we have well planned them" for work beyond Penn Station," Williams said. He said there will also be some weekend work this fall to do work on switch related work in the interlockings.
Commuter "Megan," who did not want her last name used, left NJ Transit's North Jersey Coast Line for the NY Waterway ferry out of Belford before the summer schedule. She  calls it a "heavenly" choice that has given her back 8 hours a week.
"It is half an hour schlep one way (to my office). I consider it my one hour of cardio a day," Megan said.
The said the ride is much less crowded on board the Betsy Ross. The only downside is the walk to her office, she said.
More from New Jersey 101.5:
More From New Jersey 101.5 FM